Students hold rally, present Delaney with demands for campus changes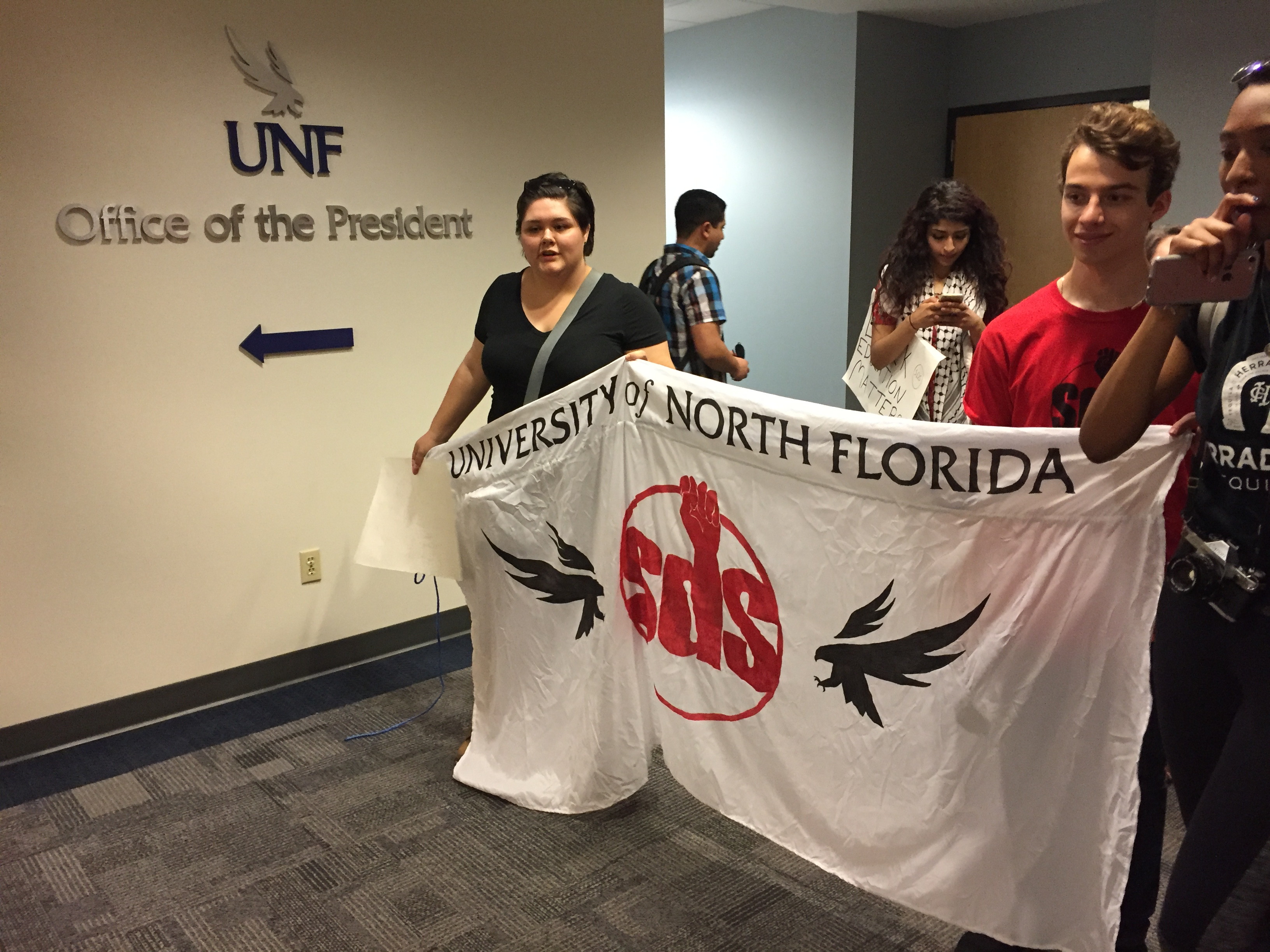 The UNF Students for a Democratic Society held a rally at the Green Tuesday protesting and demanding UNF President John Delaney make some changes to the campus.
The SDS demanded for more professors and students of color, for women's liberation and queer liberation, and for UNF to become a sanctuary campus for immigrants and Muslims, just to name a few.
The protest began at the green, then members of SDS marched to President Delaney's office to deliver him a letter personally. Delaney never came out and the letter was left taped to the door.
At the green, several students spoke about raising the minimum wage, re-packaging extra food from the cafe to be sent to those in need and protesting against the wall President Donald Trump intends to build.
"No ban, no wall, sanctuary for all," was one chant that began early in the rally. "Here comes the working class, Donald Trump you're an ass," was another.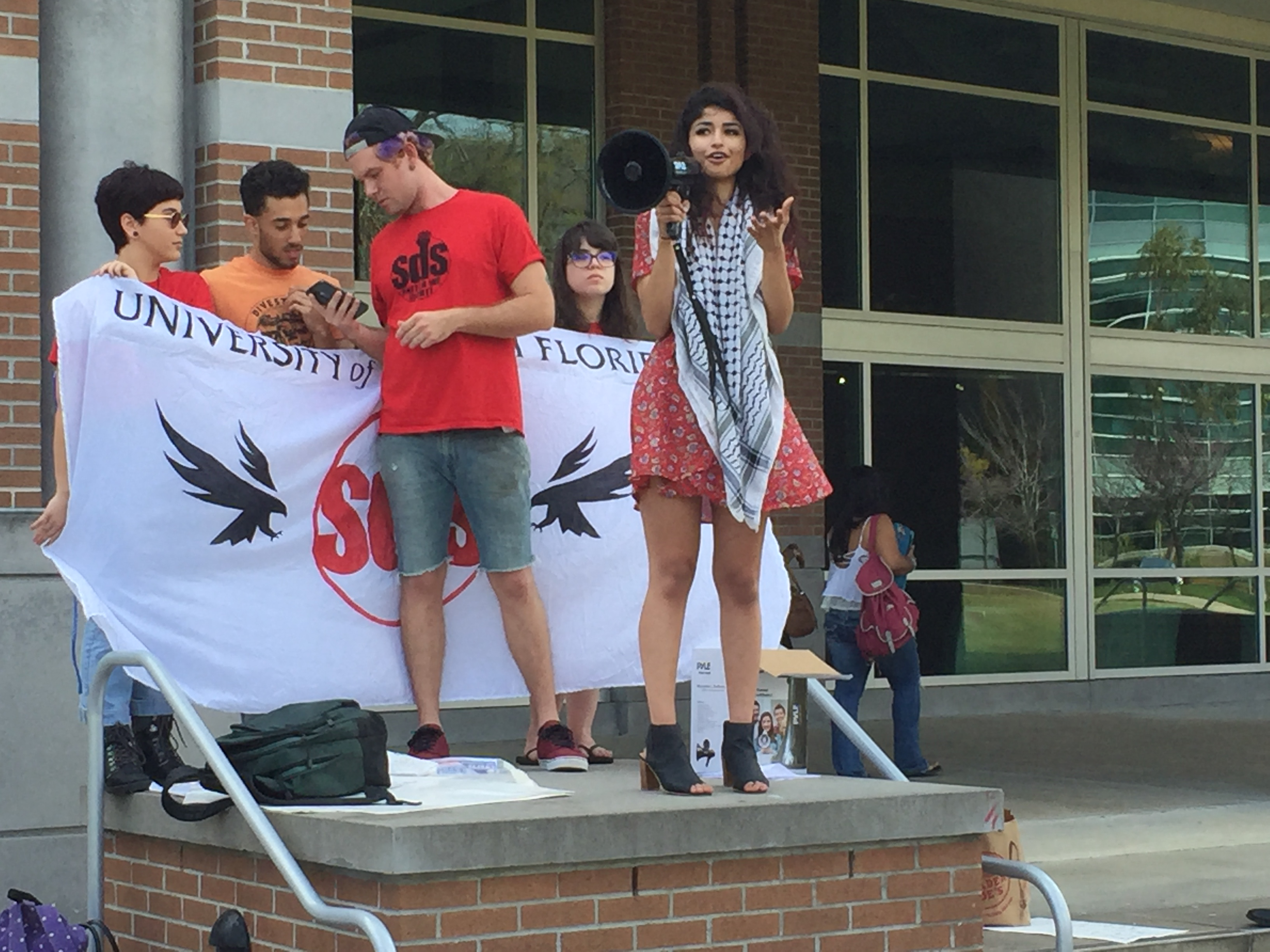 SDS member John Clarke spoke about the goals of the rally.
"Education and awareness are the expected goals. We want this to be an ongoing resistance rather than just one protest," said Clarke.
Some students stood by showing their support for Trump and his policies.
"I am all for [immigrants] coming over in a legal fashion, but if they want to be here without proper papers and without a visa, then I would like them to get those," said Julian Cinca, junior, Spanish major.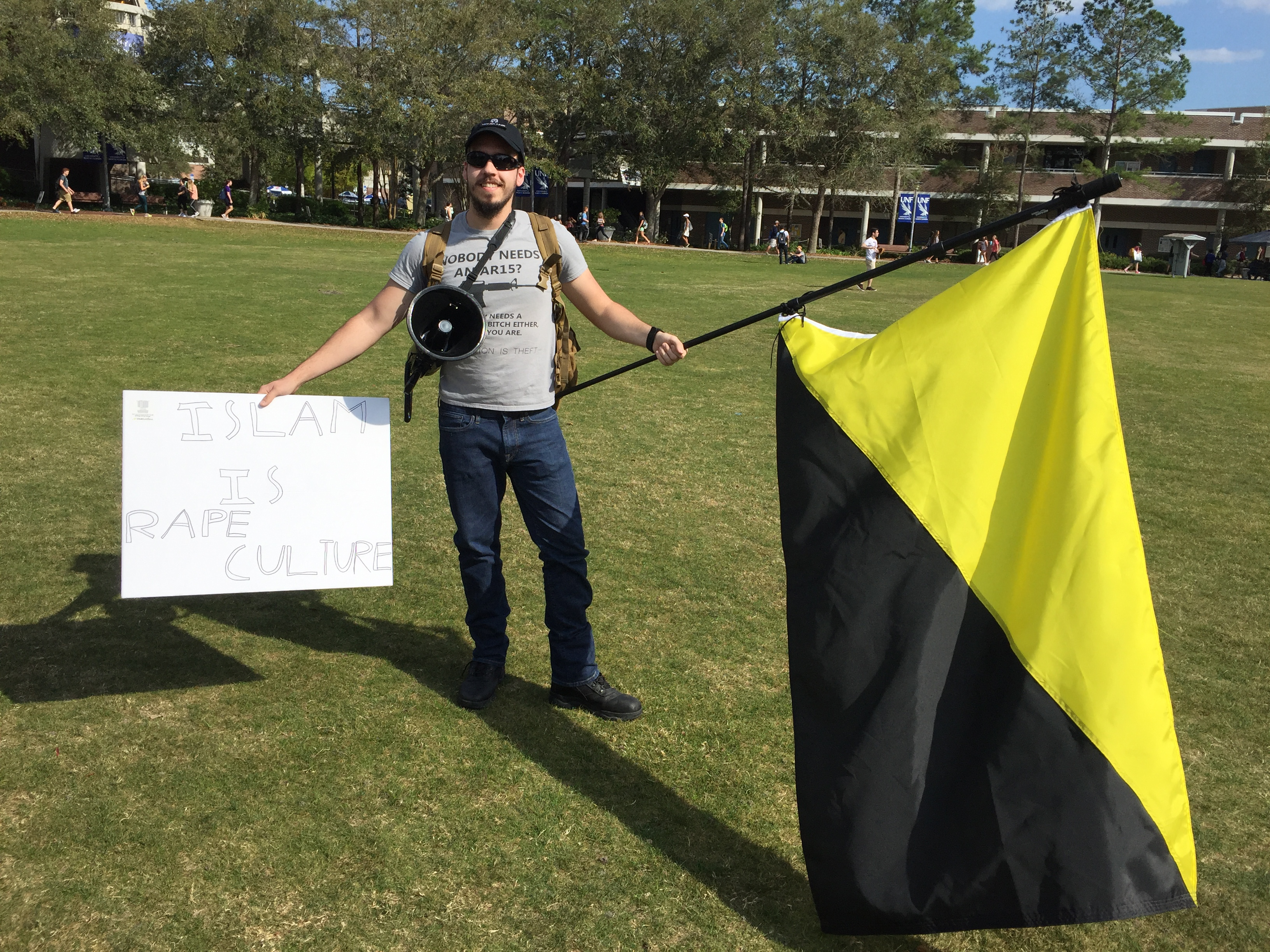 A member of SDS, Ryan McClure doesn't expect Delaney to respond well to their demands based on his past political career.
"If [President Delaney] does not respond the way we were looking for him to, we are going to continue to build the struggle and continue to make his last year a little more difficult than he thought it would be," McClure said outside Delaney's office.
List of demands
    Designate UNF as a sanctuary campus

    Enact in its entirety the calls listed in the petition to make UNF a sanctuary campus crafted by Dr. Mann and

Dr. Phills

    Ban President Trump and his administration from visiting the campus

    Diversity and Culture

    Further diversify the faculty & staff and student body

    Increase the amount of institutional aid that is available for 

students of color

   Remove the Cultural Diversity exemption from the General 

Education Program

   Include a mandatory Power and Privilege session during 

orientation

   Prioritize a free and open education over the university's political 

agenda

   Address the seriousness of mental health issues

   Require safe space training for all professors

   Create a safer, sex positive environment on campus

   Require a consent course for all incoming students

   Make it a requirement to include sexual assault charges on the 

transcripts of any student found guilty of committing sexual assault (on or off campus)

   Provide a living wage for all staff ($15)

   Divest from any and all companies that are not aligned with our core values
—
For more information or news tips, or if you see an error in this story or have any compliments or concerns, contact [email protected].