UNF's star runner hits some records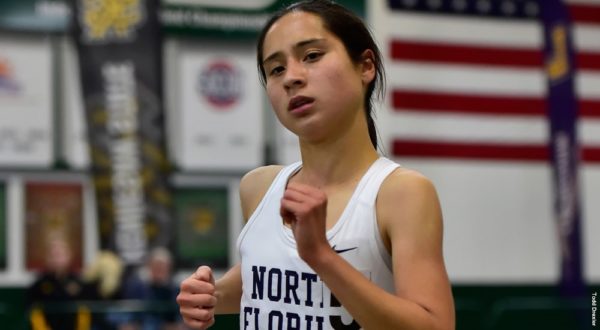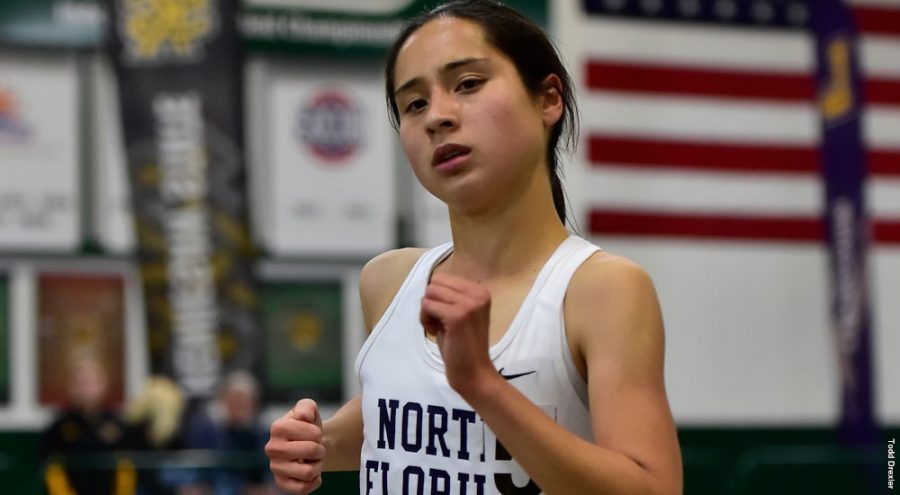 By the time you finish the first song on your playlist, this junior biology major has already ran a mile.  
Don't be fooled by Eden Meyer's soft-spoken demeanor on and off the track. Meyer is one of the fastest in the ASUN conference and second nationally for the 10K.
Meyer, a Jacksonville native, didn't want to go too far from home to run cross country and track. When the opportunity to run at UNF came in fruition, Meyer jumped at the chance along with her twin sister, Grace. Meyer's bond with her sister is something she cherishes as the pair has done everything together.
During her freshman season, Meyer earned UNF newcomer of the year and UNF female scholar athlete of the year.
Meyer continues to improve each season on the team with personal records and four career runner of the week for cross country.  After another outstanding cross country season, Meyer continued the momentum going into the 2017 ASUN indoor season.
Right out the gate, Meyer made her mark, claiming first place in the Clemson Invitational 3K with a time of 9:47.40 on Jan. 14. This time was almost 30 seconds faster than the next closest competitor.
On Feb.10, Meyer broke the Crossplex Facility Meet record with a time of 9:31.16 in the Samford Invitational.
Meyer wasn't done with breaking records, however. In the ASUN championship, she not only broke the ASUN record but also the facility record with a time of 16:32.53.
"I looked at the clock when I was done. I was like whoa,"Meyer said.
Meyer remembers her coach yelling the times from the sideline. Each lap being a little before pace. 3.1 miles or 12.5 laps later, Meyer ran into first place, gaining a story to tell others.
"It was definitely a cool experience and I won't forget that," Meyer said.
With the start of the outdoor season, she adds even more personal records under her belt. In March, she broke the 1996 school record held by UNF Hall of Famer Kim Pawelek of 10K with a time of 33:43.46 in the Raleigh Relays. Meyer finished second for the event.
Off the track, Meyer has her head in the books. For her, time management is important for balancing school and running. With the help of the coaches, Meyer trains during different times than her teammates when she's not in class.
Meyer can be seen on the track at Hodges Stadium for the remaining part of the ASUN outdoor season.
__
For more information or news tips, or if you see an error in this story or have any compliments or concerns, contact [email protected].