Physical parking passes to be replaced by fall semester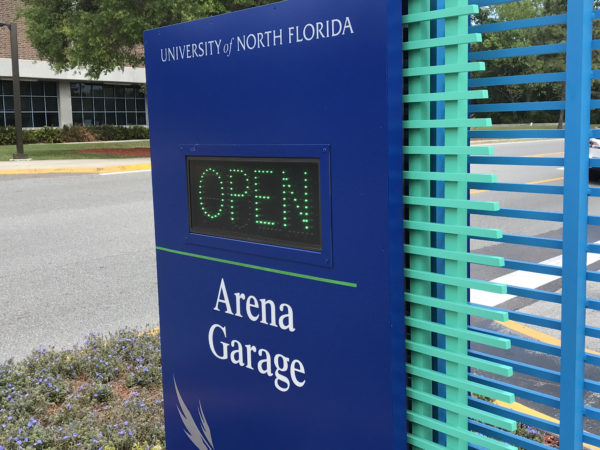 Parking pass stickers will be a thing of the past at UNF starting this fall.
The replacement: virtual passes tied to license plate numbers and added to a computer system. The first of these passes will be available to students mid-July, and will go into effect in the fall 2017 term.
"Essentially, your license plate ends up becoming your new virtual permit," said George Androuin, Director of Parking Services at UNF.
License plates will be scanned by a manned vehicle with a camera that patrols the parking lots and garages like the old one did.
Students will now receive a ticket if they back into a parking spot, as doing so prevents the new scanners from seeing their license plate. Androuin said the reason for the citations is that having parking employees get out and check the back of cars for license plates slows the scanning process.  
Some students aren't happy about the new parking rules.
"I like the virtual-ness of it but the ticket of backing in I don't really like," said UNF Student Mackinlay Wilson who describes himself as a part-time "backer-inner."
"I love backing in," said Sheldon Cooley, Sports Management major. "Backing in is how I park. I've been parking backwards for the longest time. I guess it's just easier for me to pull out when it's time to leave instead backing out waiting for traffic to come through."
Students and staff do have the option of purchasing an annual $50 "back-in permit" in addition to the $95-$205 fee for the regular annual pass. Cooley wasn't very interested in the additional permit.
"I'll save my $50," said Cooley. "If I got to pull in I'll just pull in."
Day passes are being similarly updated. Instead of buying a physical pass, machines will allow students to input their license plate numbers to add their vehicle into the system. Androuin advises students to take a picture of their license plate so they don't have to memorize the number.
Androuin is excited about these cost-efficient changes. According to Androuin the new virtual system will save the university $70,000 in printing and mailing costs. He also said that much of the staff had "departed and gone somewhere else" and that there was no need to rehire those positions, saving the university another $25,000. There will be upfront costs with the new system, but he expects it to pay for itself within two to three years.
"Anytime I save money it's a good thing for all of us because then I don't have to raise fees," Androuin said.
Parking Services is also working on an app that will let students buy a day pass without ever having to visit a booth or machine.
—
For more information or news tips, or if you see an error in this story or have any compliments or concerns, contact [email protected].