Friends and faculty bid farewell to Jake Moore
Friends, students, and faculty said goodbye to Jake Moore, the program coordinator of the UNF LGBT Resource Center.
Moore first became involved in the LGBT Resource Center as a graduate student and worked as a student assistant. After the director at the time left, Moore moved up into the program coordinator position.
As program coordinator, Moore has worked on several projects such as the annual comedy show, the speaker's bureau, #TFWednesday, and forming a transgender social group. One of Moore's goal was to provide entertaining events as well as educational.
"The one I'm most proud of for sure is the comedy show that we do annually. Prior to that we didn't do anything that was consistent or fun," Moore said. "Everything that we were doing was very education-based and only two students showed. So the first comedy show that we did over 150 people showed up, so for our office to have that type of attendance and we kept up as an annual thing."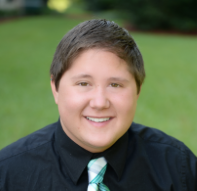 Students commented on Moore's impact on the LGBT Resource Center and on themselves.
Jasmine Elise is a junior psychology major who has been volunteering with the LGBT Resource Center for one year.
"He was always the person to listen to anyone," said Jasmine Elise, a junior psychology major. "If you were coming in and feeling emotional and Jake would take a little time out of his schedule to try and be there just to make sure you are doing all right."
Kaitlin Legg, the Director of the LGBT Resource Center, has known Moore for three years and she hired Moore to be the program coordinator.
"He's so friendly and students feel like they can come to him for help, no matter what their issue is and he'll be a non-judgmental ear," said Legg. "He's definitely created a feeling that we have a family here at the LGBT center."
Legg said her favorite memory of Moore was him pranking her office by covering it in balloons and different sauce packets were hanging them from the ceiling.
"He brings in a sense of humor and makes things a little less serious," said Legg. "Sometimes we get so caught up in the heavy aspects of doing this work, and doing advocacy, and trying to fix things that feel oppressive or not supportive of LGBT students, but he always was able to make it fun and to remind us to enjoy the present."
While Moore held the position of program coordinator, the university implemented gender-inclusive housing and gender-neutral bathrooms on campus. 
Moore leaves UNF after four years of working for the program, and five years of working for the university. His final day at the LGBT Resource Center is May 5. Moore will head to Denver, to work for the Gill Foundation, an organization that works to secure equality for members of the LGBT community throughout the United States.
—
For more information or news tips, or if you see an error in this story or have any compliments or concerns, contact [email protected].