'Braille Initiative' aims to put signs on UNF buildings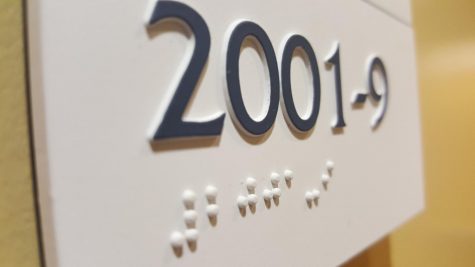 Visually impaired students have to guess which building they are in due to the lack of exterior braille signs on campus.
Kimberly McKarin, a junior majoring in political science, memorizes her way to class at the beginning of each semester. Since there are no exterior braille signs to identify buildings on campus, visually impaired students have to take extra time to make sure they are in the right place.
"When I first came to UNF, I didn't know where any of the buildings were, I couldn't find them," McKarin said. "I couldn't find the names, [numbers] or anything [that identifies the buildings], so I was kind of annoyed and I just memorized everything."
One week before every semester starts, McKarin asks friends or relatives to guide her through campus to make sure she's going to the correct building for each one of her classes.
"I usually ask my mom to come with me and show me how to get to each building from my dorm," McKarin said. "Then I will practice the way to make sure I make it to class on time."
UNF identifies its buildings by numbers, but they do not follow a linear path, so visually impaired students have to memorize each building location to make it to their class. McKarin said she usually feels lost and sometimes will forget where the building's doors are. Although McKarin can see some shapes, it's difficult for her to distinguish one building from another. But after dark, she can't see at all.
"Whenever people wear bright colors, I can see them," she said. "But not during night time, when most of my classes happen."
McKarin said she majored in political science and concentrated in public law, because she felt passionate about changing the real world through real public policies. This situation inspired her to do something about the lack of braille signs and she took matters into her own hands. McKarin started what she called the Braille Initiative to solve the problem and help visually impaired feel more comfortable moving around campus.
Putting her political science knowledge to practice, she went to the student advocate and presented the project. She then contacted the American with Disabilities Act compliance office to ask for the resources needed.
The president of the ADA compliance office at UNF, Rocelia Gonzalez, accepted McKarin's Braille Initiative and the planning started shortly after.
"It takes time for them to get up," McKarin said. "Designs need to be made and products purchased."
The project officially started during the end of 2017 spring semester. Since May, they have been working on the designs and the budget needed for the signs to be up and functional by next year.
—
If you have any compliments or concerns regarding this article, please email [email protected].