Mallory Schott: Growing a community through a garden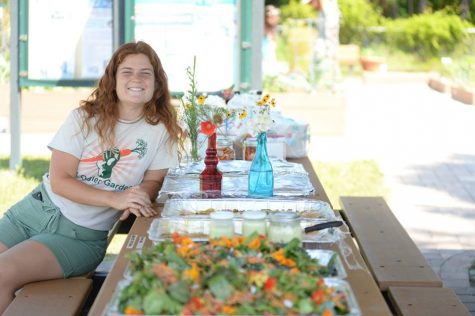 The Frederick and Ophelia Tate Ogier Gardens continues to flourish with the help of many volunteers since its inception in 2009. Mallory Schott, a UNF alum, earned a degree in nutrition and dietetics and teaches students the health benefits of maintaining a garden.
Schott started at the garden in 2012 as a hard-working farmer. Now she is the staff lead, and she teaches students the importance of health in the food they grow. Schott, like most students, came to UNF not knowing what her major was going to be. She then found a thriving community in Ogier and decided to major in nutrition soon after. The garden gave her a sense of purpose, Schott said, she now enjoys building a community around food.
Now Schott keeps the garden growing even after graduating. As the staff lead, Schott wears many hats. She weeds and harvests, while also guiding the volunteers who help to maintain the garden.  
She explained that she first gained interest in the Ogier Garden from the first coordinator, Carmen Franz, when she spoke at orientation.
"They brought us out here and we painted bricks for the herb spiral which is still here today. I can't find the brick I painted though, I don't know where it is," Schott said. "That was my first time at the garden and at that time it was an empty field."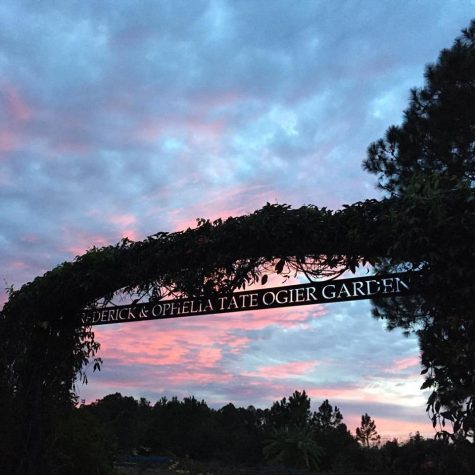 She believes that the garden's main goal is to help serve the students. Whether through the Adopt-A-Bed program, or by donating fresh produce to the on-campus food pantry, Lend-A-Wing.
"Adopt-A-Beds are plots that students can check out and learn how to grow food. We provide all of the plants, soil, fertilizer, and they are on drip irrigation. We also want to increase students' access to fruits and vegetables," Schott said. "We donate produce to Lend-A-Wing, the on-campus food pantry which serves students who are food-insecure. We also provide fresh produce to students who volunteer."
Through her experience, Schott has learned many tips on gardening. She feels that students from different majors can benefit from this hands-on experience.
"I think that our garden can serve all majors. Biology majors could use the garden as an outdoor laboratory for studying plant genetics and study the different conditions plants require. Marketing majors can delve into the niche market of agriculture. We even have a few sculptures in the garden donated by art students."
Ogier Gardens recently partnered with some nutrition professors to grow specialty crops. They're going to freeze dry the crops that are grown, take them to a lab in Puerto Rico and analyze nutrient levels in the food. Schott said this is groundbreaking research because these crops do not have existing nutritional analysis.
"We're not talking about cabbage or broccoli, we're talking about Egyptian Spinach, Katuk and Seminole Pumpkin. These are heritage crops that haven't been analyzed yet," said Schott.
While Schott believes in the future of Ogier Gardens, she thinks about her own future as well.
"Having just graduated it's hard to leave the garden because I have been here for so long and I've put a lot of my focus into this space, but I do see myself moving on soon," she says.
Even though Schott's time at the garden may be coming to an end, she believes that the garden still has much to offer Ospreys.
"The garden is a great place. It's a safe zone, there's no judgement out here," said Schott. "I think that all students can find a home in the garden."
—
For more information or news tips, or if you see an error in this story or have any compliments or concerns, contact [email protected].