UNF plans for new swimming pool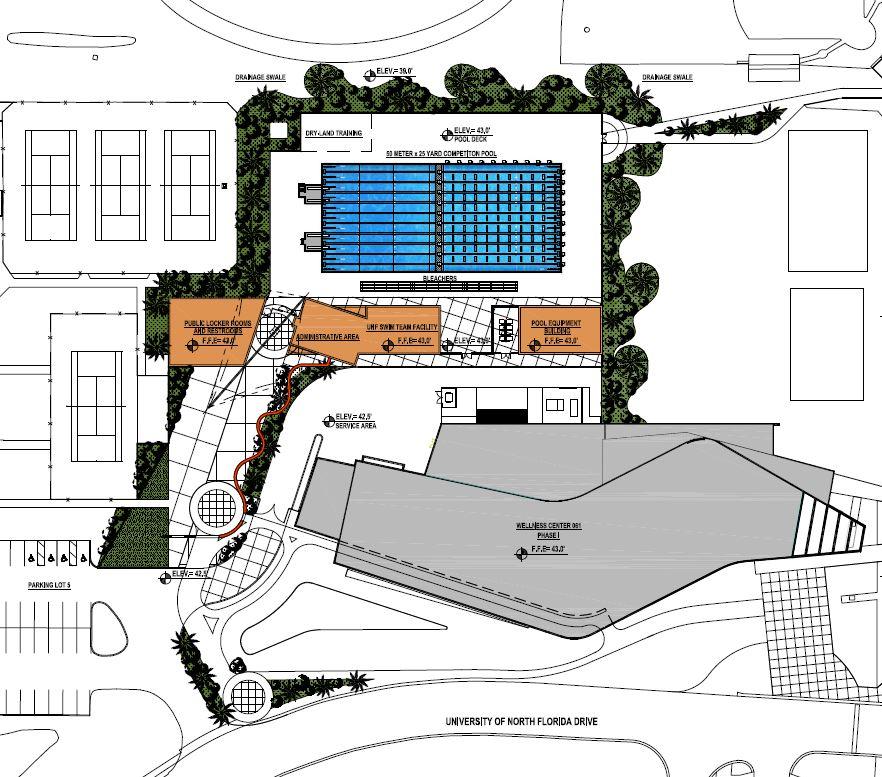 Hale, John
The UNF swim team has grown over the years, attracting more and more student-athletes. However, the university is still missing a very vital part of the sport: a pool.
"The reason we don't have a pool is because they condemned that one because there was so much work that needed to be done with it," said Lee Moon, the UNF athletic director.
UNF's previous pool, the Andy W. Sears pool, was put to rest in 2013. The pool served as the home for the swimming and diving team until its closing. The pool had 14 lanes and two diving boards: a three meter board and a one meter board.
Maintenance and funding were only part of the problem with the pool. There were multiple issues with the facility and its poor conditions. Late in the 2013 school year the water was drained and the doors were shut to the once beloved pool.
While the pool might have gone away, the swim team is still alive and going strong. The 26 swimmers on the all-female team will be practicing at Bolles High School, located about 10 miles away from campus.
"We are very fortunate to have top quality training facilities in our community like the one we will be using at the Bolles School this year," said head coach Ian Coffey.
Although without their own university pool, the UNF swim team continues to take big strides in becoming a better and stronger team. The lack of a pool has not stopped the team from attracting new talent year after year either. 
"The last two years we've broken 11 school records, posted the program's best finishes at the conference championship meet, and grown from 14 to 31 swimmers," said Coffey.
While the news of the pool closing down was upsetting to many, there may be some good news to spread.
According to Moon, when the athletic department gets funding, the pool is on the top of their to-do list.
"We have a design for the new pool. We have the cost count. We know where we want to put it," said Moon.
According to UNF Administration and the Financial department, there is a conceptual drawing plan for the pool, but there is no absolute final design.
After the pool, Moon says the softball area would be next on the list, with the arena following it.
—
For more information or news tips, or if you see an error in this story or have any compliments or concerns, contact [email protected].