Athletic Director Lee Moon on the hiring process for UNF coaches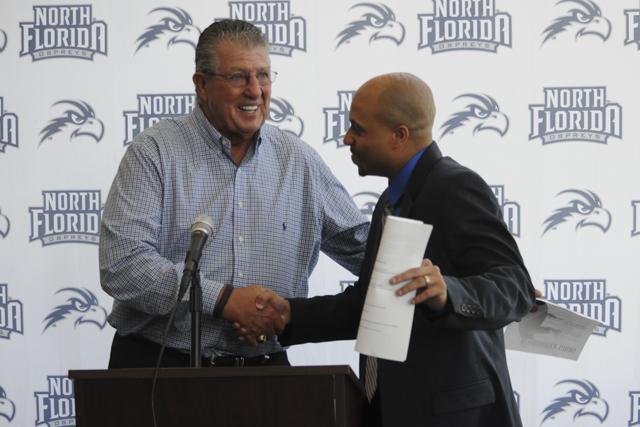 A selective interview technique is responsible for the successful coaches at the UNF. UNF Athletic Director Lee Moon shares his process which he has down to a science.
"I was a coach for many years, so I know what I'm looking for and what you need to have [to be] a successful coach," said Moon.
Moon coached college football for over 15 years at major universities including Duke, Virginia, Kansas State and Mississippi State. After that, Moon started his career as an athletic director and traveled to multiple schools including Kansas State, Marshall, Wyoming, University of Alabama at Birmingham and UNF.
Moon has a list of questions that he uses when conducting the interviews to find new coaches. Moon said these interviews tell him who to hire and who not to hire. Over the years Moon has added questions to help guide him through the "fluff" some interviewees put on in the nearly four-and-a-half hours long interview.
"I don't even let them go to the bathroom. It tests their resiliency," Moon said laughing.
Getting coaches who are not only able to win but able to win at a high level is an essential part of Moon's hiring process.
"If you look at my background and how I've hired people I like to hire assistant coaches. Young coaches who have a high level of experience and a high level of experience at winning, [and] understand what it takes to win," said Moon.
Moon has continued to do this interview over and over again. There have only been a few times where did not conduct his interviews this way and the result has always been the same.
"In all my years I have not done this process three times and all three times I had to fire the coach because they failed to reach the standard that I wanted and the success," Moon said.
This process has helped Moon hire some memorable coaches not just at UNF but at his other schools as well. One of Moon's most prestigious hires is current Oklahoma City Thunder head coach Billy Donovan.
Moon hired Donovan back when he was the athletic director at Marshall. University of Dayton head coach and former Oklahoma City Thunder assistant coach Anthony Grant is also among the memorable coaches hired by Moon.
Moon also hired UNF's beloved head basketball head coach Matthew Driscoll.
"He started his Division I basketball career as a third assistant for me at Wyoming, so I've known him 18 or 19 years before I hired him [at UNF]," said Moon.
Moon's most recent hire was the new baseball head coach Tim Parenton.
"He was the assistant here, but he played for me when I was the football coach at Mississippi State," Moon said. "I'm going to hire people that I know and I know what they're all about."
—
For more information or news tips, or if you see an error in this story or have any compliments or concerns, contact [email protected].