Group fitness at UNF: what you need to know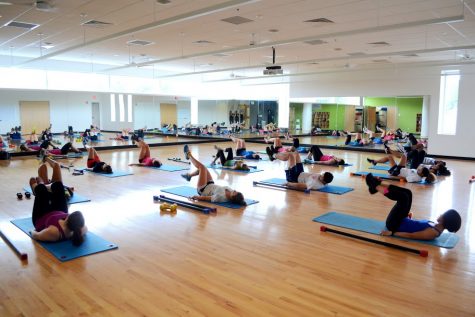 For students who don't feel at home at the gym, following an instructor – and knowing someone will tell them if they're doing a move wrong or going to hurt themselves – is a requirement for a good workout. But for newcomers, the Student Wellness Complex group fitness schedule can be confusing. Some classes sound eerily alike – especially the handful of classes with "yoga" in the name. How should a newbie choose which class to try?
We spoke with Kacie Smith, fitness coordinator, and Heather Kite, associate director of recreation operations, to decode the mystery of group fitness.
Smith said compared to working out alone using the gym equipment, group classes are great for making friends and making working out easy.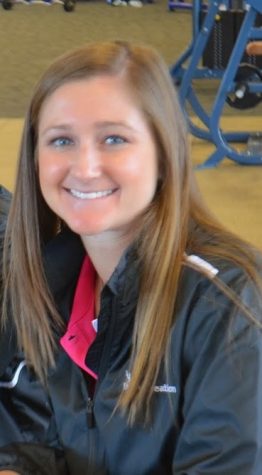 "You don't really have to plan for anything besides just putting your shoes on and showing up," Smith said. "If you're going to typically anything besides a yoga or a mind-body sort of class, you're gonna sweat. And you're gonna get a good workout."
Relaxing yoga is a good place to start, Smith said, because it's the least intimidating.
"Power yoga is, I guess, more powerful. You'll break more of a sweat," Smith said. "Flow yoga and the regular yoga class are the in-between, where they have more options to increase the variations than total power yoga or total relaxing yoga."
If you want to sweat, try one of the high intensity classes, which are Smith's favorites.
"I like any of the high intensity classes. So that could be Buns & Guns, Booty Blast, Strong & Fit HIT, Total Body Turn Up," she said. "Anything that's really sweaty, I like."
This summer, the schedule included Acro Yoga, a partner class, for the first time. Smith said she was skeptical, but people love it and she hopes to keep it on the schedule.
Another new class is Spin, Strength & Stretch. Compared to Spin & HIT Combo, it's lower intensity, with a longer stretching period. "So they're sort of similar, but one is higher intensity, one is lower intensity," said Smith.
Smith and Kite said the best way to find the right class is to try a few and see what you like. Classes aren't designed for a specific skill level, so there's no need to worry if a class will be too advanced or too easy.
Most instructors know it could be someone's first time and will accommodate them, Kite said.
"A lot of times, they ask, and there's always modifications," Kite said. "So if somebody can't do it as it's shown, a modification is usually offered."
Kite said modifications go both ways, so students can tailor the same class to the level of workout they want.
Smith said she encourages students to try whatever sounds fun. And if they're still intimidated, Kite said, try it with a friend.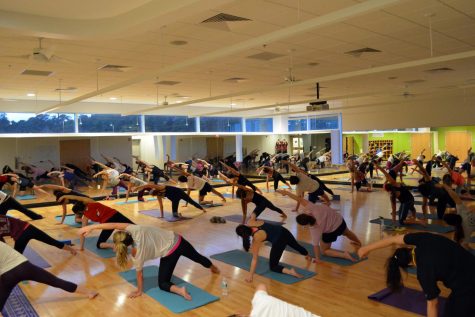 If nothing on the schedule sounds particularly appealing now, Smith said she expects more classes to be offered for the fall schedule. Summer is usually the smallest schedule because some instructors go home, Smith said. The fall schedule should be available by August 14 and the classes will begin August 28.
Instructors can get creative and give their classes a unique spin, Smith said, so sometimes, students need to try different instructors to find a style they like.
Smith said students don't need to sign up or pre-register for classes; they just show up with their Osprey 1Cards and workout clothes.
"No need to bring anything," Smith said. She said some people prefer to use their own mats, "But we provide everything."
The gym gets crowded in the evening, especially during the first few weeks of the semester, so she recommends showing up about 10 minutes early. Anything after 5 p.m. will be the busiest, Smith said, so if you're feeling anxious about the crowds, it's best to go to a morning or midday class.
Smith also urged students look at the length of classes, which range from 30 minutes to over an hour, and know how long the classes are and where they're located before they show up, using the information found on the schedule.
—
For more information or news tips, or if you see an error in this story or have any compliments or concerns, contact [email protected].