The best and worst of UNF's closest movie theaters
Going to the movies can be a great release for students. There's really nothing like being able to sit down, enjoy some unhealthy food, and depart from reality for two hours as homework and studying remain safely hidden in the back of one's mind.
One thing that can either elevate or detract from this wonderful experience is the theater itself. With four of them relatively close to UNF, which one should ospreys be flocking to? Prices, potential discounts, food, and comfort can all affect the movie-going experience, and each aspect will be discussed and graded in order to determine which theater is the best option for students to see their favorite films at.
It should be noted that all four theaters offer wheelchair accessible seating and closed captioning devices. Each theater also offers descriptive audio devices for visually impaired customers.
Regal Avenues Stadium 20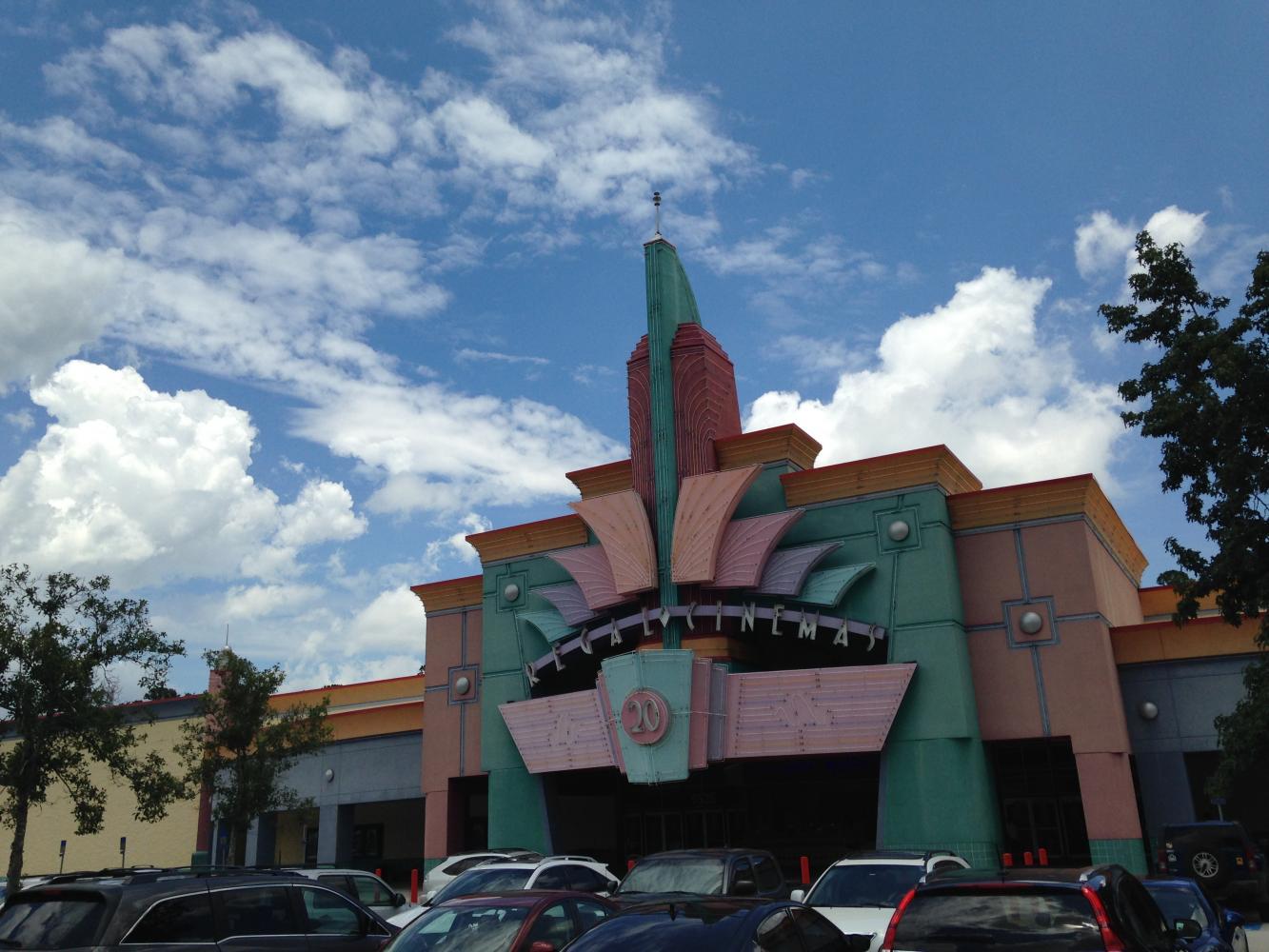 Proximity: ≈20 minutes
Located practically next door to the Avenues mall, this theater could serve as a fantastic location for those who want to pair an afternoon of shopping with an evening flick.
Prices
Typically, an adult ticket for any standard showing is just under $11. Combine that with food and a little extra gas to get there, pricing is a little hefty at this location. Those who want to see a film in 3D will pay just over $14 for an adult ticket, and almost $16 if they want to see it in Regal's advanced RPX (Regal Premium Experience) theater, which essentially means the screen is bigger, the picture is clearer and the sound is higher quality. Moviegoers will have to decide for themselves whether this is worth the increased price. Seating tends to be reserved for these showings.
Grade: C-
Discounts
Ospreys who bring their student IDs can expect a slight discount if they go see a film Monday—Thursday after 3 p.m. The discounted price is $9.35. Regal also allows people to sign up for their Regal Crown Club. Being a part of the program lets them earn credits for buying tickets and concessions which they can redeem for the same items. Other benefits include coupons, potential discounts and other special offers according to Regal's website. Regal Cinemas additionally offers a military discount with a valid military ID.
Grade: C+
Food
Concessions here are pretty standard. Popcorn, sodas, nachos and a variety of candies. All way more expensive than they need to be, of course.
Grade: B
Comfort Level
There's nothing special about the comfort level here, either. Just the standard movie theater seats people have come to expect.
Grade: C
Overall
Though it's very expensive to see a movie here, and it has nothing to offer in terms of elevated comfort, Regal Avenues 20 entertains in the essential ways. It's a decently-sized location, and their individual theaters tend to be pretty big, too. It also has an arcade for anybody who feels compelled enough to play some video games before or after a film.
Overall Grade: C
Cinemark Tinseltown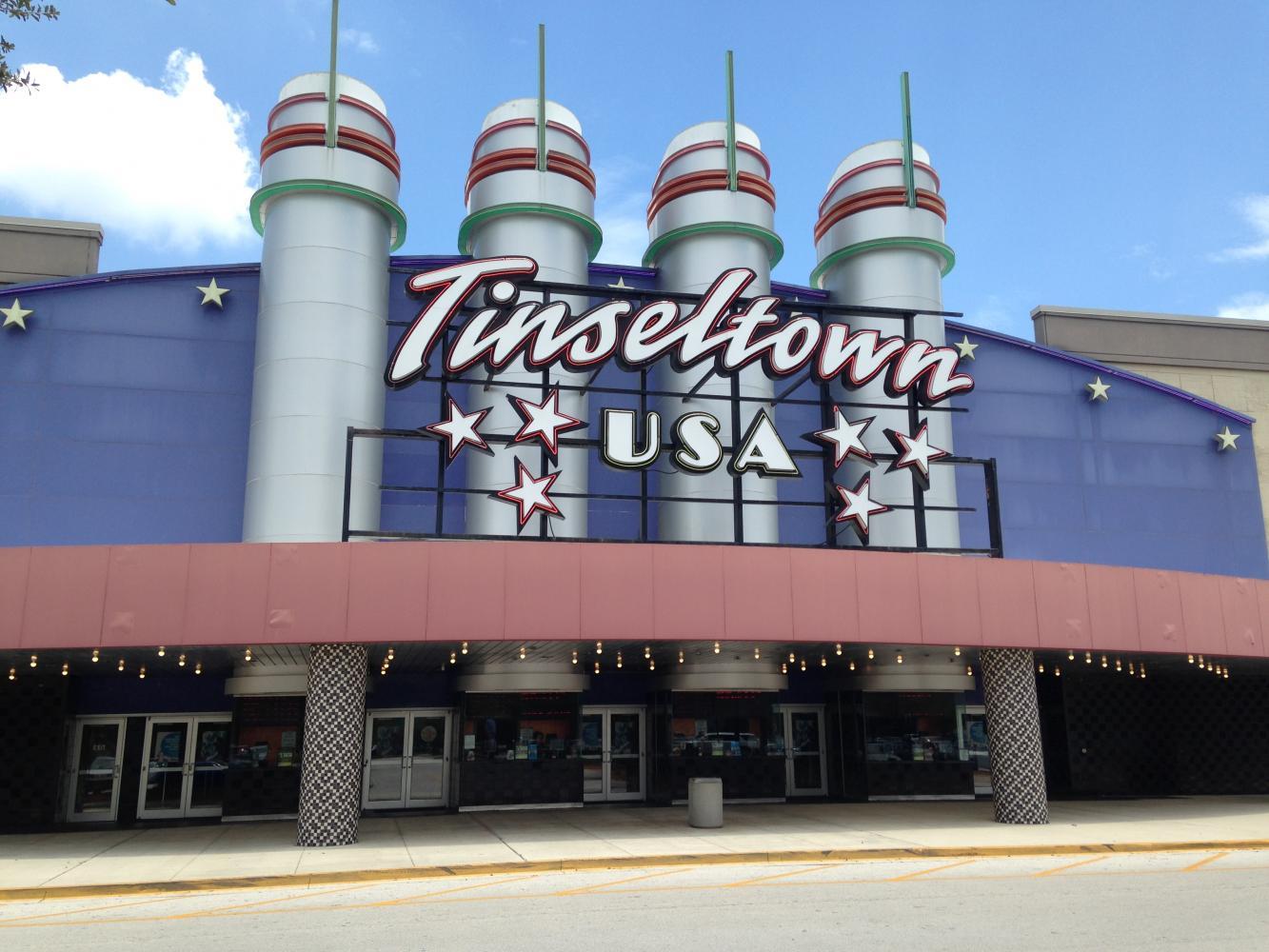 Proximity: ≈8 minutes
Being only eight minutes from UNF, and just down the street from the Town Center, Tinseltown is a great option for students in terms of proximity.
Prices
Tickets here are a little cheaper than at Regal. A general admission ticket costs $9.25 for a standard showing, which is less expensive than the Regal price at its student discount. This location also has advanced theater options including 3D and Cinemark's upgraded XD theater. Showings that combine these are $13.85 for general admission, which is probably the maximum amount one can spend on a ticket here, and it's still about $2 cheaper than Regal's version of this movie experience.
Grade: B+
Discounts
Tinseltown also offers student discounts Monday—Thursday. A student ticket for a standard showing costs $8.10, and a 3D XD ticket is $12.70. Cinemark also offers a program called Cinemark Connections, which allows people to accrue points which they can redeem for rewards. Rewards include digital downloads, discounted concessions, and more, according to the Cinemark website. They also offer a military discount with a valid military ID.
Even further, this location offers discount Tuesdays where standard movie tickets are only $5.00. 3D and XD tickets are discounted, as well. This is a difficult-to-pass-up offer for ospreys with light Tuesday schedules (or anybody looking to skip class that day, but you didn't hear that from me).
Grade: A
Food
Tinseltown offers the essentials and more. Along with popcorn, ICEEs and candy, this theater also has a separate snack station by the entrance that sells pizza, ice cream, chicken tenders and even Starbucks coffee products. A little caffeine makes those 12 a.m. showings a bit more feasible.
And (wait for it), Tinseltown is also getting ready to start serving alcohol in the coming months, so of-age ospreys should start preparing their bank accounts immediately. Food at the movies is always going to be expensive, but it's difficult to knock the sheer variety of products this location has to offer.
Grade: A
Comfort Level
"It's high…it's very high," as the snarky Star Wars droid K-2SO would probably say about the Tinseltown location. Each individual theater is equipped with big, cushioned lounge chairs that recline to allow for maximum comfort. If one decides not to recline his or her chair, there is still ample leg room to give moviegoers the opportunity to stretch out without kicking some poor viewer in the back of the head. For that, we're all thankful.
Grade: A
Overall
Cinemark Tinseltown is a great go-to place for a movie. Its prices are relatively low for a movie theater, the food selection is outstanding and comfort is guaranteed. It also has an arcade as an added bonus. There is one thing that does put a bit of a damper on this theater, though. Recently, Tinseltown has made a switch in seating that makes ticket buying more complicated.
All seating is now reserved. That means waiting to buy tickets at the theater runs the risk of losing the best seats to those who purchased their tickets online in advance. Buying tickets online is all fine and dandy, except for the fact that those who do this will be charged a convenience fee which usually adds a couple dollars onto the total.
This also makes coordinating with friends difficult because in order to assure that everybody gets seats next to each other, all tickets should probably be bought online by one person, and the rest can just pay that one person individually. If they wait to get to the theater, there's a chance they won't be able to sit together, and the best seats will likely have been taken already.
This is an unfortunate thorn in the side of an otherwise stellar movie theater.
Overall Grade: B+
AMC Regency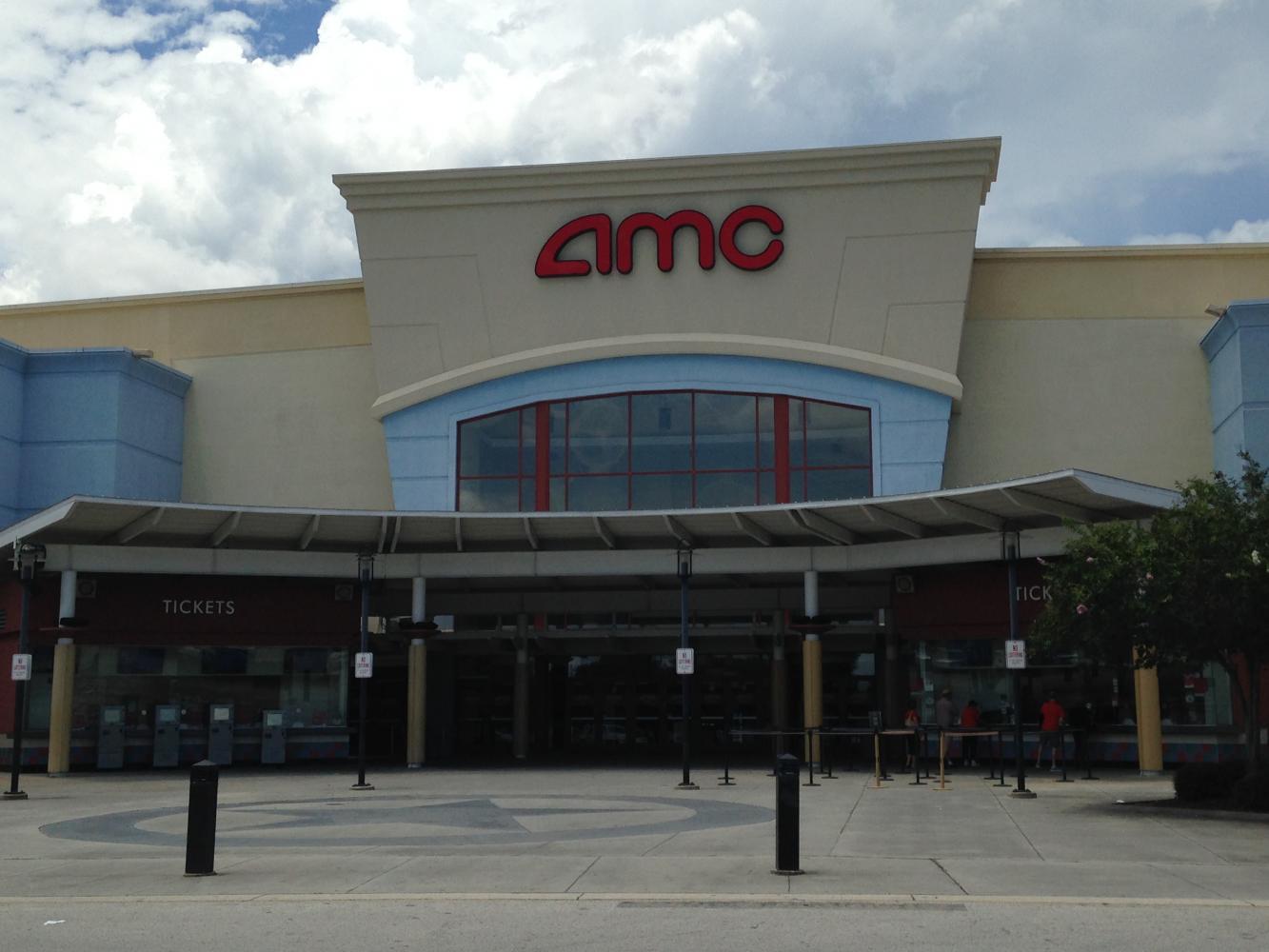 Proximity: ≈15 minutes
There's not a whole lot else to see around here besides the theater, but this one does have a couple features that set it apart.
Prices
$11.29 for general admission to a standard showing. $15.79 to see a movie in IMAX, according to AMC Regency's website. Pricing is pretty steep and similar to Regal Avenues.
Grade: C-
Discounts
One nice thing about AMC Regency is that student discounts are available every day after 4 p.m. According to an AMC associate, student tickets for a standard showing are $10.48 each. This theater offers a military discount, as well. Joining the AMC Stubs program also allows people the opportunity to earn points and other rewards. Some rewards include $2 off tickets on Tuesdays and getting free refills on a large popcorn with every visit, according to the website.
Grade: B
Food
AMC Regency's food selection is top-notch. It has all the standard stuff, along with hot dogs, pizza, and the prestigious Coca-Cola drink machine that carries over 100 different drinks. There's truly something for everybody. AMC also serves alcohol to of-age customers.
Another unique aspect of AMC is its butter dispenser. That's right, AMC moviegoers no longer have to rely on the theater staff to put just the right amount of butter on their popcorn. This theater gives full control to the customer, and it's definitely something to be taken advantage of whether you prefer your butter light, layered, or even overflowing for those who want to live their lives to the butteriest. No judgment here.
Grade: A
Comfort Level
Like Tinseltown, AMC Regency boasts lounge recliner seating. Can't beat that.
Grade: A
Overall
AMC Regency excels in terms of food variety and comfort, but it loses points due to its higher prices and greater distance from campus. All seating is reserved, meaning customers may run into seating availability problems if they wait too long to buy tickets. Coordination is also somewhat more difficult. That butter machine is a huge plus, though.
Overall Grade: B-
Regal Beach Boulevard Stadium 18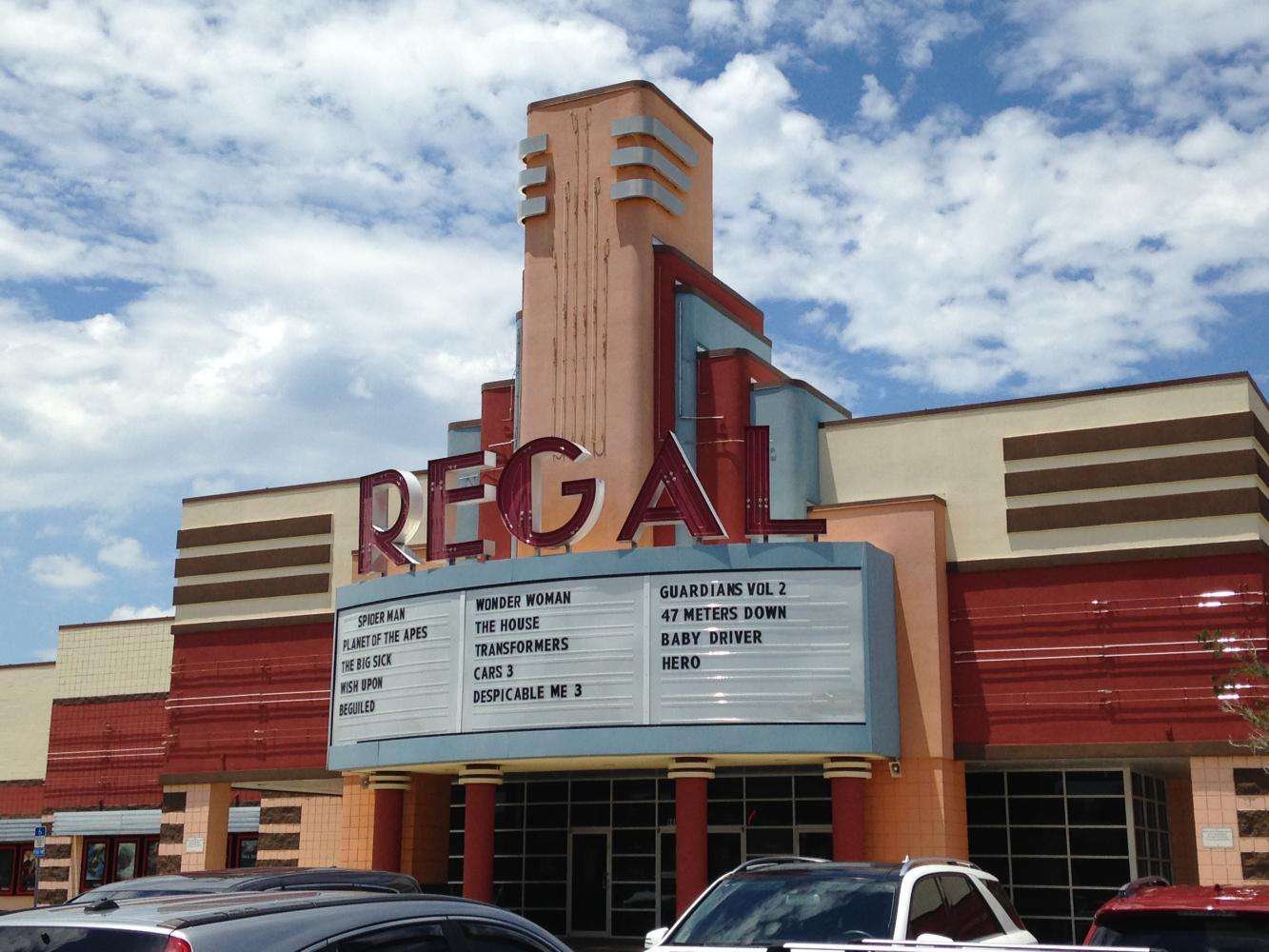 Proximity: ≈8 minutes
This regal location is a good halfway point between UNF and the beaches. It's closer than its sister location at the Avenues, and although a lot of its policies and reward programs are similar, it does have a couple features that differ.
Prices
Ticket prices are identical to the Avenues location. $10.74 for general admission, and $14.26 for 3D. This one does not have an RPX upgraded theater.
Grade: C-
Discounts
$9.35 for students with their IDs. They also offer the same Regal Crown Club rewards program as the Avenues location, as well as a military discount.
Grade: C+
Food
Popcorn, candy, and sodas, although this location also serves beer and wine unlike the Avenues location, giving it an edge.
Grade: B+
Comfort Level
No recliners to speak of here, but there's a bit more leg room than at the Avenues theater.
Grade: C+
Overall
Compared to the Avenues location, this Regal theater is much smaller overall, and has some smaller individual theaters, too. It doesn't offer the ability to buy more expensive tickets for an upgraded movie-going experience, but it does have a game room and it does serve alcohol. There's also plenty of restaurants in the area, and it's much closer to campus. There are better theaters, but this one will do just fine for those who aren't too particular.
Overall Grade: C+
To wrap this up, not everybody cares about every little detail when deciding what theater to catch a film at. For not-so-picky ospreys who want a simple night out at the movies, Regal Beach Boulevard will do nicely. For those who want a little added comfort and food variety, AMC Regency is probably for them, but only if Cinemark Tinseltown doesn't have any tickets left for the movie they want to see. Tinseltown has terrific discounts (especially those $5 Tuesdays), a large range of snacks and drinks and it's conveniently close to campus. If ospreys can get past the online ticket-buying ordeal, this is surely the place to go for the best experience. Happy movie-going!
—
For more information or news tips, or if you see an error in this story or have any compliments or concerns, contact [email protected].