UNF student searching for cause of dolphin health problems


Some people don't know there are dolphins living in the Saint Johns River. Even more are unaware that they're in trouble, according to UNF coastal biology graduate student Amber Brown.
In recent years, she said, the dolphins have been suffering a plethora of health issues. They have skin lesions, they're underweight and they're dying in low salinity areas of the river. And so far, the cause of the dolphins' ailments have not been confirmed.
"A lot of the dolphins that are residents here, the ones that live in the river year round, were dying, and we were unable to determine their cause of death," Brown said. She said necropsies – autopsy of an animal – found no cause of death or reason for the health decline.
Brown hopes to change that. She is investigating a link between dolphin health and cyanotoxins in the river.
"We are finding that at least one toxin called microcystin is definitely affecting the health of our dolphins," she said.
Along with microcystin, which affects the liver, several other cyanotoxins are present in the river, Brown said, and they affect the nervous system and skin. They are created by cyanobacterial blooms.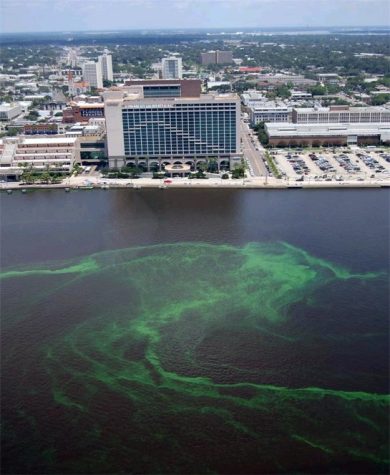 "When they bloom, or create these big green scums, they have the ability to produce toxins," she said, and the toxins are released into the water when the blooms die.
Since 2010, Brown said, there has been an increase in blooms and unusual mortality events.
One of the main drivers of the project is the potential impact of cyanotoxins on other animals, including humans. According to Brown, the toxins would affect humans the same way they affect other mammals.
"[Dolphins] share our exact same ecosystem. We share the same water, the same food," she said. "They're kind of what we call a sentinel organism, or a canary in the coalmine."
The Environmental Protection Agency has regulations to avoid swimming or drinking water if the toxin level is too high, she said. In high concentrations, the toxins can be deadly, but, Brown said, exposure to low concentrations over time promotes tumors, weakens the immune system and can lead to other infections.
"It's concerning when you know that these toxins are in the water, or you know that there's a bloom, and you see people fishing," she said. "Because the fish also take up microcystin and if a human eats it, that's a concern."
There are documented cases of cyanobacterial toxin exposure in humans, Brown said, and people died when water contaminated with cyanotoxins was used for dialysis.
"It's an extreme human health issue," Brown said.
Brown said in both birds and fish, exposure to microcystin causes animals to be more susceptible to secondary infections and death from those infections.
"Unfortunately, cyanobacterial blooms are natural," she said, but the increased frequency and size of the blooms in recent years is unnatural. "We've been able to see toxins in the river throughout the entire year."
She said last summer, Gov. Rick Scott declared a state of emergency because of blooms in Lake Okeechobee. There is a concern for the toxins, Brown said, but lawmakers need to know that the blooms happen every year and the toxins stay in the water.
Some people think that once the bloom is gone, the water is safe, Brown said, but because the toxins are released as the blooms die, there is still a danger.
"I think there needs to be not only more research on how long the toxins stay in the water, how much of them get taken up by fish, how many humans eat those fish," she said, "but I think the lawmakers do need to be aware."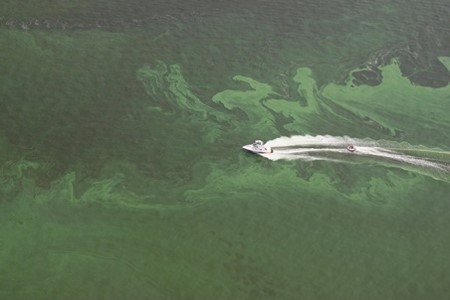 The amount of toxins produced does not always correlate to the size of the bloom, Brown said, which makes research difficult. Researchers don't know why the toxins are being produced.
Pollution is also a problem, Brown said, because the blooms' growth is related to nitrogen and phosphorous runoff.
"I think the best thing that we can do for these dolphins is clean up the water," Brown said. "But that's gonna be a huge effort from a lot of people."
She said she also wishes more people were aware of the resident dolphin population in the Saint Johns River. Knowing dolphins live in the river may motivate people to change their behavior, she said.
"So getting the information out there and getting people dedicated and invested in the health of these animals is gonna be their best shot," Brown said.
In 2017, Brown received a Seed Grant from the Environmental Center to pursue the research.
"It's the reason we could do this project. The analysis is not cheap," she said. "They've been very supportive."
Brown said there is a researcher in California doing similar research on sea otters, but there is much more research to be done in the area.
Brown studied environmental science and biological conservation during her undergrad at the University of Virginia. She said after graduating and moving to Georgia after graduating in 2013, she knew she wanted to work with marine mammals.
Brown studied environmental science and biological conservation at the University of Virginia, graduating in 2013. After she finishes her graduate studies at UNF, Brown said, she plans to apply to veterinary school to become an aquatic animal vet. She said aquatic animal vets can work with captive animals, but also work on stranded and beached animals to find what caused the deaths and what could be done to prevent it.
"That's where my heart and soul lies," she said.
__
For more information or news tips, or if you see an error in this story or have any compliments or concerns, contact [email protected].