Sage the Gemini at UNF: WOW concert brought in a small, lively crowd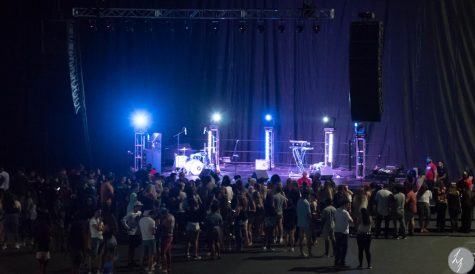 Ospreys flocked to the Arena Saturday to see rapper Sage the Gemini perform at the Week of Welcome concert. Osprey Productions put on the event, which was free for students.
The space was hardly crowded and actually felt more than half empty. However, Sage the Gemini, famous for his 2013 hit Gas Pedal, had plenty of enthusiastic fans in the audience. Most even got the chance to meet him.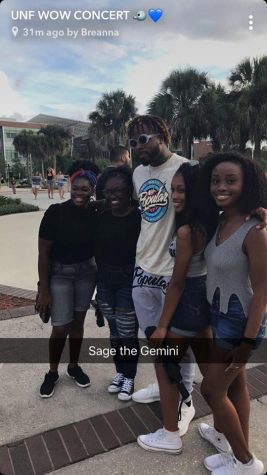 About 30 minutes into his performance, after getting through fan favorites like Gas Pedal and Red Nose, Sage the Gemini turned things over to his DJ and walked along the front of the crowd, shaking hands and posing for photos. The meet-and-greet lasted about as long as his performance; he did not return to the stage and continued taking selfies with fans even after the main lights came on.
Sophomores Rebecca Bazelais, Darica Hayes, Tajaney Pinnock and Breanna McCullough got a chance to meet the rapper before the show as well when he stopped to talk to them outside the Arena.
"We were outside waiting and he came up in a golf cart, he stopped, he talked to us a bit," they said.
As big fans, they said getting to meet him was exciting, and they were looking forward to hearing his hit songs.
They said the turnout was close to what they expected, but a little less crowded.
"I thought there would be more people," one said. "I think some people still think that it's at the other location."
A few students commented on the open space, saying it was much less crowded than past concerts. However small, the crowd was lively and fans danced and cheered throughout the performance.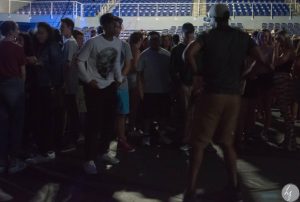 Dominique Waddell, a junior in business mangagement, said he was excited to see Sage the Gemini.
"Of course!," he said. "That's my man!"
R&B artist R.Lum.R. opened the show, saying it was his first time performing in Jacksonville. The up and coming artist's set ended with the hit Frustrated, which has millions of streams on Spotify.
__
For more information or news tips, or if you see an error in this story or have any compliments or concerns, contact [email protected].