Women's soccer defeats JU with goal in second overtime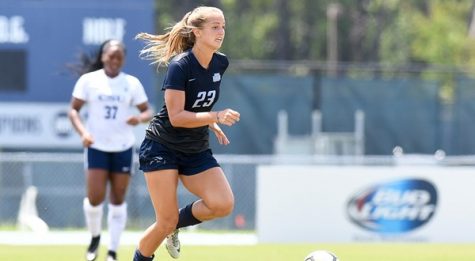 With a 2-1 victory on the road, North Florida(7-2) defeated their crosstown rival Jacksonville University (JU) Dolphins(2-6) for the first time since 2007.
Head coach Robin Confer is proud of her team, who also won their last game. 
"It's a special moment for them and I want them to really enjoy it for tonight and tomorrow, but then it is back to work on Monday," said Confer.
Things started off slow and physical in the first half between the rivals. Osprey freshman Thais Reiss was served the first yellow card of the night at  23:41. At 42:28, the Dolphins grabbed the first and only goal of the first half.
In the first period, UNF took eight shots while JU took seven. North Florida wrapped up the first half with three saves and two fouls, compared to Jacksonville's four saves and four fouls.
In the second period, the Dolphins received two yellow cards at the 48:02 and 89:08 marks respectively. North Florida started a comeback charge at 76:38 behind Reiss off an assist from Krista Colubiale for their first goal of the night and tied the game 1-1.
In the second period, the Ospreys took a total of eight shots to the Dolphins' six. UNF finished the half with two saves and six fouls, while JU had four saves and one foul.
With the game still tied 1-1 as the final seconds of the half ticked down, the first installment of the River City Rumble had to come down to overtime play.  
In the first overtime, both teams made strong efforts to score a goal, but neither did. With the game extended into the second overtime, it wouldn't be until Colubiale scored an unassisted goal in the 106 minute to push the Ospreys passed the Dolphins to win the game.
"[Colubiale's] second [play] was just pure grit. That is what we talk about. That fight and that hunger," said Coach Confer.
The Ospreys return to Hodges Stadium to play the USC Upstate Spartans on Sept. 29 at 7 p.m.