Club spotlight: UNF Navigators
Students form friendships and strengthen their spirituality with the UNF Navigators club.  The Navigators are an international, interdenominational Christian ministry.  Here on campus, the Navigators meet every Thursday at 8:30 p.m. for Nav Night.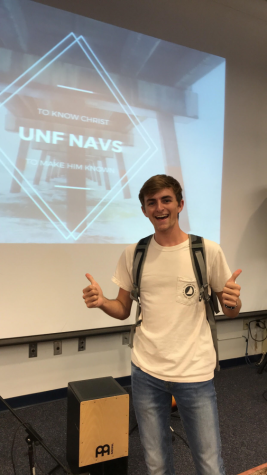 The Navigators' motto is "To Know Christ and Make Him Known." Club members aim to find Christ in themselves and better their relationships with him.
Several students came out to join the Navigators at Nav Night. Sophomore Nick Griffith, a resident assistant majoring in sports management, said Nav Night is a way to meet new friends and build a strong connection with God.
Every week, the club brings in a motivational speaker to discuss the Bible and tell an inspirational story behind it. In September, Joel Otero, a minister for the Navigators program nationwide, spoke to the club. Otero, who started the program at the University of South Florida, spoke about forming relationships and friendships with God helping along the way and the unique partnership that bonds people together.
The Navigators also host weekly Bible study groups as well as "Sports on the Green" every Friday at 3 p.m., where students can relax and play sports.
Last month, the club recognized three students who attended a two-month summer training program offered by the Navigators. Levi Bradley Keith Messer and Taylor Pederson worked full time for Dollywood in Tennessee, where they held weekly study groups and learned about Gospel. The students said after the summer program, they felt connected and closer to each other.
Club members and students Amber Pearson and Danni Flanagan said they feel great and connected after they attend Nav Night .
Nav Nights are held Thursday in J. Brooks Brown Hall in Room 1009. For more information about the UNF Navigators, check them out online here.
__
For more information or news tips, or if you see an error in this story or have any compliments or concerns, contact [email protected].