LGBT Resource Center awarded $25,000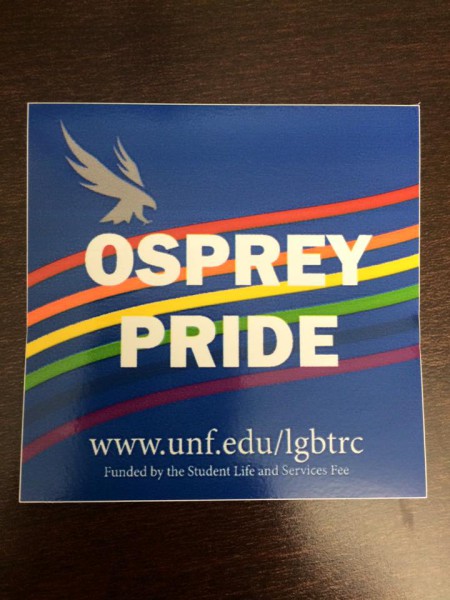 Correction: A previous version of this article said students can apply for the grant. This information is incorrect. The grant was awarded to the LGBT Resource Center and students will benefit from the grant. We regret the error.
__
The Community Foundation of Northeast Florida has awarded more than $158,000 in grants to six local nonprofits that serve the LGBT (lesbian, gay, bisexual, & transgender) community. The LGBT Resource center on campus has been awarded a new grant worth $25,000 from The Community Foundation of Northeast Florida, to support three projects for LGBT college students.
The new funding program will help the LGBT Resource Center continuing their mentor Program, Club Can Do, which pairs LGBT students with LGBT community members. It will also allow students to attend a conference in the Spring of 2018 focusing on LGBT employment. The conference will connect LGBT job seekers with LGBT friendly employers and provide training for organizations who wish to be more LGBT friendly.
The LGBT and Faith Communities public lecture and strategic meetings will take place in Fall 2018 and will also benefit from the funding.
During the LGBT and Faith Communities events, the speaker will meet with Jacksonville religious leaders, UNF administration, students, and other community leaders about bridging and healing relationships in support of LGBT people.
Kaitlin Legg, the director of the LGBT center, says "a pressing issue in our community is the challenge of reconciling religious beliefs and support of LGBT family and friends."
The new funding will include obtaining materials that will enhance the Club Can-Do program, along with presenting LGBT college students with continued mentoring programs, and best supporting practices for the LGBT students.
Club Can-Do program is a community based mentoring and student development program at UNF for students who identify as lesbian, gay, bisexual, transgender, questioning, intersex, and/or Asexual (LGBTQIA).
Students may be wondering when this grant project starts; it began in October 2017 and ends in September 2018. For more information about the grant you can go here.
__
For more information or news tips, or if you see an error in this story or have any compliments or concerns, contact [email protected].