Exclusive Preview: Doc G. Show interviews Def Leppard guitarist
Assistant professor by day and talk show radio host by night, Ben Gordon records and produces "The Doc G. Show" from his office in the Brooks College of Health in between lesson plans.  On this week's episode, Gordon will interview Phil Collen, who happens to be the lead guitarist of English 80s rock powerhouse Def Leppard. Yeah, no big deal.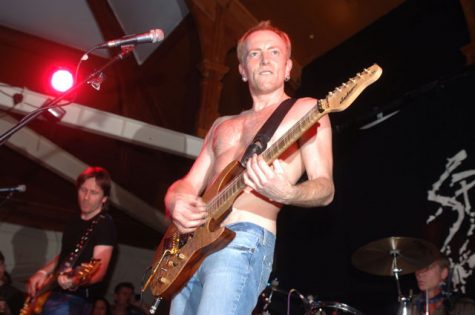 "The interview is about everything [Collen] has going on right now, which is a lot," said Gordon.
Gordon interviewed Delta Deep, Collen's blues supergroup, which includes Robert DeLeo of Stone Temple Pilots, Forrest Robinson (who drummed for TLC), and Debbie Blackwell (who's contributed backing vocals for multiple artists). They discussed the group's sophomore album, Eastcoast Live, and their upcoming tour. Gordon and Collen then move on to talking about Def Leppard and their music recently becoming available on streaming services like Spotify and Apple Music. Later this spring, Def Leppard will be touring with fellow 80s rock powerhouse Journey. Lastly, Gordon touched on Collen's healthy, active lifestyle and talked about his veganism and sobriety.
Gordon stated that this interview was one of the best he's ever done in the show's two-year run.
"[Phil Collen] was extremely courteous, very gracious with his time, and was generally excited to do the interview, which is amazing considering he's probably done 4,000 of these," said Gordon.
Collen is currently on the G3 tour, a 35-site tour taking place over the course of 38 days with fellow guitar legends Joe Satriani (who started G3 in 1995) and John Petrucci of Dream Theater. G3 will perform at the Florida Theater Wednesday, Jan. 31 at 7 p.m.
Typically airing on 95.5 WSKR Spinnaker Radio Wednesdays at 7 p.m., "The Doc G. Show"'s latest episode will air tomorrow, Jan. 30 at 7 p.m. Gordon's program is a variety show covering topics from pop culture to news, to interviewing entertainment figures.
If you can't catch the interview on Tuesday night, be sure to stream it on Gordon's website.
—
For more information or news tips, or if you see an error in this story or have any compliments or concerns, contact [email protected].