Osprey Connector timing tested by Spinnaker
On and off. Fast and slow. Night and day. This is the way the Osprey Connector works. The bus has 11 stops within the core of campus. It doesn't run on Saturdays, and there is only a modified route on Sundays.
During the day, the bus is scheduled to reach each stop every five minutes. During the evening hours, it is scheduled to get to each stop every 15 minutes.
Some students are pleased with the Connector's efficiency.
"I've attended two other institutions and compared to those, they're quite reliable. You really don't have to wait much," Pedro Gomez, a junior studying international relations, said.
Other students have concerns about the shuttle stops.
"I live in Crossings, so the only thing is that it's kind of annoying that to leave from Crossings there's not another bus on the other side of the road. You have to go all the way to Hicks Hall and the Flats before you get to class," Emily Forbes, a freshman studying computer science, explained while waiting at a shuttle stop.
Spinnaker went out and tested the times of the buses on two days at two different times. The first test occurred on Mon. Jan. 29 around noon at the stop in front of Bldg. 4. The second test occurred on Fri. Feb. 2 around 3 p.m. at the stop in front of the Fountains walkway.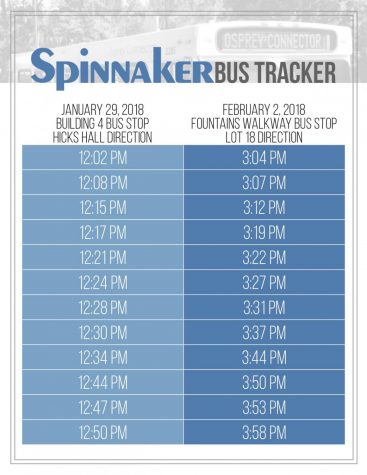 When asking the Director of Business and Parking Services George Androuin about the Crossings stop, he explained that a consultant was brought in when they were shifting the system from a single bus two-route system to a multiple bus one-route system. The department and the consultant agreed that to put a stop on the other side of Crossings wasn't a good idea. The stop would be across the main road which is a major safety hazard, according to Androuin, so it shouldn't be crossed. He also said that due to how close the Crossings were to campus, they decided not to put two stops there.
He admitted that with the search for a new shuttle provider, the issue could be revisited.