The stories on victims of violence are told at Embroidering for Peace
Angie Villada
March 28, 2018
Students at UNF are sharing their thoughts and hopes for a better tomorrow throughout the week using art. Constanza Lopez, associate professor of Spanish in the Department of Languages, Literatures and Cultures, is holding her seventh Embroidering for Peace and Memory event on the Green.
The event brought the community together for students to embroider and decorate a piece of cloth with powerful messages.
Some of the pieces students made were about education, sexual abuse, and discrimination. Through this event, Lopez feels she has achieved a space for students to communicate and express how they feel.
"If I can make a difference in somebody's life… and open lines of communications, I think it's a good role for me as an educator," says Lopez. "It's important to be involved and to feel like [students] can be part of the change that happens in the world."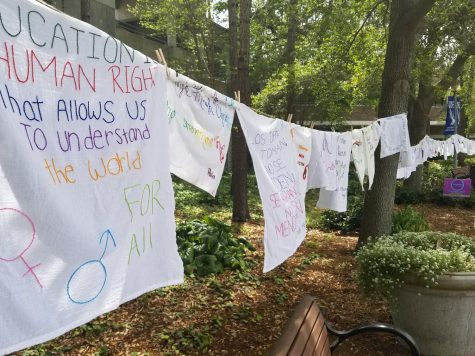 The embroidering activity tells the story of victims and survivors of violence and discrimination. A woman contacted Lopez to tell her story and testify through embroidering how she was a victim of human trafficking.
"She told me her whole story and it was very meaningful to me that she decided to share her story," said Lopez. "The activity is empowering and it really brings awareness to of all the things that we are concerned with."
Sarah Kuras, a junior studying anthropology with a minor in Spanish, embroidered a woman's face with the words, "your body belongs to you."
"It's a body positive message about not having to subscribe to anybody else's standards of beauty," said Kuras.
Natalie Vesely, a junior studying Political Science, created a message about discrimination against lesbians.
"People don't realize words hurt and words leave a mark," says Vesely. "I just want to raise awareness because I don't think people really think about what they're saying."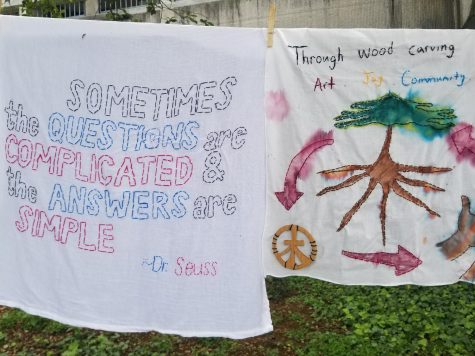 The Jacksonville community is also getting involved. Students from Stanton High School have participated in this event and, according to Lopez, are looking forward to assisting at UNF next year.
Embroidering for Peace and Memory happens every March to celebrate Women's History Month. Two hundred pieces sharing positive messages have been collected thus far. The current display will be up on the Green until March 30 from 9 a.m. to 6 p.m.
—
For more information or news tips, or if you see an error in this story or have any compliments or concerns, contact [email protected].