Felipe Calderón, former President of Mexico, talks immigration and more at UNF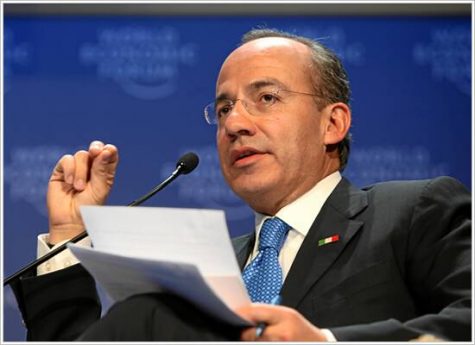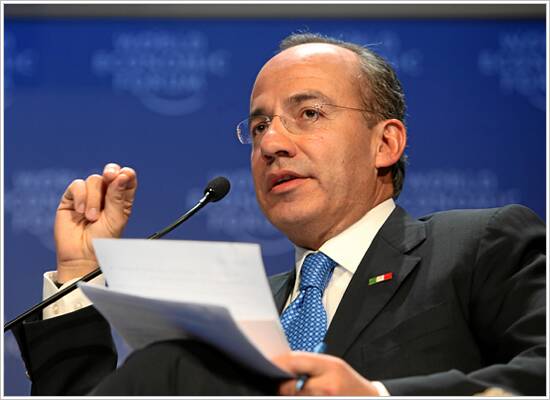 Felipe Calderón, who served as the President of Mexico from 2006 to 2012, spoke April 10 at the Herbert University Center to a room filled with UNF students, as well as members of the local community.
UNF President John Delaney opened the final installment of the World Affairs Council's Distinguished Lectures Series by welcoming the crowd and recognizing the partnership between UNF, the WAC and the various sponsors who made the series possible. After Delaney's opening, the Chairman of the WAC, David M. Strickland took the opportunity to present Delaney with the gift of a hand-made compass by the Scottish company Dalvey.
"No matter where he goes, he'll always know where he's going," said Stickland.
Calderón began his talk, entitled A Presidential Look at Latin America and Mexico's Perspective on Hemispheric and Bilateral Relations, by emphasizing the importance of the relationship between Latin America, specifically Mexico, and the United States. The former president spoke passionately about the economic, security and global benefits that a stronger partnership between Latin America and the United States can produce.
Trading and Tourism
According to Calderón, approximately 1.1 million American jobs are supported by exports to Mexico and this makes them the United State's second largest trading partner with 16 percent of total exports, behind Canada at 18 percent of exports. Calderón said that about 343,000 of those jobs are right here in Florida.
Some of these jobs are part of the tourism industry, which Calderón boasted that one out of every four tourists who visit the United States, is from Mexico. Specifically, he shared that there are about 18 million Mexican tourists visiting the United States each year, with 28 million Americans visiting Mexico. Calderón also mentioned that, even though the per capita income in Mexico is significantly lower than in the United States, Mexicans spend $20 billion annually when visiting America, while U.S. tourists spend $16 billion in Mexico. He also mentioned that the U.S. and Mexico could work together to develop an autonomous energy strategy, that uses fracking, to gain independence from Middle Eastern oil.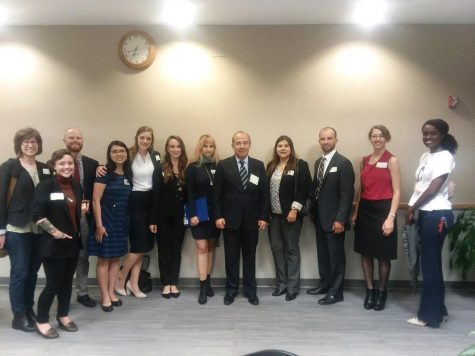 Immigration
Calderón also touched on the topic of immigration and argued that many of the jobs that are being taken by immigrants, legal and illegal, are jobs that aren't being filled by Americans. He pointed to the current unemployment rate in the US, which could cause labor shortages in certain sectors and suggested a framework that would bring low-skilled, low-salary workers from Latin America to take the unfilled jobs but he also made it clear that he is against illegal immigration.
The former president also stressed the importance of national security and pointed to the orders he gave to the military to begin offensive operations against the drug cartels. He shared that during his presidency, the military was able to kill or capture 29 of the 38 high-level Mexican organized crime bosses through cooperation with American agencies. He touted the spoiled plot to assassinate the Saudi Ambassador Adel al-Jubeir, which was accomplished through direct cooperation between the two countries. He shared that during his presidency, there were 160,000 firearms seized and that 90% of them were sold illegally in the United States. Calderón stated that the U.S. and Mexico must work together to accomplish two goals to stop organized crime. The first is stopping the flow of money to purchase drugs, which he says would have to be done by lowering consumption and the second is stopping the flow of arms into Mexico.
Julio Alvarado, a Construction Management major, who hails from Michoacán, one of the 31 states which comprise the 32 Federal Entities of Mexico, said that the importance of Calderón's stance against the drug cartels can't be understated. Although there is a lot of ongoing violence, he passionately believes it is the right course of action.
Calderón took a couple of slight, yet respectful jabs at the current administration. For example, he said "all countries have the right to put in place whatever policy they deem appropriate" but added that "they have to pay for it themselves." He also referenced to a 1.2 million person drop in tourism from 2016 to 2017.
NAFTA
During his talk, Calderón referred to the $375 billion trade deficit between the U.S. and China. But as one International Studies major, Larisa Kupinszky, pointed out, that he didn't refer to the $71 billion trade deficit with Mexico during his talk. Larisa clarified that ultimately, she supports the North American Free Trade Agreement (NAFTA) but wanted to hear an argument that addresses valid counter-points.
Calderón said that if NAFTA dies, then China wins, due to the potential for increased producer prices, which would lead to an increase in consumer prices. This would all end in an increase the trade deficit with China, according to Calderón.
"Immigrants come to the United States for the opportunity to help their family," said Calderón. "So, if NAFTA ends, there would be an increase in unemployment in Mexico, and this would increase immigration into the United States."
Calderón argued that "the Great Wall is only useful for tourism today" and alluded to China's new One Belt, One Road Initiative as an attempt to grow their customer base and overtake the US as the world's major superpower.
Calderón shared his concern that "isolationist policies create populist politicians" and gave examples of populists such as Raul Castro in Cuba, Nicolas Maduro in Venezuela and pointed to upcoming elections in Brazil, Peru and Mexico.
Sarah Tai, an International Studies major, remarked that the presentation was "heavy on info" with "lots of facts" but found Calderón's example of The Great Wall being useless today, while China is implementing it's One Road, One Belt Initiative to position itself as a global leader, as being very enlightening.
Calderón ended the talk with the belief that the world needs a strong America to act as the bedrock of our international institutions, not to be the police, but to champion "freedom, dignity, democracy and human rights" around the world.
Cari Horn, an International Relations and Spanish major,  said she agreed with Calderón's position and that it is important to build a relationship with Mexico, in contrast with the current administration's policies.
David Manjarres, a senior majoring in International Business and whose family is from Mexico, said that it was a great event and hopes to see more of these types of events for students to bring additional perspectives.
"It was a great event but I don't think it was aimed for students and this is an ongoing problem because it's important to bring students and speakers together to share perspective," said Manjarres.  
__
For more information or news tips, or if you see an error in this story or have any compliments or concerns, contact [email protected].