'God of War' is the best game on PS4
[embedyt] https://www.youtube.com/watch?v=4llbifigHcE[/embedyt]

Video by Pierce Turner

When we last saw Kratos, he had just killed his father Zeus and the rest of the Greek gods, leaving the world of Greek mythology in ruins. Years later, he has a son, he has a beard, he's in the world of Norse mythology, and he's starring in the very best game on PS4.

God of War lands in the increasingly popular category of part reboot, part sequel. It takes the "Force Awakens" approach of celebrating the past, but moving on and embracing the future. And why not move on? The original series had some of the best action games ever made, but got very stale, very fast when the prequel, Ascension, released. Like what Resident Evil 4 did for that franchise, GOW completely changes the formula while still retaining the same feeling of the old games. Both were needed reinventions, and both propelled their respective franchises into masterpiece territory.

The first difference you'll notice is the camera angle, changed from static to over-the-shoulder. Kratos now wields the Leviathan Axe, a devastating throwable weapon that Kratos can summon back to him (think Thor's hammer in the Marvel movies). You'll be doing this a lot through fights and puzzles, and probably just on your own because it's so damn fun. Combat is brutal and satisfying whether you're using the axe or literally punching your way through enemies. But these enemies are tough, and you'll have to block, parry and dodge your way to survival. Luckily for Kratos, he's assisted by his son Atreus. You can command him to fire arrows that'll stun enemies long enough for Kratos to perform a satisfying, fatality-like finishing move. Per tradition, Kratos can use his anger to activate Spartan Rage. With this power up, he gains new abilities and his fists become stronger than any weapon. It's addicting combat that never gets old.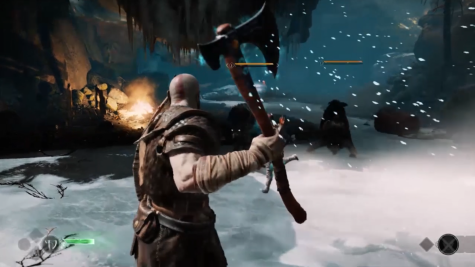 Atreus isn't just a new gameplay feature, but a major part of the story too. His mother recently died, and her last wish was to have her ashes spread on the highest peak in the realms. This is Kratos and Atreus' quest throughout the game; a humble tale that feels much more grounded than the world-ending plot of the original trilogy. The slower pace feels natural with the calmer Kratos, who is now trying to leave his past behind him. The well-acted scenes are accompanied by an incredibly powerful score that produces moving moments as early as the opening scene.
Even more impressive is the single camera take approach GOW uses. From the opening menu to the end credits, the camera in GOW never cuts. Cutscenes are organically woven into gameplay and the attention is never taken off of Kratos and his son. Rightfully so, as their relationship is by far the most interesting part of the story.
It's a beautiful tale that brings the duo all around the full-realized world of Norse mythology. You'll meet characters, creatures, and of course, gods on your way to your goal, but you'll want to stop and explore along the way to uncover even more lore.
The only weakness is the villain. His story just isn't as interesting as Kratos and Atreus' or even most of the charming side characters, though he does create opportunities for big set pieces. That's right, if you were worried that the old action of the franchise has been sacrificed for story, relax. God of War carries on the series tradition of boss battles on a tremendous scale that are brought to life by immaculate graphics and animation.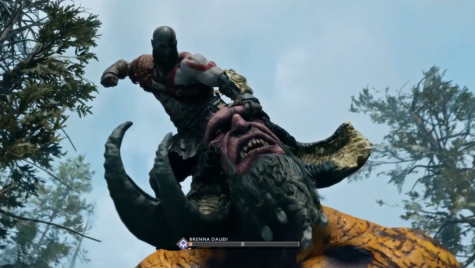 There are references to Kratos' past, but it isn't mandatory to have played the original trilogy. That being said, there are big payoffs throughout the story that you'll miss out on without knowledge of the franchise's history. Either way, be sure to do your best to avoid spoilers on the internet. God of War absolutely begs to be experienced blind and spoilers can ruin the experience.
God of War isn't open world, but it is huge and there's something to find or do everywhere you look. Side quests to complete, chests to open, items and upgrades to find, and secret challenges to beat. The puzzles are very environmental, and evoke the past games. But, they remind me of the Batman: Arkham series more. Kratos' axe and other abilities will be key to figuring out how to open every chest or access every area. They're satisfying to figure out and provide useful rewards.
Aside from the puzzle to solve and loot to find, there's an abundance of challenges and secret fights to take on in the Norse world. Kratos and Atreus can be leveled up by finding and equipping more powerful armor, and new Runic abilities can be uncovered to completely change the way you fight. You'll need all you can get too, because some of the optional fights and challenges will test the limits of your reflexes and endurance.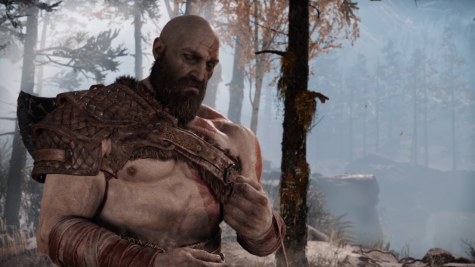 After finishing the main story in around 30 hours, I still have tons to do, and that's really exciting. If nothing else, you'll want to explore because the world is just so gorgeous. In typical God of War fashion, the game pushes the Playstation hardware further than any game has before, and is absolutely the best looking game on the system. Giant monsters loom over Kratos with massive scale, and I couldn't stop staring at Kratos' back muscles move as he ran (is that weird?). Even more impressive is the expressions and details on Kratos. He's been through hell, literally, with scars from previous games still visible and haunting. There are even glimpses of his old Spartan armor under his new garb. Again, glimpses of the past.
God of War is a masterpiece, and a jolting slap in the face to anyone who doesn't believe in video games as a valuable form of art. In a time where the market is dominated by battle royales and multiplayer games, Kratos and Atreus' story stands taller than the giants. It's moving from start to finish, and the world is so dense that you'll be immersed for dozens of hours. I can't think of a game that excels in every way as much. It's beautiful and deserves to be experienced by anyone with a PS4. Now if you'll excuse me, I'm going to go explore some more and maybe try to grow a cool beard.
5/5 Sails

—
For more information or news tips, or if you see an error in this story or have any compliments or concerns, contact [email protected]