UNF Associate professor misused thousands of dollars in university funds
Associate Professor of Chemistry Christos Lampropoulos misused a total of $3,497 in the past five years while working at UNF, according to a statement made by the University, sought by Spinnaker Investigators.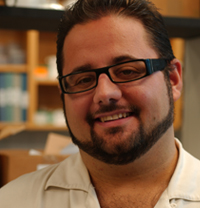 On March 5, 2018, UNF was contacted by Brock University in Ontario, Canada regarding an invoice from Lampropoulos back in March. The invoice was for $9,000 and was, according to a confidential memo, requested to be paid directly to Lampropoulos. After the Office of Internal Auditing opened an investigation, it was determined, according to the statement, that Lampropoulos had several irregularities involving outside consulting using University property, purchasing card (P-card) activity, and reimbursements, in addition to failing to follow various university procedures.
According to documents obtained by Spinnaker Investigators, Lampropoulos has been misusing University funds since January 2015.
Lampropoulos received a $1,200 payment in October 2017 and invoiced Brock University for an additional $9,000 in February 2018 for work conducted using UNF equipment without disclosing to UNF. The invoice for $9,000 was never paid.
Lampropoulos submitted receipts and received travel reimbursements from Brock University, University of Las Vegas, Nevada, and the University of Guelph for $1,440.38 paid on his University Procurement Card and $18.10 reimbursed to Lampropoulos via per diem.
Lampropoulos paid for a rental car on his P-card for personal travel in the amount of $69.44. This amount was reimbursed to the University after an audit from the University Controller's Office Purchasing Card Auditor.
Lampropoulos provided an invoice dated 10/18/2017 to Brock University in the sum of $1,200. The invoice specified to "Please send payment of $1,200 USD to Prof. Christos Lampropoulos by 10/23/2017." This invoice was paid to Lampropoulos by Brock University and not reported to UNF.
Lampropoulos provided a second invoice dated 2/19/2018 to Brock University for $9,000 which was also not reported to UNF. The invoice specified to "Please send payment of the above amount in US Dollars payable to Prof. Christos Lampropoulos at the University of North Florida by 03/01/2018."
Lampropoulos requested and received mileage reimbursement from University of South Carolina (USC) of $298.00 to present a seminar in November 2016. UNF paid $163.82 for the rental car and gas.
Lampropoulos requested and received a travel reimbursement of $821.92 from the Los Alamos National Lab (LANL) in October 2015. Many of these charges were either reimbursed by UNF or put on a University P-card. The total amount paid by UNF and reimbursed by LANL was $787.39.
Lampropoulos requested and received reimbursement from University of South Florida (USF) for a plane ticket to Tampa in January 2015. The plane ticket was also purchased on his University P-card. Lampropoulos also claimed per diem for multiple meals, at least one of which was also paid by other sources. Expenses paid by UNF and other sources for this trip totaled $338.20.
Since the investigation from the Office of Internal Auditing, Lampropoulos has relinquished his P-card, agreed to no longer travel and is in the process of reimbursing the University for $1,289.41. He has already repaid $2,207.99. He has also been placed on a one-year contract where he will still be paid his full salary of $71,580.60 a year. He will be leaving the University by May 3, 2019, according to the Employment Separation Agreement and Release.
L Lampropoulos document

Spinnaker has reached out to Lampropoulos but a comment was not received in time for publication. He did state to the Office of Internal Auditing that he believed the $1,200 payment was for work done for Brock University, on a trip he made to a Magnet Lab, not for the XRD. He believed the reimbursement from Brock University for travel expenses was also for the Magnet Lab work. Finally, he believed he placed the charge for the hotel stay on his personal credit card, not his University P-card.
Lampropoulos received the Outstanding Undergraduate Teaching Award in 2015, the Susan B. Anthony Award in 2017 and was awarded a sabbatical leave in the fall of 2017. He has received external research funding from the National Science Foundation, the Research Corporation for Science Advancement and the Camille & Henry Dreyfus Foundation.
In the statement given by the University, the Office of Internal Auditing recommended several internal control changes to ensure appropriate reimbursements from faculty. The investigation is currently closed.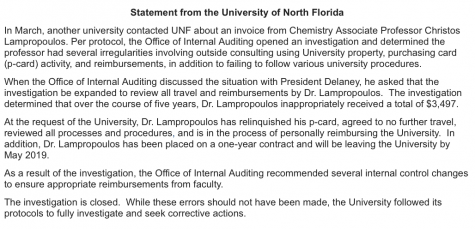 2018.08 Confidential Memo_Outside Activities Final Report_3_30_18

2018.08 Confidential -Second Memo_Outside Activities_4_25_18

—
For more information or news tips, or if you see an error in this story or have any compliments or concerns, contact [email protected]