MyPark helps shoppers overcome parking difficulties in St. John's Town Center
A new service offered in Jacksonville is helping shoppers guarantee a parking spot in the St. John's Town Center for a small fee.
The app, called MyPark, launched locally on June 1 and allows visitors to reserve a parking space prior to arriving at Town Center. There are a total of 17 spots available for reservation; four near the Apple store, eight near Dillard's and five near Ted's Montana Grill. The app provides a map of these spots as well.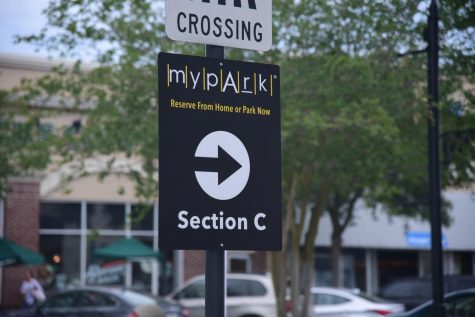 The parking spots start at $3 for the first two hours and then $3 more for each additional hour. They can be reserved on-demand and up to six months in advance.
Are students willing to pay a fee to avoid walking? Junior International Business student Delaney Kwatkosky doesn't see the point.
"I'd rather save my money and walk a little bit further," Kwatkosky said. "It seems like I have to pay to park everywhere I go now, which I don't like."
On the other hand, Finance Junior Kenneth Smith can understand why the app would be useful.
"I'd imagine it makes things more convenient for those carrying a lot of purchases," he explained.
The option to park for free and get some exercise is still available, but for those who deem it necessary, there are more options thanks to MyPark.
Photos by Khorri Newton
—
For more information or news tips, or if you see an error in this story or have any compliments or concerns, contact [email protected]