Week of Welcome Breakdown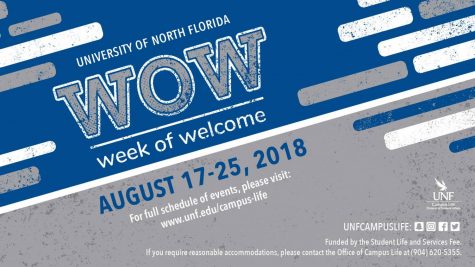 Week of Welcome annually celebrates new and returning students with various events and activities throughout the first week of fall classes. WOW helps students learn about the campus, make new friends and find out how to get involved with all of the different groups and programs that UNF has to offer. Below is a daily itinerary for the entire week.
August 19
New Student Convocation
4:00 p.m. – 5:00 p.m.
Brought to you by the Office of Campus Life, this free event in the Lazzara Performance Hall is for all current UNF students with a valid Osprey 1Card.
Welcome to College Block Party
5:00 p.m. – 9:00 p.m.
Right after the New Student Convocation, head over to the Osprey Plaza for a tropical atmosphere, live band, free food and giveaways! Over 50 UNF clubs and organizations will be present to talk to and help you get more involved during the fall semester. The whole event is free for all current UNF students with a valid Osprey 1Card and is funded by the Student Life and Services Fee.
August 20
Treats for Trivia
9:00 a.m. – 5:00 p.m.
All students are invited to the Founders Hall to receive ice pops from The Hyppo and a tour for answering a military-themed trivia question.
Game Room Launch Party
10:00 a.m.
Come to the Student Union as they launch the newly renovated Game Room in the East Building. Check out all of the new furniture, floors and Hub Computers! There will be free food, giveaways and, of course, gaming!
Meet and Greek
6:00 p.m. – 8:30 p.m.
Anyone thinking about joining a fraternity or sorority at UNF is welcomed by the Office of Fraternity and Sorority Life to come out to the annual Meet and Greek event at the Osprey Boardwalk by the café. There will be free food and live music, and you can meet all 25 chapters that make up the Greek community around here.
August 21
Breakfast at Tommy G's
9:00 a.m. – 11:00 a.m.
Come learn about the Thomas G. Carpenter Library! Students are welcomed to enjoy some refreshments and learn about the resources found at the library.
Alumni Association's Cookout on the Green
11:00 a.m. – 2:00 p.m.
Join the Alumni Association for free food, yard games, and to learn more about how you can get involved.
Ribbon Cutting Ceremony for the Red Maple Boardwalk
4:00 p.m.
The Department of Recreation and Wellness invites you to celebrate the completion of the Red Maple Boardwalk at the John M. Golden Pavilion. Refreshments are provided and there will be a ceremonial ribbon cutting at the trailhead.
Transfer Student Reception
6:00 p.m. – 8:00 p.m.
Have some ice cream and meet other students and representatives who will be able to answer any of the questions you have about all of the resources on campus. Located at the Boathouse in the Student Union.
August 22
WOW: It's Market Day
10:00 a.m. – 2:00 p.m.
Make your way to the Osprey Plaza for the first Market Days of the fall semester. Students have voted Market Days UNF's number one tradition! It'll be filled with amazing vendors, food and giveaways. This year they will be giving away over 700 t-shirts!
Healthy Pantry Picks: Dorm Edition
10:00 a.m. – 1:00 p.m.
Snag one of the healthy snack lists from the Wellness Dietitians outside the Wellness Complex to learn about some of the easy and healthy foods you can keep in your dorm.
Rainbow Welcome!
5:00 p.m. – 7:00 p.m.
Meet the LGBT Resource Staff in the LGBT Resource Center to learn what the center has to offer and be more informed about some of the community around Jacksonville. The event is open to everyone!
Panhellenic Showcase
6:30 p.m. – 9:00 p.m.
The Panhellenic Council invites all females Ospreys to come out and visit with the seven different chapters of sororities on campus and to learn more about what membership entails. You do not need to have registered to attend this event; however, sorority recruitment registration will close at midnight on Aug. 26.
Osprey Productions Movie Night
7:00 p.m. – 9:30 p.m.
UNF students are welcome to the Student Union Auditorium every Wednesday night for free popcorn, candy, soda and a movie, starting off with Charlie Bartlett.
August 23
Multicultural Student Welcome Reception
2:00 p.m. – 3:00 p.m.
Head to Ballroom A in the Student Union to meet multicultural students, faculty and staff over some light refreshments and a fun introduction activity.
Study Abroad Alumni Social
3:00 p.m. – 5:00 p.m.
Hang out in the Osprey Clubhouse while alumni who studied abroad share their stories from when they were traveling. Learn more about what it means to study abroad and have any questions answered.
Osprey Idol
6:30 p.m. – 8:30 p.m.
This is an annual tradition of the Black Student Union that gives students the chance to show off their talents in a fun competition. Head to the Student Union Auditorium to participate.
Women's Soccer vs. Middle Tennessee
7:00 p.m.
The UNF Women's Soccer team hosts their first game of the 2018 season at the Hodges Stadium.
August 24
Multicultural Student Welcome Reception
2:00 p.m. – 4:00 p.m.
Kickback in the Founders Hall during the first Friday Lounge of the semester!
Men's Soccer vs. Mercer
7:00 p.m.
The UNF Men's Soccer team hosts their first game of the 2018 season at Hodges Stadium.
August 25
Troops N' Tires
9:00 a.m. – 2:00 p.m.
The Military and Veterans Resource Center and UNF Chapter of Student Veterans of America welcome all students to join them to a fun filled day of classic and modern cars and motorcycles. Admission to this event is free of charge and food will be available for purchase from a variety of food trucks.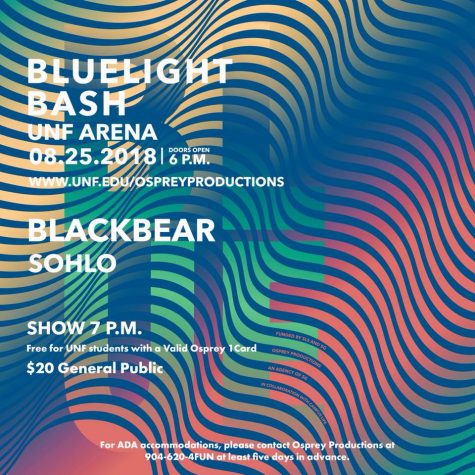 Bluelight Bash Concert
Doors Open: 6:00 p.m.
Show Starts: 7:00 p.m.
Osprey Productions and Campus Life welcome you back to the Nest with the annual Week of Welcome concert, Bluelight Bash! Come and celebrate the end of summer with performances by Sohlo and Blackbear.
—
For more information or news tips, or if you see an error in this story or have any compliments or concerns, contact [email protected].