Mass shooting at the Jacksonville Landing results in "multiple fatalities"
A mass shooting took place at the Jacksonville Landing on Sunday, Aug. 26, according to the Jacksonville Sheriff's Office.
The shooting reportedly occurred during the Madden NFL Tournament Qualifier at Chicago Pizza.
JSO reported on Sunday afternoon that there have been "multiple fatalities." Officials are urging people to avoid the area, as the Landing has not yet been deemed safe.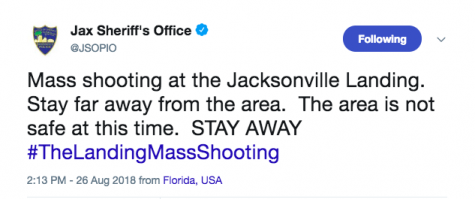 **Update 7:33 p.m.:
The Jacksonville Sheriff's Office spoke at a second media briefing at 7:15 p.m. on Sunday, Aug 26.
According to Sheriff Mike Williams, the shooter is suspected to possibly be 24-year-old David Katz, a white male from Baltimore. Katz was reportedly participating in the gaming competition taking place at the Jacksonville Landing.
JSO released there were a total of 14 victims, 3 of which were confirmed dead by the time officials arrived, including the suspect. 12 people total were injured as a result of gun wounds. According to Williams, the number of victims may change as the investigation continues.
911 calls reportedly started coming in at approximately 1:34 p.m., and officers were on scene by 1:36 p.m.
At least one handgun was used as a weapon, officials say, but the shooter's motive is still under investigation by both the JSO and the ATF.
Jacksonville Mayor Lenny Curry also spoke at the briefing.
"Today, this evening and tonight, Jacksonville is mourning. We have faced an occurrence that is all too common and will require us to continue to work with public safety to make sure that people are safe," he said. "One violent crime in our city is one too many."
**Update 5:37 p.m.:
JSO reported on Twitter that both local and national media have been distributing "inaccurate numbers" following the shooting. According to their Twitter page, JSO will release the official number of casualties once they have been confirmed.
Florida Governor Rick Scott also tweeted that President Donald Trump was briefed on the shooting at the Landing. Scott is currently on his way to Jacksonville to meet with local law enforcement.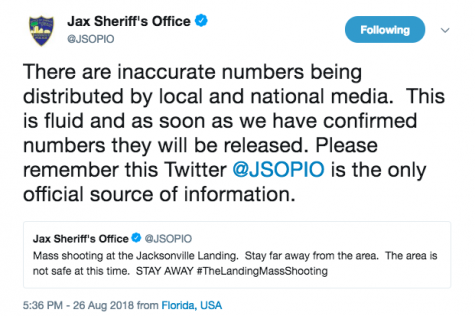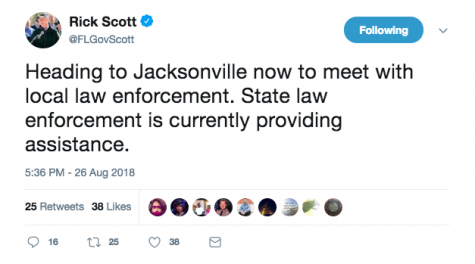 ** Update 4:37 p.m.:
According to the JSO news briefing, there are currently "no outstanding suspects at this time."
Sheriff Williams stated JSO has the scene secure and is currently working to discover the identity of the dead suspect, who is reportedly a white male.
**Update 4:24 p.m.:
Jacksonville Transportation Authority has announced that "all outbound buses from the Rosa Parks Transit Station are on a temporary detour until further notice" due to JSO activity.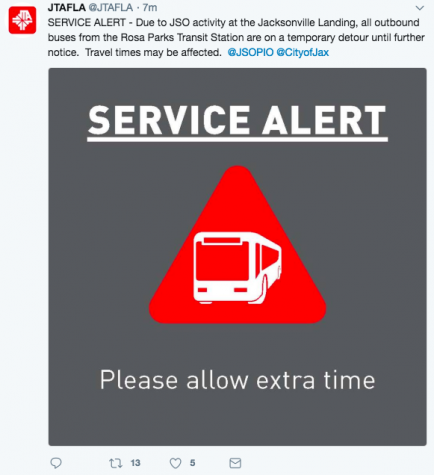 **Update 4:08 p.m.:
Some sources say 11 have reportedly been injured and four killed in the shooting. However, JSO has not yet released an official casualty count but has confirmed "multiple fatalities," including one suspect.
JSO is asking that "anyone in the area during the incident who may have information contact #JSO at 904-630-0500 or 866-845-TIPS. Email info to [email protected]"
JSO's news briefing at 4:30 p.m. will be live on their Facebook page.
**Update 3:50 p.m.:
JSO has confirmed that Sheriff Mike Williams will be giving the first public statement at 4:30 p.m. at the Wells Fargo building.
**Update 3:45 p.m.:
Florida Senator Marco Rubio has confirmed federal support by the FBI and Bureau of Alcohol, Tobacco, Firearms and Explosives on Twitter.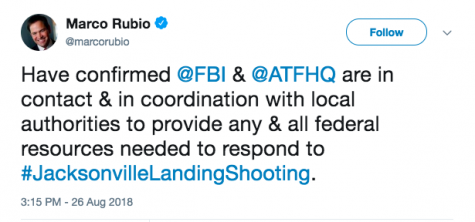 **Update 3:32 p.m.
Media staging is currently in progress and will be at the Wells Fargo building on Independence Dr.
A news conference will take place at a later time today. "No time has been announced," according to JSO's Twitter page.
Gov. Rick Scott announced on Twitter that he has also been in contact with Jacksonville Mayor Lenny Curry to offer state resources.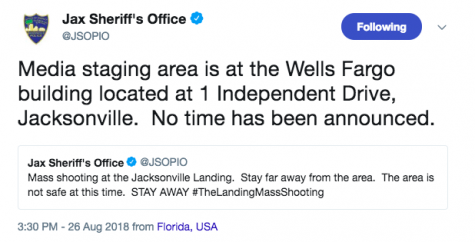 **Update 3:12 p.m.
Florida Governor Rick Scott reportedly spoke to Sheriff Mike Williams and will "offer any state resources" to the JSO that may be necessary.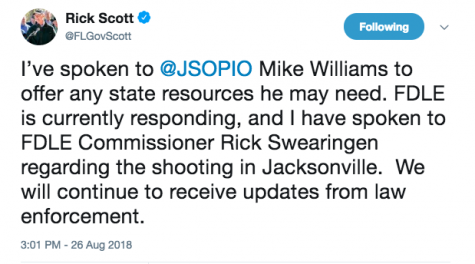 **Update 2:57 p.m.:
JSO confirmed the death of one suspect at the scene and is investigating whether or not there was a second suspect involved.
SWAT members are reportedly on scene and searching for people who are hiding. JSO has urged anybody currently at the Landing to remain calm, to stay in place and call 911 so that they may be safely found.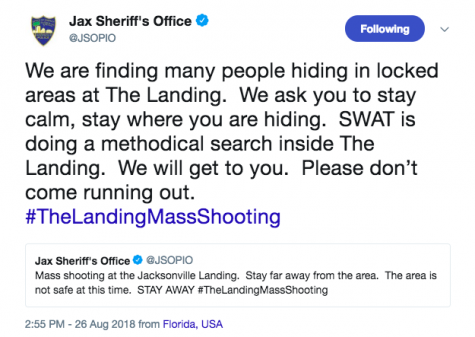 Spinnaker will continue to provide updates on the situation as more information becomes available.
—
For more information or news tips, or if you see an error in this story or have any compliments or concerns, contact [email protected].