3 dead, including suspect, 11 injured; Shooting at the Jacksonville Landing
Sunday afternoon is a busy time for the Jacksonville Landing. Restaurants are packed, families are together, and friends meet up and have a drink.
On Sunday, Aug. 26, this changed. Two people were killed and 11 people were injured at the Jacksonville Landing after a mass shooting. Nine were injured from gunshot wounds and two suffer from other injuries.
According to UF Health, their Level I trauma center received six patients. Physicians were able to treat and stabilize all patients immediately upon arrival. Five of the patients are in good condition and one is in serious condition as of this time.
The suspect, David Katz, a 24-years-old, took his own life at the scene. He is from Baltimore, MD and came to Jacksonville for a Madden '19 tournament.
The Madden '19 Southeast Qualifier tournament took place at GLHF Game Bar in Chicago Pizza, located in the Landing. The prize for the winner was $5,000.
Taylor Poindexter came from Chicago to see the tournament. The 26-year-old ended up leaving the Jacksonville Landing with an injured ankle. She and her boyfriend returned to the scene to talk with media to let her family know that she was okay.
"So me and my boyfriend we were actually in the bar area when the shooting took place. So we were seated at the bar, so we got a glance of the shooter, but we didn't see a face or anything," Poindexter said. "We just saw somebody just standing there with two hands on a gun and just walking back."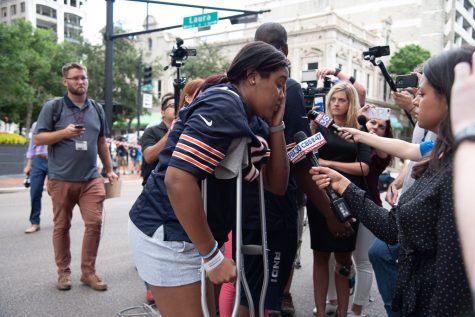 Jacksonville Mayor Lenny Curry gave his condolences to the victims and families suffering after today's attack.
"Today, this evening and tonight, Jacksonville is mourning. We have faced an occurrence that is all too common and will require us to continue to work with public safety to make sure that people are safe," Curry said. "One violent crime in our city is one too many."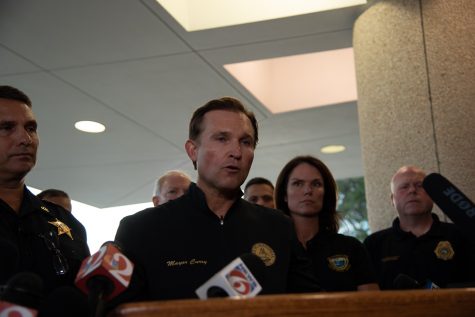 At least one handgun was used as a weapon, officials say, but the shooter's motive is still under investigation by both police and the Bureau of Alcohol, Tobacco, Firearms and Explosives.
Earlier in the day, UNF President David Szymanski sent out an Osprey Update regarding the shooting.
"Our hearts are with the victims and the families of the victims of the shooting at the Jacksonville Landing in downtown," Szymanski said. "While we have no information that any of the victims are in any way connected to UNF, we know that when tragedy hits close to home, we're all impacted.  It's a very sad day in our community."
Spinnaker asked Jacksonville Sheriff Mike Williams about security measures at the Jacksonville Landing, however he responded that they will go into that more in the upcoming days and weeks.
Spinnaker will continue to update as soon as more information becomes available.
Photos by Lili Weinstein
—
For more information or news tips, or if you see an error in this story or have any compliments or concerns, contact [email protected].