Understanding POW/MIA Recognition Day and its ties to Jacksonville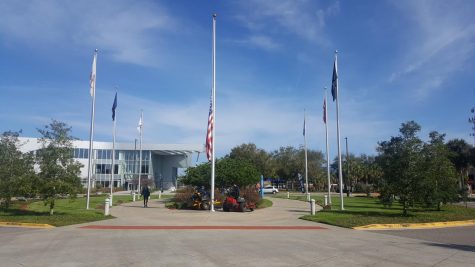 If you've ever walked to Lot 18 from the John A. Delaney Student Union, you've passed the veterans' park that has seven flags: five for the different branches of the military, one American flag and, finally, a black flag with the white silhouette of a man. There is a guard tower and barbed wire behind him. Across the top it says "POW" and "MIA." On the bottom, "You Are Not Forgotten."
This flag represents the service members who were held captive and returned, as well as those who remain missing, dating back to World War II.
The third Friday in September is National POW/MIA Recognition Day, which was established in 1979 by President Jimmy Carter. This is one of six days that the flag is specified to be flown at federal government locations, according to Section 1082 of the 1998 Defense Authorization Act. The other days include Armed Forces Day, Memorial Day, Flag Day, Independence Day and Veterans Day. The Pentagon holds a ceremony each year with members from each branch participating.
"Those who don the uniform—in particular, those who suffered in captivity or have gone missing in distant lands, serve as enduring proof that America still turns out warriors of true character and grit," Defense Secretary James Mattis said during this year's ceremony at the Pentagon River Terrace Parade Field.
Since Jacksonville is a large military-friendly city with two major bases, NAS and Mayport, and UNF prides itself on being a military-friendly college, it was important for the Military Veterans Resource Center to recognize the importance of this day.
MVRC Director Bob Buehn is the vice chairman of the committee that is working to build a 26-acre POW/MIA memorial in Jacksonville. The committee is comprised of members of the Veterans Councils from Duval, Baker, Nassau, Clay and St. Johns counties. The committee received a letter endorsing their work from the late Sen. John McCain in 2017.
"We've discovered that the families, especially the MIA families, this is a place that they can go to see that they're not the only ones in this situation and to know they're not forgotten and their loved ones aren't forgotten," Buehn said.
An event, titled "A Gathering in the Pines" was held on Sept. 22 at Cecil Field, where the future memorial and museum will be located. The film "A Solemn Promise, America's Missing in Action" was shown, which pays tribute to the roughly 82,000 service-members that are still missing. The event also featured veterans' organizations and showcased stories of those who were prisoners of war.
The origins of the POW/MIA flag can be traced back to Orange Park. Mary Hoff, whose husband was MIA, recognized the need for a symbol for POW/MIA and was the catalyst in the creation of the flag in 1972.
—
For more information or news tips, or if you see an error in this story or have any compliments or concerns, contact [email protected].