Mountain Man's "Magic Ship" is the perfect campfire soundtrack
Mountain Man, despite what you may infer from the name, isn't a bluesy-rock group of 40-somethings with long, white beards. The trio of Molly Erin Sarle, Alexandra Sauser-Monnig and Amelia Rundall Meath harkens back to the sounds of traditional American folk, singing satiating harmonies atop one another and strumming the occasional guitar.
Their latest, "Magic Ship," came out almost a decade after their previous record, and debut, "Made the Harbor." Back in 2010, "Made the Harbor" received critical acclaim, but the group of young artists had to move apart and work on their side projects. In the following years, Sarle enjoyed success with her indie-electronic outfit Sylvan Esso, and the others worked as their respective solo acts. The trio eventually moved back to the same state, allowing for the creation of a new record.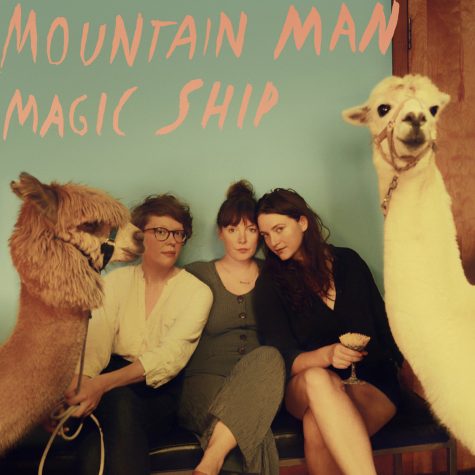 "Magic Ship" opens with a brief, delicate and vibrant solo piece sung by one voice. Many albums tend to begin with the artist's style encapsulated, and "Window" is no exception. While the harmonies present in the other tracks are absent here, "Window" includes a powerful example of the simplicity that's so characteristic of Mountain Man. Stark lyrics and the ease of repetition, following American folk-like melodies, allow a general feeling to peacefully sustain.
However, while the harmonies of later tracks may seem soothing and natural, they're anything but simple. Layers of intricate, woven and pleasantly accurate voices inhabit the same space with nothing but coordination and premeditation, and the trio of intermittent breaths adds a home-recorded, honest charm.
It's almost hard to believe that most tracks are originals, especially since "Window" is followed by the warm and cheerful "AGT," sounding like a folk classic written over a century ago. While Mountain Man isn't composed of time-traveling frontier-dwellers, their music, along with the homemade production, lends the record a charm typical of an older time, particularly that of the era "Magic Ship" picked it's covers from.
Their rendition of "Baby Where You Are" gives the track a cozy, breathy sound absent in Ted Lucas' original. Guitar is also added and strummed in a traditional folk pattern, making for one of the standout tracks of the record. Another cover is that of Micheal Hurley's "Blue Mountain," a simple, but haunting, 50-year-old song played simply with guitar and voice. Here the trio go full a cappella, emulating the original's beautiful and deserted feel with just their voices. This is followed by the original, "Moon", with it's soaring and uplifting verses backed by open chords, displaying not only their ability to blend voices, but their capacity to form interesting and catchy melodies.
The recording environment, in it's sparsity, also has character. There seems to be a large emptiness surrounding the three musicians. In "Whale Song," crickets and a night sky give the impression of blanketing the harmonies, while the trio mimic a deep wind with their voices. In "Fish," a clamoring behind the microphone gives warning before the entrance of the first harmony into what may be the most stunning track.
Before the finale, a notably quiet original about acceptance of a flawed past, the trio cover an Appalachian folk traditional called "Bright Morning Stars." It's this genre they can most accurately be compared to, and the traditional's sung here as effortlessly as any original track written by the group.
"Magic Ship" is receiving critical acclaim similar to that of their debut eight years ago, with favorable scores on sites such as Metacritic and Pitchfork. Eight years may be a long time to wait for a record, but the final product is both satisfying and hopeful for the group's future.
Rating: 4/5 sails

—
For more information or news tips, or if you see an error in this story or have any compliments or concerns, contact [email protected].