UNF professor and colleagues research the power of a mother's skin-to-skin contact
Two years ago, medical professionals begin a research study on the effects of skin-to-skin contact and the effects mothers  experience in receiving medical attention after childbirth.
UNF professor Debra Wagner, nurse anesthetist Stephen Lawrence, and student Janice Melson say mothers who were allowed to receive skin-to-skin contact after a cesarean section are less likely to need medical attention.
The study was funded by the U.S. Women and Girls Initiative Grant from the Brooks College of Health. The grant was at least $20,000 and the research study was published in the Nursing Women's Health Magazine in April 2018.
Wagner and her team attended the Nursing World Conference in Rome and presented their research study. This conference was held for three days in September, where a total of 24 colleges and organizations presented. Wagner and her team won the award for having the best poster.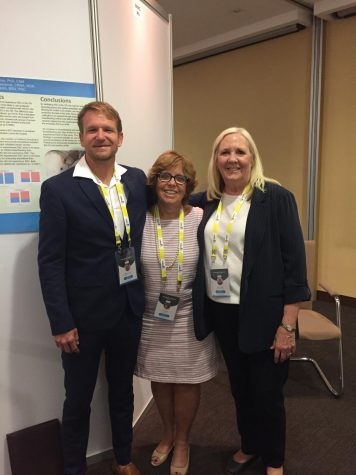 Wagner believed that most mothers who have a cesarean section (or c-section) will become anxious and begin to ask for medicine because they feel pain. However, their research suggests that women who have a c-section are less likely to become anxious and perceive that they feel pain while the doctor is stitching them up.
"They become anxious and feel their bodies being tug so they perceive they feel pain and ask for medicine," Wagner said.
Wagner encourages mothers to breastfeed, but the medications will be inadvertently fed to the babies while breastfeeding.
According to Stephen Lawrence, Wagner was the one to notice that when he laid babies on their mothers' chests rather than taking them to the nursery, he didn't have to give them any medication. Wagner recalls that after the study the team realized less medication was used overall.
 She also believes that future addiction can be prevented by not giving the mother opioids and that the hospital saved money because they didn't have to distribute the medicine.
—
For more information or news tips, or if you see an error in this story or have any compliments or concerns, contact [email protected].