Emails show former dean did not want one incident to affect his career and marriage
The former Dean of the College of Computing, Engineering, and Construction resigned last week after engaging in a sexual act on campus. According to emails and a police report obtained by Spinnaker, Mark Tumeo did not want this one incident to end his career at UNF.
It all began at 5:01 p.m. on Oct. 2. UNFPD is dispatched to Bldg. 46 where a soccer coach told police that he saw two individuals engage in sexual activity on the outside stairwell adjacent to the press box entrance of the stadium.  The police report below outlines in more detail what happens next.
Around 30-minutes later, at 5:37 p.m., Tumeo emails Interim Provost and Vice President of Academic Affairs, Pamela Chally, if he could call her on her cell.
"It's very important and highly personal," Tumeo says.  Chally tells Tumeo she's on another call, and says, "I will call you shortly."
There is no indication if Chally ever makes that call, but she does email him later that evening.
At 9:16 p.m., Chally sends Tumeo an email placing him of administrative leave.
"You are being placed on immediate administrative leave pending investigation of the incident that occured today, October 2, 2018. You are not to report to work tomorrow. I will be in touch with you soon."
Tumeo replies by asking her if they will still meet for breakfast, in which Chally replies "No, not tomorrow."
The next morning, on Oct. 3, at 6:10 a.m., Tumeo sends Chally an email asking her to not let one error ruin his career and damage his marriage.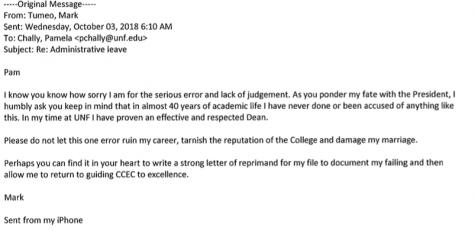 Chally does not respond to the email. Six minutes later at 6:16 a.m. Tumeo emails her again asking if he could call her cell phone.
Chally doesn't respond in email.
At 9:50 a.m., Tumeo sends Chally an email notifying her of his resignation.

At 9:51 a.m., Chally accepts his resignation.
Tumeo then asks if he should notify the college or if there will be an official statement.
Chally responds with five words, "Do not notify the college."
At 12:02 p.m., an email was sent out to the university announcing his resignation.

Spinnaker reached out to President David Szymanski about the incident. Sharon Ashton, the vice president for Public Relations, responded.
"The University, including President Szymanski, is not commenting on this personnel matter."
*Updated: 8:20 p.m.
—
For more information or news tips, or if you see an error in this story or have any compliments or concerns, contact [email protected].