1,000 Listens or Less: The Stress of Leisure's "Eruption Bounce"
"Eruption Bounce" is the sixth studio album by Brisbane-based post-punk rockers The Stress of Leisure, bringing their own unique twist to an already decorated genre. The simple orange cover, void of anything except small thumbnails of each band member in the top right corner, isn't very eye catching or interesting. However, once the music begins to play the project comes to life. Zany lyrics, clean 80's inspired synths, and chugging guitar riffs come together to make a special album.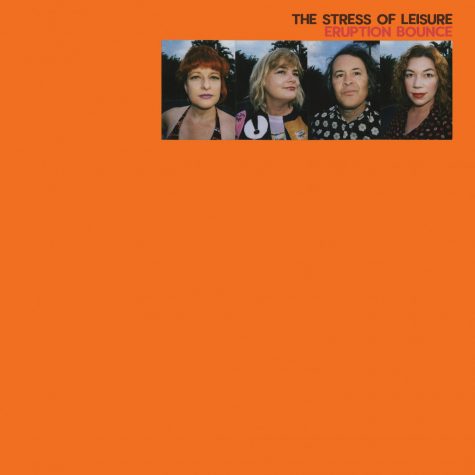 The album kicks off with "Pulled Pork," which could serve as a case-study for the band in itself. Vocalist Ian Powne tells of his struggles resisting the titular food item and several others over a chugging guitar riff and glitzy synths, eventually leading to a plateau where he and a chorus of voices chant "pulled pork" over a distorted guitar solo.
I was originally turned onto the band through their grossly catchy and silly single, "I Wanna Be Adult." The song has earned its spot in my daily rotation over the past year, worming its way into my ear with each listen. The song features a repeating square wave synth riff blasted over zany lyrics of wanting to buy a house, getting into financial debt, and deleting his online history to sharpen his image as a mature member of society.
There's also a comical bridge where each band member introduces themselves, the instrument they play, and a tongue and cheek "goal" they'd hope to achieve one day, such as wanting to manage a diverse investment portfolio, or becoming the CEO of their own self.
Outside of the album's lead single, the rest of the album is nothing but solid post-punk with its own zany twist, again stemming from the lyricism of the band and the vocals of Powne.
"Too Much Sitting (Not Much Standing)" opens with Powne imitating a public service speaker on a tangent, the average person loses twenty minutes of their life for every hour they sit down. The song erupts into an anthem with a similar theme to "I Wanna Be Adult," being an adult in the workforce isn't for him, or everybody.
"Nice Building" tells the story of a… well… nice building, with Powne nasally yelling variations of "you live in a really nice building" throughout the course of the track. Admittedly, some of the charm of the lyrics and attitude of the band become cumbersome in some circumstances like in this track, being more repetitive than catchy.
No doubt my favorite track of the album is towards the end of the track listing, "Tech Boom!" A chugging guitar riff and some groovy bass open up into a mostly instrumental jam overlaid by a hypnotizing drone. This song feels ripped straight from a Sonic the Hedgehog soundtrack, and has definitely found its way into my daily rotation with the energy it brings.
"Eruption Bounce" is deserving of well more than the sub-one thousand listens all of its tracks have at the moment, with the exception of "I Wanna Be Adult", sitting at 1,600. Each track oozes positive energy, with dashes of good humor regarding the white-collar lives many of us work. While some songs fall flat, the album is solid and definitely worth putting in the brisk thirty minutes it takes to finish it.
Rating: 3.5 out of 5 sails

—
For more information or news tips, or if you see an error in this story or have any compliments or concerns, contact [email protected].