UNF hosts global health expert Rajiv Shah
What should one do when the President of the United States calls and tells them to "Make us proud?" Rajiv Shah listened to the room split with laughter as he described his first phone call from President Barrack Obama, which at the time was anything but lighthearted.
"I was sitting in my office one afternoon and I got a phone call, they said 'The President wants to speak to you,'" Shah explained. "I was only five days on the job and needless to say, it's not like he called often."
Less than a week into his appointed position at USAID, Shah was bombarded with one of the largest global healthcare crises of the decade. Haiti had been struck by an earthquake with a magnitude of seven. Minutes before addressing the press about America's plan to assist the small country, the president called to place Shah in command of all U.S. personnel dispatched to the location of the disaster.
"We were determined from that moment to use crises as an opportunity," Shah said. "I'm very proud of the way America played a role."
Shah went on to describe how well he believed the U.S. responded to this disaster by boasting in the effectiveness of the resources that were funneled into Haiti through his work with USAID.
"We had so much clean water distribution that six months after the earthquake, the diarrhea disease rate in Haiti was lower than it was the day before the earthquake," Shah explained.
Shah addressed his belief that global healthcare is an issue of keeping America safe as well. According to Shah, if the American government and its organizations like USAID strive to proactively solve global issues, then those problems may never reach our shores. He described his belief that success in this field has come and will come through "the marriage of science, data and deep political will."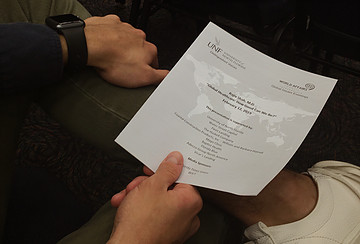 Shah also discussed threats to the current state of global health and what American organizations are doing to end them now. He described the effects of and responses to endemic and pandemic viruses like Zika, Ebola, and the current Cholera crisis in Yemen.
"We're going to see more and more pandemic threats become endemic in country after country," Shah said. "The reasons have to do with climate change, deforestation, and the challenges of reaching the most impoverished parts of our world in order to protect the rest of our world from these diseases."
Shah suggests that many health crises that countries face today are caused by man. He used Venezuela's current state as an example in order to explain his reasoning that when governance falls apart, a stage is made for endemic and pandemic threats to re-emerge.
After exploring what Shah sees as the current threats to global health, he explained what he believes to be "scientific frontiers" in the future of bettering health for American citizens and impoverished cultures alike. Shah maintains that these frontiers are gut health, mental health and human longevity. According to him, all of these can be applied on multiple levels. Shah explained that gut health is not only important for Americans to maintain a balanced and healthy lifestyle, but that meal plans can be used to promote gut health in children in remote cultures to help restore their overall health.
Having spent time discussing how global health effects and has been affected by the U.S., he answered questions from several audience members, but seemed to take particular interest in one.
A man in the crows identified himself as a veteran who had been to Afghanistan and was familiar with Shah's work there. Shah smiled and asked Tim Ohearn for his name. He thanked Ohearn for his service before recounting to the rest of those remaining in the room what he remembered of his time spent in the war zone. Shah concluded by explaining that within the conflict there, there were "immunization days" held, in which members of USAID had convinced the powers of the area to stop fighting long enough to give out immunizations to those in need.
__
For more information or news tips, or if you see an error in this story or have any compliments or concerns, contact [email protected].