UNF Athletics introduces new Osprey Nation Student Rewards app
After weeks of teaser videos and mysterious posts on social media, UNF Athletics announced that they have launched the brand new Osprey Nation Student Rewards app.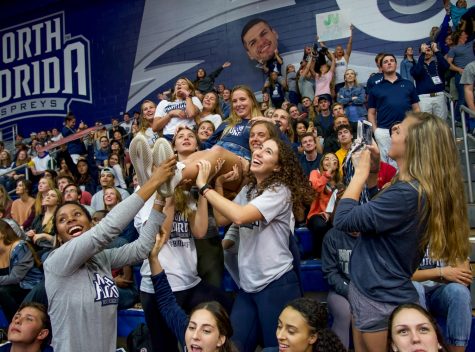 "It's something to keep them engaged throughout their time at UNF and to make sure that they feel like they know what's going on in the center of campus," UNF Athletics Marketing Coordinator Logan Owle said.
There has been a sea of rumors for what the big announcement was including a wave pool, football, or tailgates. Owle hopes that the students' reactions to the new app will still be positive.
"Hopefully it gets a positive reaction. I think there will be a little bit of happiness, a little bit of not as high expectations as they thought they wanted it to be but I still think at the end of the day that they are going to enjoy it," Owle said.
The app will officially launch once it is announced by UNF Athletics on Tuesday, April 2 at noon, according to Owle.
There are new features on the app that include a schedule of all Student Government, Campus Life and UNF Athletics events
"You're going to download the app, fill out your profile and you'll be incentivized to do this with the more you fill out within your profile, the more points you will receive. A few features that are on here are every student government, campus life, and UNF Athletics event that's going on," Owle said.
By checking in at the events, students can earn rewards that include experiences and more tangible items.
"There are two types of rewards. There are experiences so that could be shootaround or being at practice with Coach Driscoll/Coach Gibbs, throwing out the first pitch at a baseball game, locker room tours, or having breakfast with a coach or student-athlete. Other prizes are more tangible items, it will be tiered on how coveted that prize will be," Owle said.
Students who enjoy Moe's burritos will look forward to earning Moe's Bucks by downloading the app and creating their profile at UNF Athletics events.
"Another thing that will be incentivized, if you download the app at one of our events, you will be able to get free Moe's Bucks. We've got $1,000 in Moe's Bucks in $5 increments that we're going to give to students who download the app and fill out their profile in front of us over the next month," Owle said.
Owle mentioned some things that are in the works are experiences outside of UNF.
"Another thing that we'll be working on are higher-level prizes such as experiences outside of UNF when it comes to tickets for maybe a Jacksonville Jumbo Shrimp game or a Jags game or things of that nature," Owle said.
Students can also get to know the student-athletes better with a feature on the app that's filled with rosters for all teams at UNF.
"Another thing we've got is featured with our rosters for all of our student-athletes just so the students can get to know our athletes better and make connections with them from where they went to high school or what area they came from," Owle said.
According to Owle, one of the biggest features is the push notifications to keep students updated for when the games/events are.
"Push notifications is a big feature of this app. If you have your push notifications on, which we encourage you to have them on, It will keep you updated with the things that you've enjoyed to do," Owle said. "So if you enjoy going to campus life events, you're probably going to be notified when the next one is coming up."
Owle mentioned that there will be more announcements in the Summer that can't be disclosed right now.
"It gives students an easy tool to easily access on their phone and tell them what's going on when, where, and why and also incentivizes students to come to events and check in and earn points and eventually redeem it for prizes," Owle said.
Below are the links to download the app.
Android: http://bit.ly/ONationRewards2
Apple: http://bit.ly/ONationRewards
__
For more information or news tips, or if you see an error in this story or have any compliments or concerns, contact [email protected].