Instagram hoax fools celebrities and politicians
Courtney Green, News Editor
August 22, 2019
Did you fall for the most recent Instagram hoax?
If so, you're not alone. Many celebrities fell for it too. Even Secretary of Energy Rick Perry fell for it, and he's in charge of nuclear security.
This hoax involves the rumor that Instagram was becoming a public entity, and therefore all of your data on the social media site would then also become public record for anyone to view. It also claims that even deleted photos and ones now banned for explicit content would become visible to the public.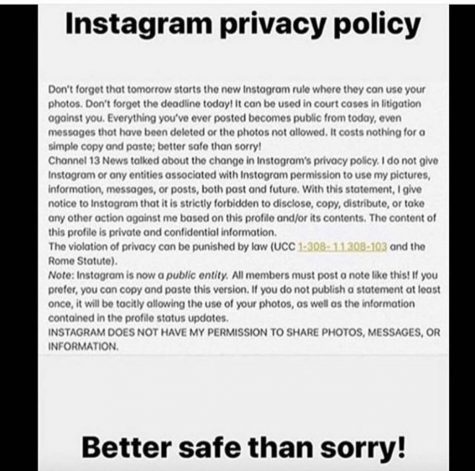 Instagram has since come out with a statement confirming that this is, indeed, a hoax. The statement obtained by CBS comes from Stephanie Otway, a representative for Facebook and Instagram.
"There's no truth to this post," she said.
If you fell for this one or the Facebook version of this from 2012, then here are a few fast tips from Spinnaker to help you spot future hoaxes:
1) Look for typos. Misspellings and misuse of certain words or phrases can suggest an unofficial source.
2) Speaking of official, see where this information is coming from exactly. If it was something originally posted by the social media entity, then chances are it's a real policy.
3) If it's chain-mail encouraging you to share it to as many people as possible, then it is likely not real. Rather, if it were real, then you should expect to hear from the social media company themselves in a notification to users, just like when Facebook updates their privacy policy and leaves you a notification to review it.
__
For more information or news tips, or if you see an error in this story or have any compliments or concerns, contact [email protected]