Howard's got competition: Meet Mindy the Gator
A common saying here in Florida goes something along the lines of this: "Where there's water, there is probably a gator."
UNF has tons of water hot-spots, so naturally we should anticipate a gator or two. Thus is the origin story of Mindy the Gator.
Like Howard the Duck, Mindy the Gator can be found in Candy Cane Lake (the body of water along the boardwalk beside the Osprey Cafe). According to Nathan Turoff, a communications major who sent in pictures and research on Mindy, the small gator is probably no more than a year old.
"I do believe she is a standard American Alligator" Turoff wrote to Spinnaker in a news tip following his break in the case over Howard the Duck's affair. "I would estimate she is about one years old, as American Alligators breed in the spring, and their eggs hatch around August." 
He went on to explain. "She still exhibits remains of the yellow stripes that are present in all newborn alligators, but she is much bigger than a newborn gator height (6 Inches), as she appears to be around a foot and a half. That information coupled with the fact that alligators grow a foot a year, and her mother is nowhere to be seen, leads to my conclusion that she is one year old."
If you see a small alligator but are unsure if it is Mindy, Turoff identified a characteristic feature of this particular gator.
"She is very fond of sunbathing on the tiny island and swimming along the shoreline," he noted.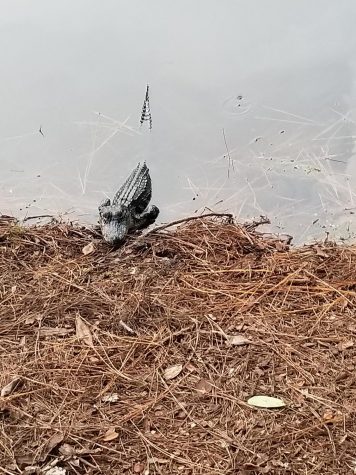 So is Mindy UNF's new mascot? What gives this gator the privilege of living in the collective memory of the student body like the legendary Howard the Duck? 
Quick answer in the form of a rhetorical question: We attend school at the University of North Florida, and what is more Florida than a gator?
Also, the bigger question ought to be: Why Mindy? Why not Alli the Alligator? Or Gloria the Gator? 
Maybe we will get it right one day, Ospreys.
Also, disclaimer: if you see an alligator, or even a duck, please do not approach it, regardless of whether you are trying to figure out if it is Howard or Mindy. Practice caution with wildlife on campus and stay safe, Ospreys.
__
For more information or news tips, or if you see an error in this story or have any compliments or concerns, contact [email protected].