Ospreys blown away by Hurricanes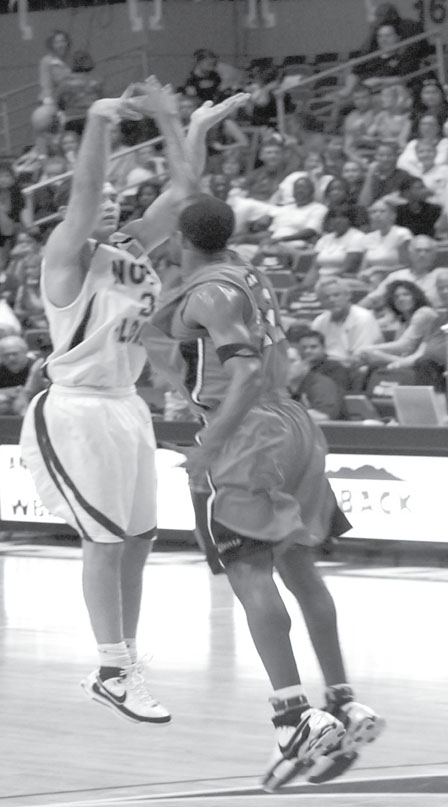 The UNF men's basketball team might have had a bitter taste in its mouth to start the new year Dec. 31 after losing to the University of Miami 94-41.
The Hurricanes' performance began with a 9-0 run, holding the Ospreys scoreless for more than seven minutes.
UNF freshman guard Cameron Lovlace put the Ospreys on the scoreboard with a 3-pointer to cut the lead 9-3 early in the game.
The Hurricanes went on a 29-17 run later in the half to lead the Ospreys 38-20 at halftime.
In the second half, Miami continued to flex its muscles by outscoring UNF 56-21.
"It was a physical game, and they were stronger than us," UNF head coach Matt Kilcullen said. "We talked about boxing out on the glass, but that simply doesn't do the job when you are going up against 6-foot-9 guys who jump over you."
The Ospreys struggled from the field, shooting 27.3 percent while having 13 fewer shooting opportunities than the Hurricanes.
UNF was unsuccessful from 3-point range after hitting 3-11.
Leading scorer and rebounder Stan Januska hit two of the Osprey's 3-pointers and shot 66 percent from beyond the arc.  Jansuka finished the game with nine points and four rebounds.
Cyrus McGowan and Julian Gamble led the way for the Hurricanes, each putting up a double-double.
McGowan led Miami in scoring with 17 points and also added 10 rebounds.
Gamble had 13 points and 13 boards in 19 minutes off the bench, out-rebounding the entire UNF roster by himself.
The Hurricanes shot 20 more free throws than the Ospreys (42-22) and shot them at a higher percentage (76.2 percent compared to 63.6 percent).
Miami out-rebounded UNF 48-11 including 23 offensive rebounds and  shot 47.3 percent from the field.
"We've played some tough opponents this season, but chalk it up all as experience," Kilcullen said. "Now it's time to get back to work in the gym and get ready for some conference basketball."
"I give credit to Miami," Kilcullen said. "They are a talented ACC basketball team and they took it to us in every phase."
After two straight wins against Furman University and Palm Beach Atlantic University, this was UNF's second consecutive loss and second straight loss to an ACC opponent.
The Ospreys will return to the court against Kennesaw State at 7 p.m. Jan. 9 in the UNF Arena.
E-mail David Sandlin at [email protected]