Album review: "Down in the Weeds, Where the World Once Was" by Bright Eyes
Introduction: Indie-folk legends of the early 2000s, Bright Eyes, released their first album in almost a decade: Down in the Weeds, Where the World Once Was, on August 21, 2020. Older millennials would recognize the lead singer, Conor Oberst, from not just Bright Eyes, but his punk band, Desaparecidos, as well. Younger people might be more familiar with his work with Phoebe Bridgers in Better Oblivion Community Center. This album evokes all kinds of nostalgia while also concentrating on heavy themes like loss, depression, and change. It has a balanced blend of folk and indie rock, with some experimental sounds as well.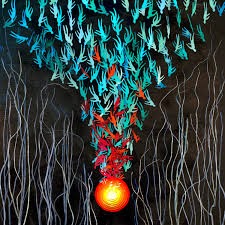 Track-by-track Review: 
Summary: Honestly, I was surprised by how much I loved this album. I never listened to Bright Eyes that much before this, aside from their song "First Day Of My Life." Storytelling is one of my favorite aspects of music, and this album does an incredible job at that. The intro and outro are so fitting, and I love the placement of every song in between. There's definitely a lot of heart-wrenchers, but there's this underlying feeling of hope despite it all. Lyrically, it was beautiful, and the balance of folk and rock was just stunning. I would easily rate this album five out of five Spinnaker Sails. 

Standout Tracks: "Dance and Sing," "Just Once in the World," "One and Done,"  "Stairwell Song," and "To Death's Heart (In Three Parts)."
___
For more information or news tips, or if you see an error in this story or have any compliments or concerns, contact [email protected].