Staff Pick Album Review: Charleston, SC 1966 by Darius Rucker
Charleston, SC 1966 is the third studio album of Darius Rucker's solo career, and the second decidedly country album of his. It has some tracks that went over well on the radio due to their adherence to a tried and true formula laid out by artists before and Hootie's voice itself.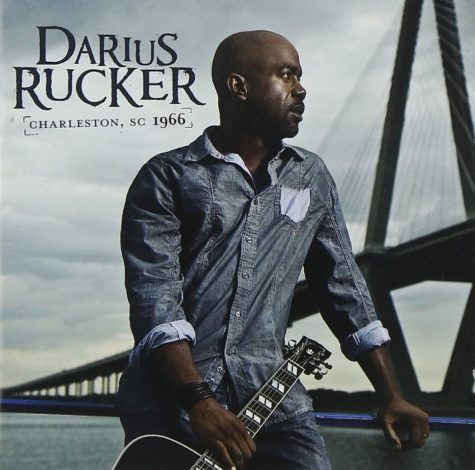 Track-by-track Review:
This –

The opening track of the album reminds me a lot of the poppier country of the late 90's and early 2000's a la Phil Vassar and Lonestar. It's a nice song to throw back to that era. Some easy radio listening.
Come Back Song –

This was the big single from this album. I remember when I was in middle school and I heard this on the radio all the time. It's got the classic modern country layers of mandolin, banjo, steel and acoustic guitars. It all comes together into a pretty good "regret ballad." Although it doesn't reach the emotional heights of some of its "tears in your beer" forefathers. I could do without the "na-na's" at the end though.
Might Get Lucky –

This is a song about an idyllic domestic life about the protagonist and his wife. Rucker does his chores, puts the kids to bed, and hopefully gets to have more… "intimate" time with his wife. This is a somewhat surprisingly common theme I've heard in country music as a whole, again harkening back to the likes of Phil Vassar and Lonestar. It's a stale theme and a pretty generic song, so meh.
Whiskey and You –

A slow ballad about a lost love and a crippling alcohol addiction. Unfortunately, the big chorus that you're supposed to yell out in anguish just falls a little flat.
Southern State of Mind –

This is a laid back tune that really hits that modern country motif of "Reminding everyone that I am, indeed, a country boy/girl and we're pretty different from other people." On the whole, this subgenre of song is very tired and played out, but this song with it's gospel-y piano riffs helps it stand out from the crowd. I like it well enough. 
Love Will Do That –

An upbeat song about the joys of love and all that jazz. It's fast and bright, it's also got a hint of that gospel piano I love, but not enough to keep it from being a little forgettable. 
The Craziest Thing –

This track is a tune about how crazy the woman who loves the protagonist is while he's just… normal, I guess? Loving him being the titular, "Craziest Thing" she's ever done. The only thing saving it from being lost in the mix is its wonky instrumentation during the verses that makes it stand out.
Things I'd Never Do –

Bet you can't guess what this song's about. Did you guess love? If so, then dang it, I thought I'd pull the wool over your eyes with this one. The protagonist laments about things he'd never do, except he does do them and now he's sad. It's a better ballad than

Whiskey and You,

though. 
We All Fall Down –

This song surprised me at first with it's more stripped back sound. Just vocals, acoustic guitar, and vocals painting a pretty somber scene while the other instruments trickle in. It builds throughout the song, and hear me out here, almost like a character ballad in a musical. In the end I expected to crescendo into a soaring, emotional piece, but it sort of just goes out the way it came. If you like musicals, it might be worth giving it a listen to see if you agree with my take, or to point and laugh if I'm utterly wrong.
 I Don't Care –

Brad Paisley joins Rucker on this track in a country/beach crossover song almost exactly like Jimmy Buffet and Alan Jackson in the smash hit

It's 5 O' Clock Somewhere

. To the point where they sort of talk in the middle of the song like it's just casual conversation and there just soooo laid back. It feels like a pale imitation though.
 She's Beautiful –

This track is for those of you who have gotten through this album and still have doubts if Darius Rucker loves his wife or not. The answer? I'd hope so, since this is the 4th? 5th? 6th? song about her (Or some ephemeral woman, which is probably more apt since it let's the listener put themselves in his shoes). It's okay.
 I Got Nothin' –

Rucker's significant other is leaving him, and this isn't even the first time it's happened this album. This feels like the back-up track if

Come Back Song

didn't do well on the charts. 
 In A Big Way –

Just like

Southern State of Mind,

this song is a mad-lib of southern phrases, locations, and people. It, just like the rest of the album, has nice production values and sounds easy on the ears, and that's all it needs to be.
Summary: This album brings a familiar sound of a forgone era of country music in a pretty inoffensive package with a couple of pretty good tracks to boot. The stand-outs being, Come Back Song, This, and Southern State of Mind. The problem with this album being the chaff that feels like a million other songs recycled over and over again. 
3/5 Sails.