UNF's Ignite Party
Once again, the UNF election season is in full swing as political parties campaign across campus. Spinnaker met with the Ignite Party to discuss their origins, goals, and initiatives. Having won most senate seats in the fall election last year, the party is well versed in the political environment at UNF. 
Presidential candidate Rachel Saunders and Vice-Presidential candidate Emily Echevarria have remained co-chairs of the party, and sat down with Spinnaker to discuss changes they have made to the party as well as their goals for this spring. Currently, Saunders holds the position of Senate President, and Echevarria is the Student Government Chief of Staff. 
The co-chairs explained that they have three umbrellas that cover their initiatives: safe, fun, and inclusive.
When talking about the new SKYS program, Echevarria said that she'd "really like to see it expand and continue next year, by extending the days of the week that it operates, expanding the hours it operates, and adding more pilots to it so students can actually use that service."
On the topic of safety at UNF, Echevarria said:
"A lot of our candidates running with us have been involved in Student Government previously, and we, in the previous years, have done surveys about student safety and a lot of students indicated that they felt unsafe in parking areas." 
She said that students also felt the university wasn't providing enough resources for sexual assault prevention. Echevarria also explained how she was able to work with a lot of members. She co-authored a bill last semester that aimed to provide more resources to sexual assault survivors and change the language surrounding it. She would like to continue working on sexual assault prevention on campus in this next term.
The party's initiatives include, but are not limited to:
Expand work on creating a "Council for Diversity"

Diversifying food options on campus

Adding haircuts to Ozzies Closet

Expanding the counseling center

Shifting to green energy

Adding smaller Lend-a-Wing offices near different locations

Adding more lighting to parking areas

Expand scholarships for the Jacksonville community

And many more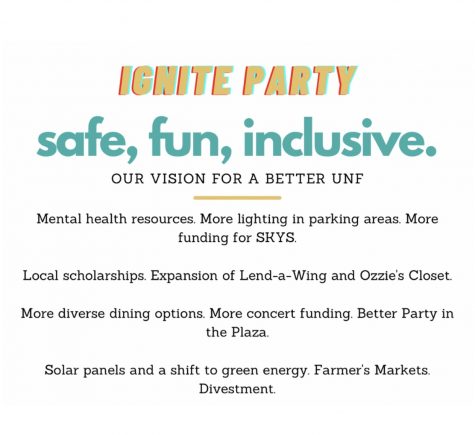 "I know that one [initiative] that everyone wants is more diversity of food on campus; not just the Cafe and Chick-fil-a and that kind of thing. […] We would like to bring a more local dining option into [the Student Union], so that when you go to UNF and you get food, you feel more a part of the Jacksonville community," said Saunders.
Saunders also said that they would like a Council for Diversity within the Senate. Because the Senate is usually only 20 people per semester, it often isn't a good representation of the student body. 
"In order to make [the Senate] fully representative, having a Council for Diversity that gives reports, has input on voting, has input on legislation, really gives us more understanding of what the student body wants, and not just 20 senators or 40 senators," said Saunders.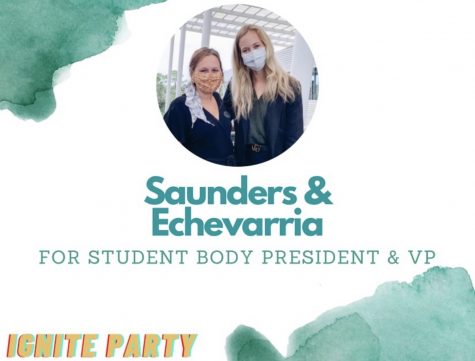 Echevarria said, "Rachel and I have been involved with Student Government for quite some time now. We've spent a lot of time listening to students and to investigate what problems there are and how to fix them. We haven't just pulled these ideas out of a hat, we've really spent time researching what is feasible and what needs to be done on campus. And I think our experience really speaks to how we can continue to serve students, and this is just what we're really passionate about. UNF is our home and we want it to feel like a home for everyone else."
Spinnaker will work to keep you informed as the election season continues to unfold. 
___
For more information or news tips, or if you see an error in this story or have any compliments or concerns, contact [email protected].