Orange Crush Festival to bring the party to Jacksonville this weekend
This weekend, June 18-20, the Orange Crush Festival is coming to Jacksonville to host a three-day event that will include a mixer/showcase, pool party, beach days, vendor villages, and after parties.
The festival has previously taken place in Tybee Island, Georgia but relocated this year due to "lack of resources, limited parking, civil rights violations, and political injustices" according to the Orange Crush Festival register page.
News4Jax reported that the mayor of Tybee Island said there had been issues with "alcohol use, reckless drivers, and partiers blocking traffic."
"It is unclear if Orange Crush will ever return to TYBEE ISLAND, GA. Luckily Jacksonville FL has agreed to be the NEW HOST city for the culturally historic ORANGE CRUSH FESTIVAL brand. #juneteenth #juneteenth2021," the Orange Crush Festival register page goes on to say.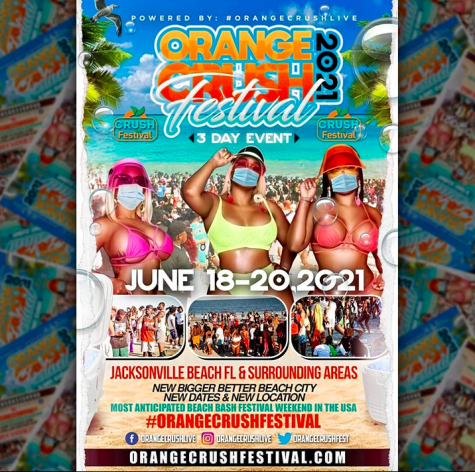 The festival begins on Friday, June 18, where a mixer and artist showcase will take place at the Justice Pub, located 315 East Bay St, from 6 p.m. to 10 p.m. There will also be an after party at Bliss Ultra Sports Lounge, located at 3225 Southside Blvd, from 8 p.m. to 1 a.m. 
Saturday's festivities consist of a beach day from 3 p.m. to 6 p.m., a private pool party from 1 p.m. to 9 p.m., an after party, and an after-after party. According to Eventbrite, where tickets are being sold, the pool party is a private event and the location will be announced via text on the day of the event. To attend the pool party, you must have purchased a single ticket or have an All Access Pass. There will be two after parties continuing into the night at Onyx Sports Bar and Lounge, which is located at 5611 Norwood Ave, and the after-after party at Mascara's Gentlemen's Club, located at 3225 Southside Blvd. An unnamed celebrity guest is said to be joining the parties as well.
On Sunday, June 20, a car and bike block party will be happening from 4 p.m. to 9 p.m. at "The Big Field." It has not been specified yet what field in Jacksonville this is. Based on a poster for the festival, it appears there will be parties at Bliss and Mascara's afterward.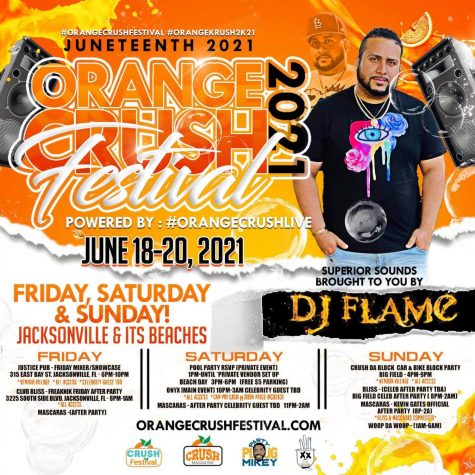 Yesterday, First Coast News reported that the organizer of the 2021 Orange Crush Festival, Stephan Smith, stated based on ticket sales so far, he expects 20,000 people to attend the festival.
Stay up to date on announcements, changes, and the festival's schedule by visiting their official Facebook page.
To purchase tickets for the festival, click here.
For more information, visit their official website.
_____
For more information or news tips, or if you see an error in this story or have any compliments or concerns, contact [email protected].