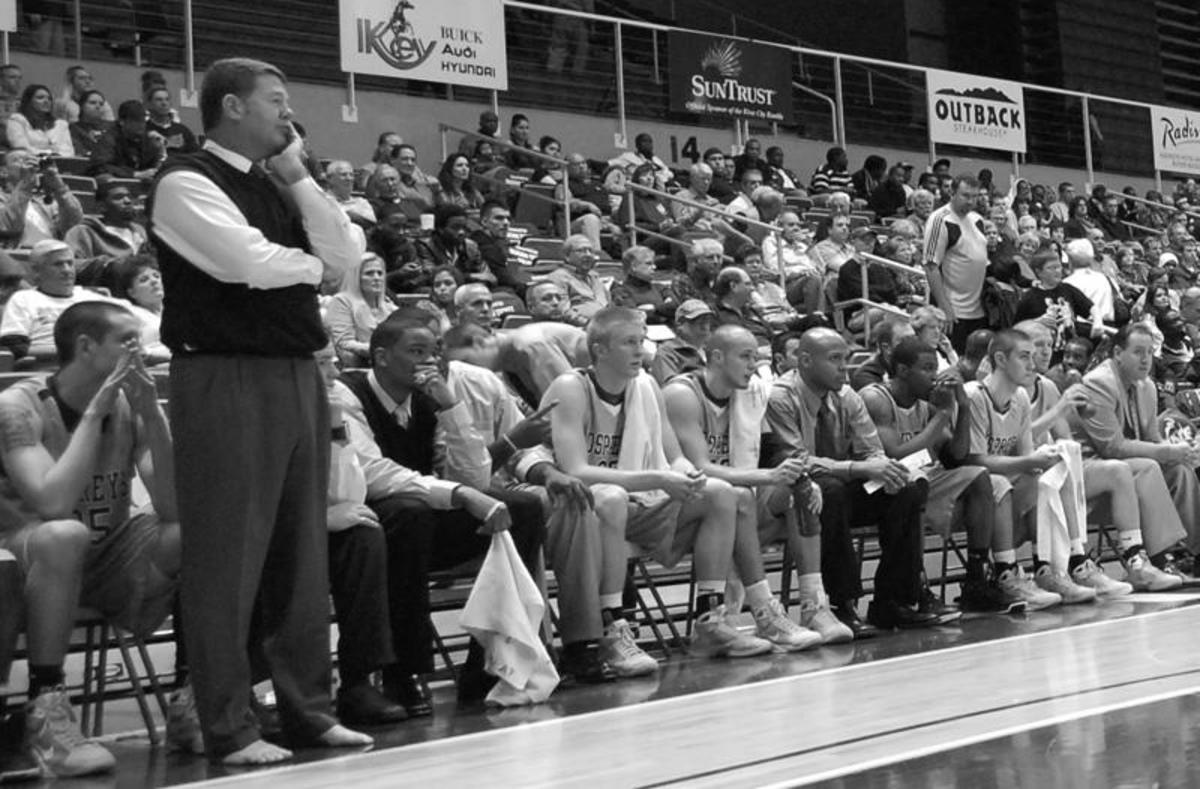 No shoes, no shirt, no problem.
Men's basketball head coach Matt Kilcullen went shoeless Jan. 15 at UNF's home game against cross-town rival Jacksonville University hoping to create attention for a cause.
And though he made sure to wear a shirt, Kilcullen coached barefoot in order to raise awareness of the 300 million children worldwide who go without shoes everyday.
He partnered with Samaritan's Feet, a     humanitarian relief organization based in Charlotte, N.C., that provides and puts shoes on children's feet all around the world. Its goal is to provide 10 million pairs of shoes for 10 million impoverished people in 10 years.
Kilcullen said the action didn't take away from his job in the game.
"I've gone barefoot before, but I've never done it at a basketball game," Kilcullen said. "Once the game started, I didn't even think about it."
Manny Ohonme, who received his first pair of shoes when he was nine years old from a missionary, founded Samaritan's Feet in 2003. Ohonme learned how to play basketball in those shoes before earning a spot on a traveling team as well as his high school basketball team. He was eventually offered a scholarship to play basketball at the University of North Dakota.
A pair of shoes gave Ohonme hope when he was a child, and now he wants to give many children across the world the same hope, he said.
Ohonme is thankful college basketball coaches across the country are joining in his efforts, working toward a common goal, and Kilcullen is excited about bringing their efforts to UNF, he said.
"We are extremely pleased Coach Kilcullen has embraced our request to coach a game in his bare feet and to use his platform to provide a voice for those children worldwide who will never own a pair of shoes," Ohonme said. "His and the other coaches' involvement will move this event to a new level and our ongoing global mission to reach the world's neediest children with the gift of shoes."
Ohonme believes even one coach can make a difference, and Samaritan's Feet has made a difference in many impoverished children's lives, he said. So far, the organization has helped provide shoes to children in more than 42 countries, including the United States, the Caribbean and several countries in Africa and South America.
"I hope the emphasis is not on my bare feet but on this organization's cause," Kilcullen said. "Thousands of coaches are participating in this cause across the country this weekend. I just hope everyone brings a pair of shoes."
As fans from both teams questioned the UNF head coach's bare feet, Kilcullen hoped to portray a positive message and influence people to donate their shoes.
"We are happy to play a small part in helping children in our country and around the world have shoes on their feet," Kilcullen said.
E-mail Heather Furey at [email protected].