Performers announced for UNF's OzFestival 2023; some students disappointed
Ozfestival ─ also known as Ozfest ─is one of the most anticipated events of the year, and the University of North Florida (UNF) announced that Yung Gravy would be headlining the event, alongside B.o.B. and Fivio Foreign on Feb. 3, 2023.  
Osprey Life and Productions announced that Yung Gravy, known for songs like "Betty," and "Mr. Clean," will be headlining the concert, per its Instagram account. Students responded harshly to the post, but in a poll conducted by Spinnaker, 63% of the 278 respondents said they were excited about the performance.  
It was a split crowd as some students complained that they didn't want their fees to go toward an artist like Yung Gravy, but others seemed ecstatic.  
One Instagram user wrote, "I need y'all to say sike right now," while another wrote, "can't believe you are slandering gravy, he's so fun." 
However, the backlash against the artists doesn't stop at the headliner. Osprey Life and Productions announced the other two performers earlier this week as B.o.B. and Fivio Foreign. Fivio Foreign rose to fame in 2019 with his song "Big Drip." B.o.B. is known for music from the early 2010s such as "Airplanes" and "Nothin' on You."  
Many students seemed confused with the choices as some claimed the artists weren't relevant anymore. Spinnaker collected statements from students about their thoughts on B.O.B. and the answers were unanimously disappointed. Controversy surrounds B.o.B. as users point out that he is known for being a flat-earther. Students also said that he had promoted antisemitism in his lyrics. 
Some of the responses that were left included "disappointment since the SG [student government] decided to put an anti-Semite on stage," and "I didn't know he was still around."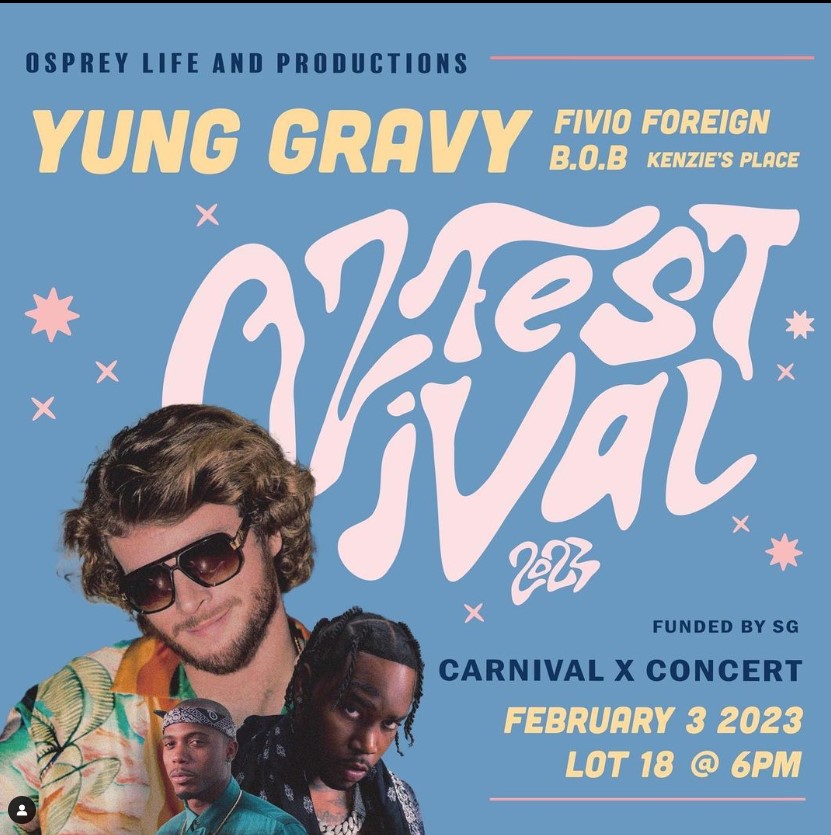 Ozfestival 2023 is scheduled for 6 p.m. on Feb. 3 in Lot 18, and tickets are available now. Opening the event is 2022 Battle of the Bands winner, Kenzie's Place. Along with music, students are free to enjoy food trucks like Mayes and Latin Soul Grille and carnival rides such as bumper cars and a ferris wheel this year as Ozfest is combined with the annual carnival in Lot 18 according to their Instagram. 
To claim free student tickets, students must go to the ticket reservation page. To sign in, the username is your UNF 'N' number, and the password should be 'guest,' unless one has used it for past UNF events. Ozfest is free to all students with a valid Osprey 1 Card. 
For more information, visit Osprey Life and Production's website, or the Instagram page.
___
For more information or news tips, or if you see an error in this story or have any compliments or concerns, contact [email protected].