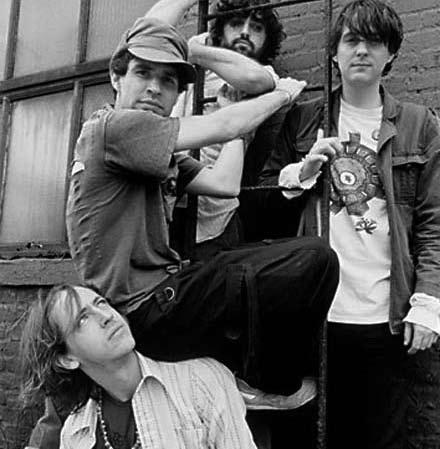 New York City's quartet of weirdos, Animal Collective, fails to disappoint on its second release on the Domino label, "Merriweather Post Pavilion."
Noah Lennox (Panda Bear), David Porter (Avey Tare), Brian Weitz (Geologist) and Conrad Deaken (Deaken) named their latest release after an amphitheater in Maryland designed by equally nutty and brilliant architect, Frank Gehry.
Rumor has it the kids always wanted to churn out an album so perfect that it could be played in such mammoth outdoor proportions.
Mission accomplished.
The album as a whole rides out like a safari on some vibrantly exotic alien planet. It explores concepts like existentialism and self-worth; although, that's really only one interpretation as this number continues the group's trademark lyrical ambiguity.
Didgeridoos, an all-you-can-eat buffet of percussion and falsetto-capped mountains dart horizontally along the soundscape of lush ambience.
"Bluish" tinkles from whatever sound system one might utilize and gracefully punches out the opening moments of the album. Gurgling orbs of ambivalence make the rain-soaked January day thaw into dreamy cheer as the lyrics, "I'm getting lost in your curls," ooze forth. It's a gorgeous ode to any spiral coiffed kid. A little less depressing, but just as romantic as "Purple Bottle" from the band's 2005 album "Feels," this introductory song ranks as one of the best on the disc.
Honestly, any song on this record is highly worth listening to over and over and again once more.
But the stand-out track would certainly have to be the sixth of the album, another exemplary ditty showcasing the Collective's enigmatic stylings, "Brother Sport."
The meaning of the piece could literally range from preaching acceptance of the curve balls life might toss to advice on how to successfully go about a drug mule mission. But really, the line "open up your throat" stacks into haphazard towers that swim in distorted Casio blips and shakers.
Found sandy sounds lend to the warm blithe of "Summertime Clothes." Avey Tare and Panda Bear expertly tier their vocals into the canopy road where said pleasure walk is sure to take place. "I want to walk around with you," has never sounded so effortlessly enchanting.
Passing gurgles from right to left and back again, "Guys Eyes" then thunderously pours from both sides a confession of succumbing to physical drives – "I really want to do just what my body needs to." Unobtrusive bass throbs rollick harmoniously with crazed frog-like saws.
"Merriweather" holds a little less vocal distortion than "Here Comes the Indian" but is not in the least bit void of the ample energy and sense of purpose. Nearly as accessible, and at times even more so, than "Feels," "Merriweather" really solidifies the band's positively unique brand of electronic sychedelia. Together, the disc ought to satisfy with its classical vocal layers and sporadic yet positively fluid syncopation. This one's a winner.
If "Merriweather" is any sort of omen of the tunes trotting onto the shelves this year, 2009 ought to be a full-fledged climactic time for music. We've got a lot to look forward to. The dry spell is finished.
E-mail Beca Grimm at [email protected].