UNF Board of Trustees postpones vote on post-tenure review policy to next month
A vote for the proposed post-tenure review policy has been removed from Thursday's Board of Trustees agenda, according to an email from the University of North Florida's faculty union. The vote has been moved to July 10, the email said.
The policy was sent to the BOT two weeks ago after a UNF committee heard it. One day later, the faculty union sent a cease and desist order to the university, arguing that voting on the implementation of that policy would violate faculty's contracts. 
According to a UFF-UNF faculty union survey that was referenced in their Wednesday email, 97.6% of faculty indicated disapproval of the currently proposed post-tenure review policy. 
Instead of voting on the policy Thursday, the board will now continue negotiations with the faculty union and vote on the policy during their July 10 meeting, according to the union's email. 
View the full email below.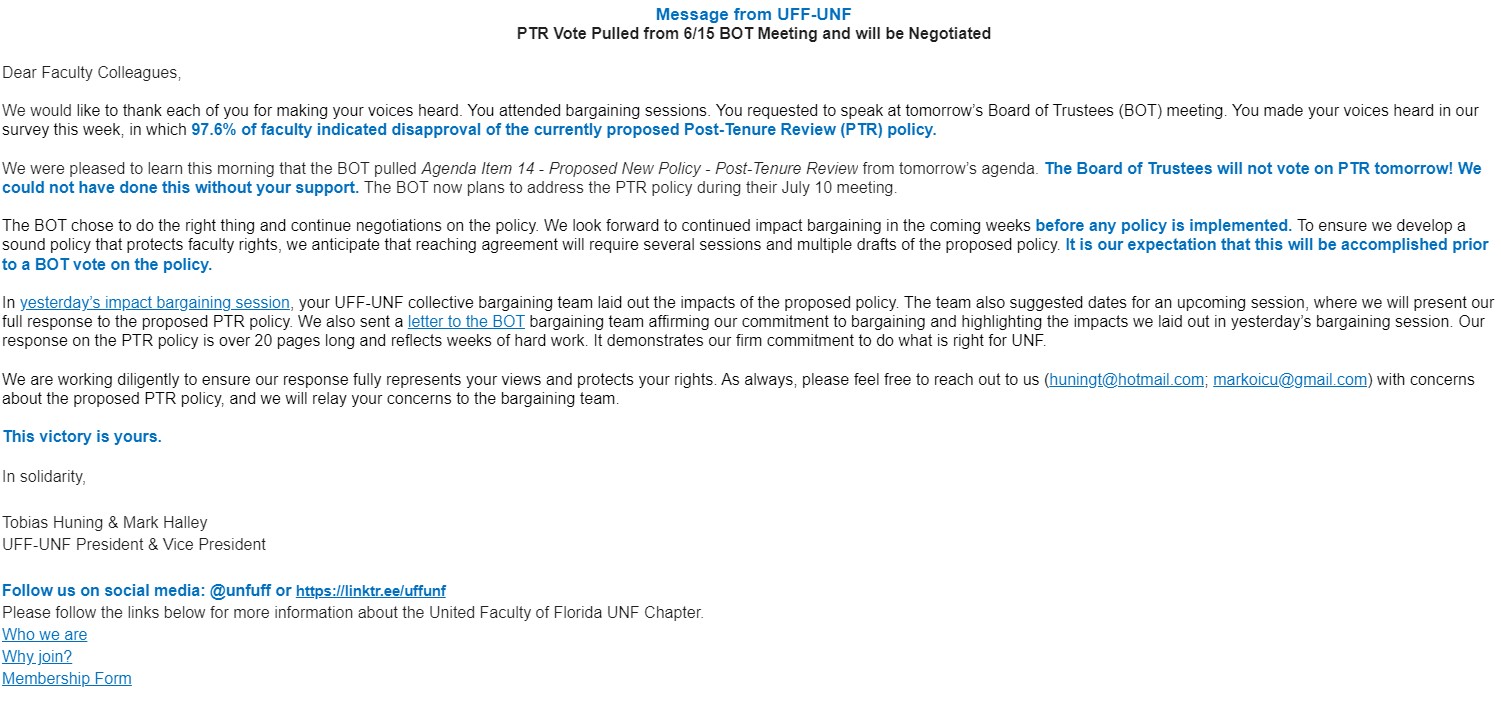 "The BOT chose to do the right thing and continue negotiations on the policy. We look forward to continued impact bargaining in the coming weeks before any policy is implemented. To ensure we develop a sound policy that protects faculty rights, we anticipate that reaching agreement will require several sessions and multiple drafts of the proposed policy. It is our expectation that this will be accomplished prior to a BOT vote on the policy," the email said.
"In yesterday's impact bargaining session, your UFF-UNF collective bargaining team laid out the impacts of the proposed policy. The team also suggested dates for an upcoming session, where we will present our full response to the proposed PTR policy. We also sent a letter to the BOT bargaining team affirming our commitment to bargaining and highlighting the impacts we laid out in yesterday's bargaining session. Our response on the PTR policy is over 20 pages long and reflects weeks of hard work. It demonstrates our firm commitment to do what is right for UNF."
The email closed with one line: "This victory is yours."
___
For more information or news tips, or if you see an error in this story or have any compliments or concerns, contact [email protected].