With a goal of 25,000 enrolled students by 2028, UNF Board of Trustees unanimously approve ambitious strategic plan
The University of North Florida Board of Trustees unanimously approved a new strategic plan Thursday morning that sets a series of ambitious goals for the next five years. Building on both institution-wide and campus community success, the Board also approved a new mission statement. 
The eight-page-long document outlines, in great detail, four core priorities. It also specified five areas of focus: advanced manufacturing; coastal resilience; data science, cybersecurity and information technologies; health care and health sciences; transportation and logistics. 
Though the focus areas are fairly general, they are meant to be interdisciplinary, explained Dr. John Kanter, one of the strategic plan presenters. To that end, President Moez Limayem noted to the Board that just because a specific topic isn't an area of focus doesn't mean it's been tossed aside. 
By the numbers
While much of the plan delves into the specific strategies for achieving student and faculty success, it also sets a few metric-focused aspirations. 
The first of which is that UNF will become a Top 100 Public University, as ranked in the U.S. News & World Report, by 2028. Right now, UNF is ranked No. 132 among public universities. 
In tandem with that ranking goal, UNF hopes to "strategically grow" to an enrollment of 25,000 students by 2028. There are approximately 18,000 students enrolled at UNF this year, according to the plan. They also hope to double the amount of yearly fundraising and raise $50 million in 2028. The university hit their $25 million fundraising goal this year. 
There are 26 different metrics that the university will use to measure the success of this plan. Some, like enrollment, are already established but others, like an annual "employee satisfaction survey" must be developed.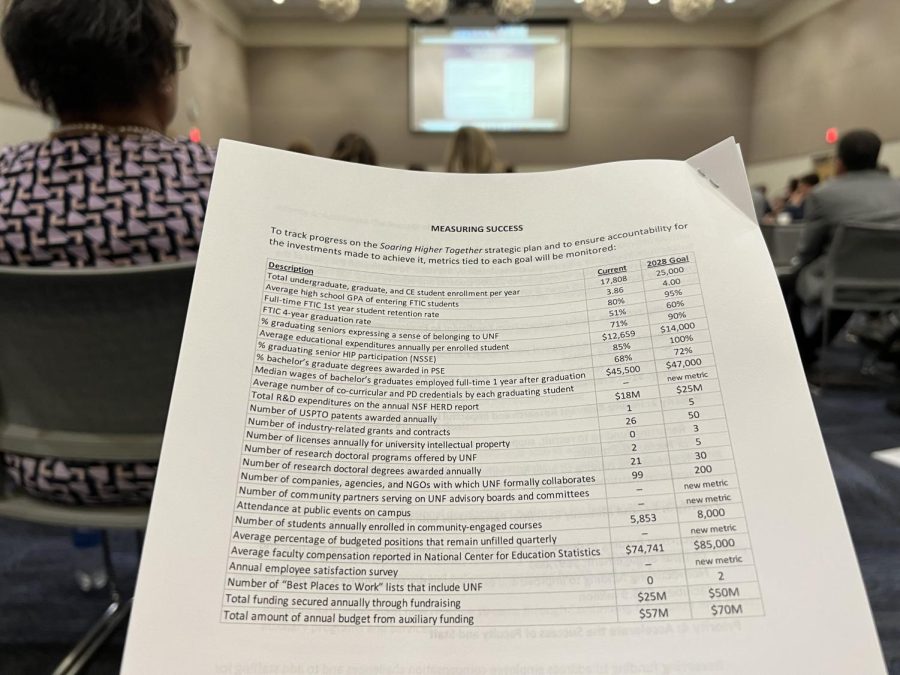 A sense of direction
When President Limayem was hired, he promised to "hit the ground listening." Now, approximately a year later, he and the university have officially hit the ground running with the approval of this strategic plan. 
Labeling the university as a "destination of choice," the plan's vision statement calls back to the president's wish for parents to want their kids to attend UNF as soon as they're born. 
From start to finish, the strategic plan will require investment. Driving that investment are metrics like the goal of 25,000 students enrolled by 2028, Limayem said. 
At the very least, it will require work to support additional on-campus housing, a pain point for the university these last few years. With rent rising in Jacksonville, more and more students have applied to live on campus.
Limayem explained to the Board that they are working on a website with an online dashboard to track these metrics and the overall progress of the strategic plan. 
This is a breaking news article. Stay with Spinnaker as we unpack the full meaning of the 2023-2028 Strategic Plan.
___
For more information or news tips, or if you see an error in this story or have any compliments or concerns, contact [email protected].