Jaguars huddle events not "shying away" from proposed stadium renovation details
The heavy rainfall outside didn't dampen the mood inside of the Lakeview Room at Deerwood Country Club on Saturday when Jacksonville Jaguars team president Mark Lamping presented detailed plans of the "Stadium of the Future."
Proposed renovations to TIAA Bank Field, revealed in June, spurred what the Jaguars have coined community huddles: a series of town halls in different parts of the Jacksonville area where fans can hear more about the new plans. It also gives them the opportunity to raise any concerns that they may have about the project.
Saturday's event catered to the Baymeadows area and was one of 14 scheduled huddles. It began with an hour-long presentation, in which Lamping went into great detail about the features included within renovation plans.
These plans, which were designed by St. Louis-based HOK Group, are highlighted by a roof fixture that will help decrease temperatures by over 15 degrees for those attending games. This has been a major area of concern for the Jaguars, with Lamping stating that ticket demand for home games drops by 33 percent in the month of September.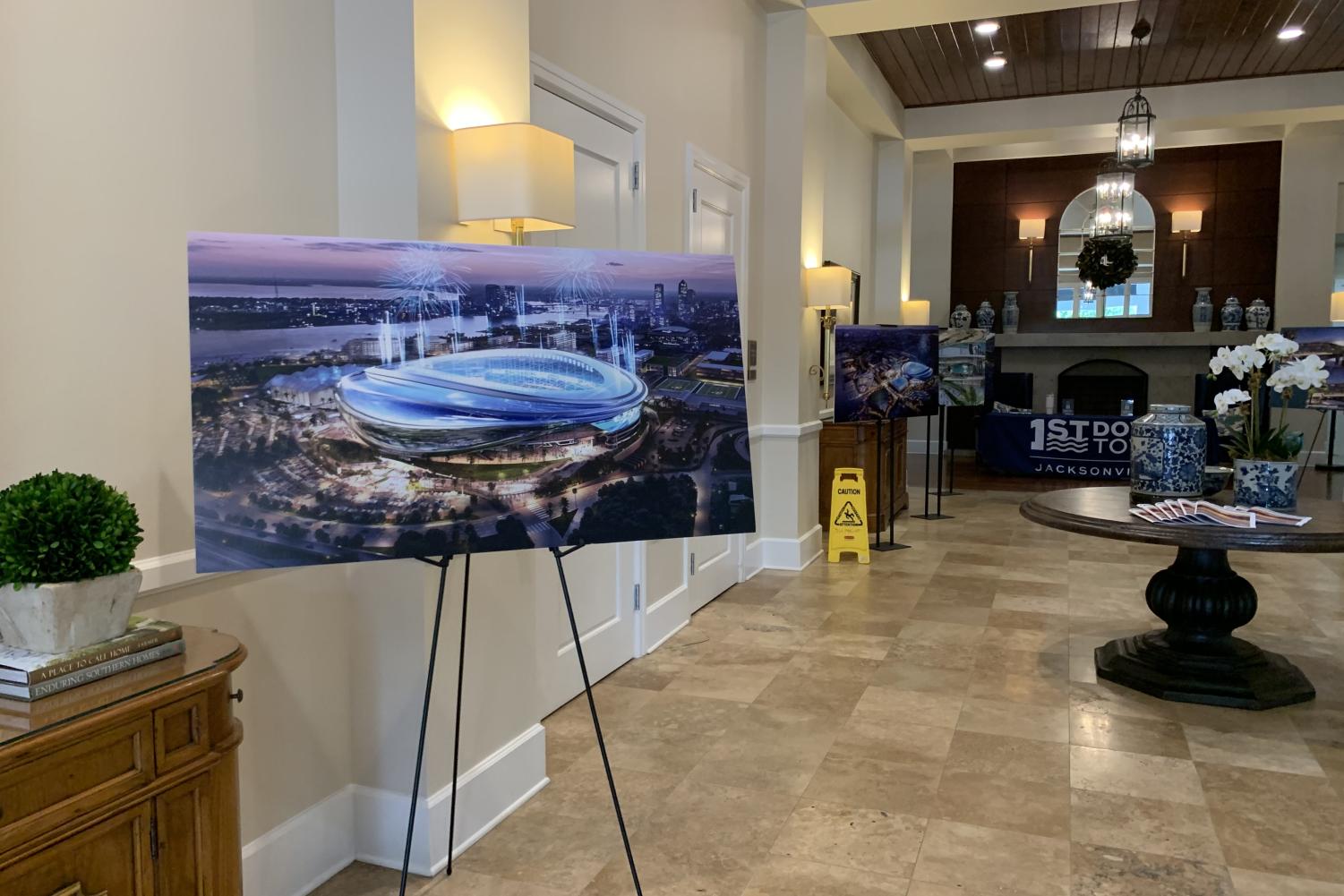 While the stadium won't be fully enclosed or have air conditioning, the design allows airflow through the stadium to create a natural breeze. Lamping emphasized the importance of this feature, saying "We don't want to lose that outside feel."
Other main features include widened concourses, improved concession options and a 10,000 square foot team store that will be open all days of the week. Following the presentation, the floor was opened to questions, with many of the roughly 100 in attendance not letting the opportunity pass them by. 
Throughout the question-and-answer forum, Lamping was transparent, answering clearly and providing as much information as possible. When direct answers weren't available, he admitted it and once said that fans "deserve a detailed plan" in relation to the issue of parking.
As for the hottest of topics, the project's price tag, teams typically try to dodge questions regarding taxpayer funding. Refreshingly, Lamping got straight to the point, saying that "[the renovations] come with a lot of money and nobody is shying away from that."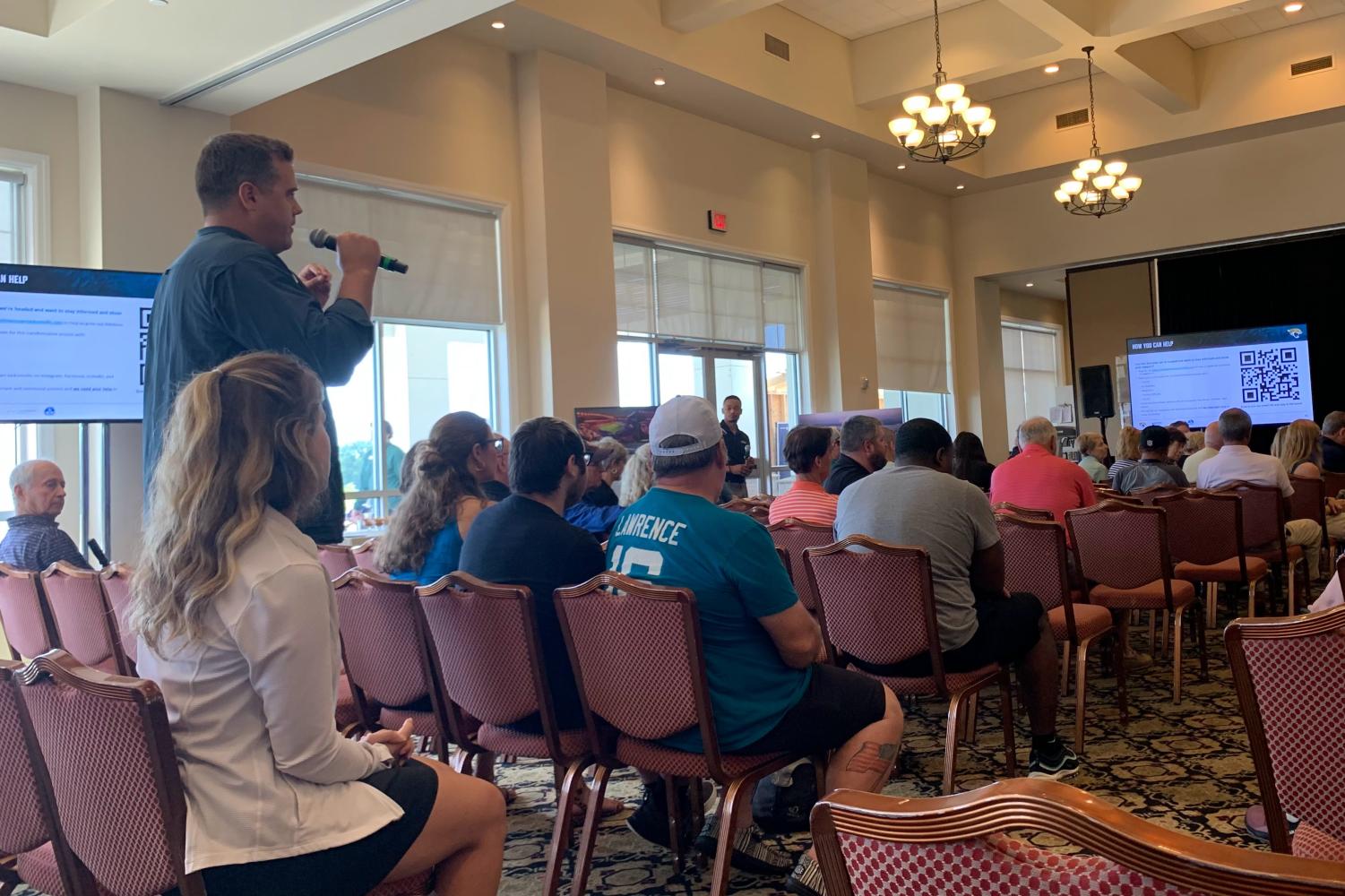 Pointing to the original renovations that made TIAA Bank Field NFL-ready upon Jacksonville landing an expansion team in 1993, the Jaguars will be aiming for roughly two-thirds of the project's funding to come from the public. Lamping added that they hope to have more official estimates in the near future.
Other financial concerns that were addressed included ticket prices and concessions. Some in attendance asked if the cost of entry would go up, to which Lamping responded "I'm not going to dodge that question." He then explained that this would be effectively canceled out by the improved value of tickets and the gameday experience.
As for concessions, Lamping shared that there will be more options for fans, with an emphasis placed on bringing in local businesses to bring a Jacksonville touch to the gameday dining experience. He also mentioned that pricing will be required to be similar to what it would normally be in-store, hoping to curb dreaded stadium food prices.
Another topic that has caused swaths of controversy among Jaguars fans has been games in London. Lamping expressed positive sentiment towards the international games, saying that they've been beneficial for all involved parties. Many fans have worried that the team may eventually leave for London permanently.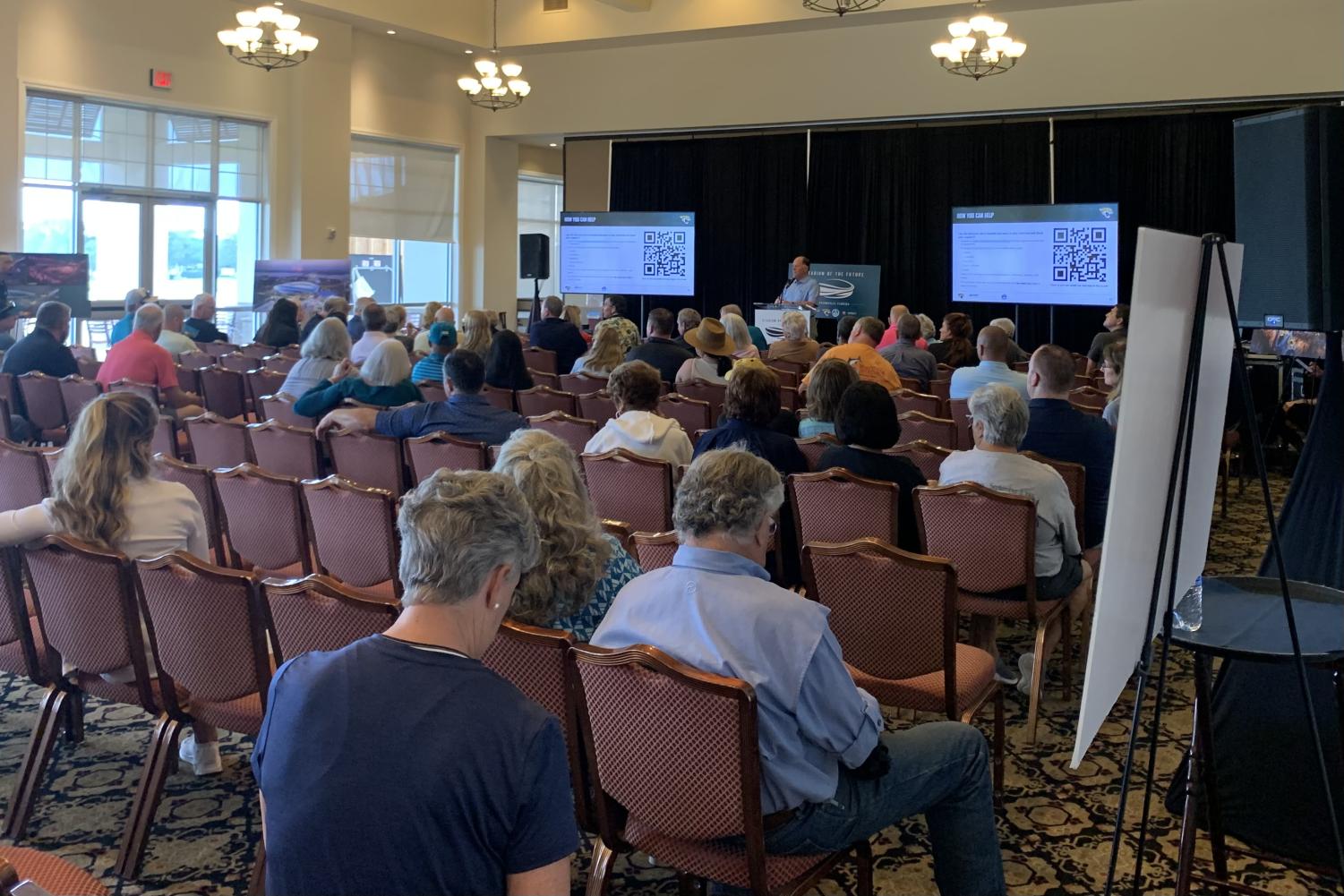 Lamping reassured those in attendance that if these renovations are made a reality, there's nothing to worry about and that the city would make sure leaving isn't even a possibility. 
Fans at the event were anything but shy, but there was no obvious hostility directed towards the team's president. He encouraged fan involvement, saying that "we need you to speak up" and that "if you have real concerns about this, let [city council members] know."
At the time of publishing, there are still five events remaining. For those seeking more information on how the stadium will be built and its effect on Jacksonville residents, these are great to attend.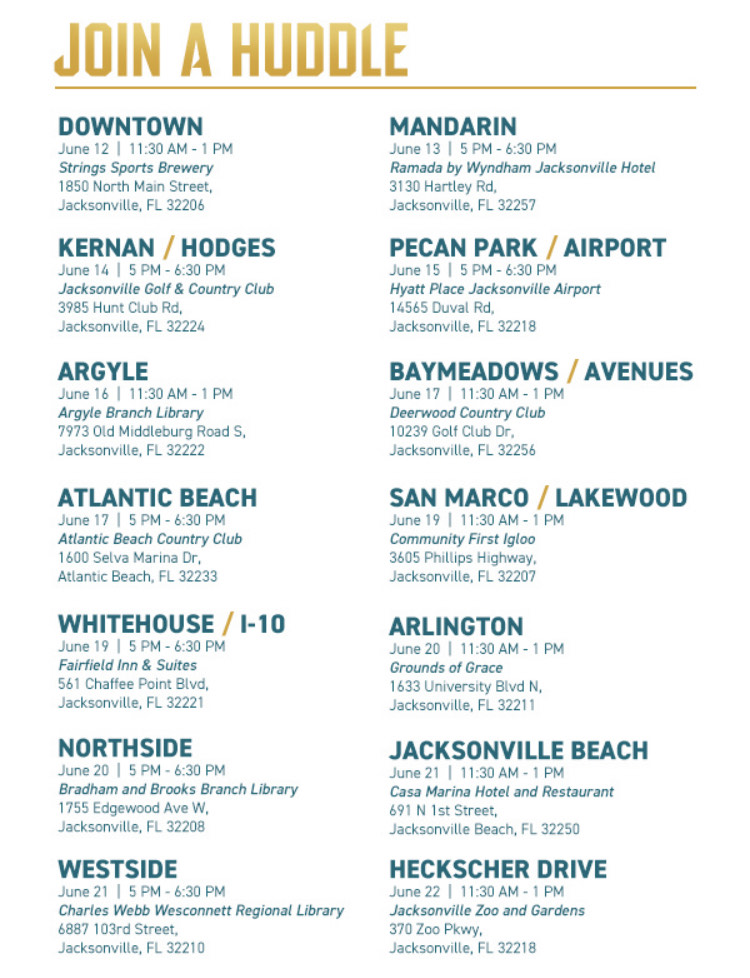 Stay tuned with Spinnaker for more information on this developing story as updates regarding the proposed plan become available.
___
For more information or news tips, or if you see an error in this story or have any compliments or concerns, contact [email protected].