This article expresses the views of its author(s), separate from those of this publication. Readers are encouraged to comment or submit a Letter to the Editor to share their opinions. To submit a Letter to the Editor, follow the instructions here. 
"Rent is not rising in Jacksonville." On its face, that statement seems egregiously out of touch. More accurately, rent is not currently rising, but the cost of living has surged exponentially in recent years. Rent now towers over its price in past years.
Swelling inflation rates are largely out of our control, but our response to it is not. Working more or cutting costs are the two main options that present themselves when money is scarce. But, as college students, both options present us with additional challenges.
Working more leaves less time for academics and increases the risk of burnout. Cutting costs, such as not eating out with friends or missing out on a favorite streaming show, can be a quick way to stave off inflation's effects. Although simple, they aren't easy choices to make.
Thankfully for UNF students, there are resources here on campus that can help.
Foundation scholarships grant UNF students the opportunity to be enrolled in the running for certain scholarships if they meet eligibility requirements. Students only have to submit one general application, which is then automatically submitted to select donors. This database also gives students access to scholarships that are specific to certain interests and majors.
Another great resource is the Lend-A-Wing Pantry. You'll find the pantry on the first floor of the east wing in the Student Union. All the food and hygienic products provided there are free for UNF students. Nutrition is a part of the pantry's philosophy as well, offering a selection of fresh fruits and vegetables from our own Ogier Gardens.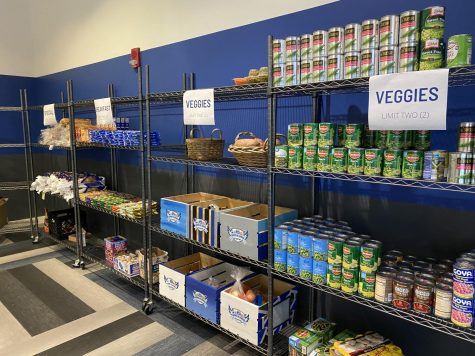 UNF also offers a wide variety of paid positions to students. If you're looking for work, an entire database worth of jobs can be found at unfjobs.org.
I've worked at many departments here on campus and have enjoyed seeing how each UNF department has such a positive impact on the school. From Housing striving to ensure their residents have an inviting home to the Welcome Center helping new students feel like UNF is the first step towards success every department works hard to fill the needs of students. Other great benefits of working for UNF include having access to early class registration and a flexible schedule.
A more obscure tip is opening a checking account with Community First Bank. I can't speak from personal experience regarding this, but they do offer a $200 cash bonus when you open your first checking account with them.
Unsurprisingly, this isn't just a free gift of $200. Other stipulations must be met, such as making deposits totaling $1,000 within 90 days of the account's creation.
Along the lines of banking, UNF has an Economics Society that accepts general membership. Joining this club may help students learn how to better manage and invest their money.
Lastly, if rent is making it difficult to get your bill down to zero dollars owed, living on campus may be beneficial. As of now, the demand for rooms on campus far surpasses the amount of students UNF has previously had to accommodate. Although it's easier said than done, submitting a housing contract as soon as they're available will help up your chances at getting a room.
Additionally, 500 beds are planned to be added within a new residence hall for Honors students in Fall 2025. The Flats at UNF offers furnished apartments starting at $744 a month this semester. Needless to say, that's much cheaper than most off-campus apartments. Osprey Village has comparable pricing at $3,440 a semester for a one-bedroom apartment. 
Weighing the options of cutting costs or working more hours is a tough choice to make. Inflation and comparatively higher rent aren't making these challenges easier.
I hope that with the knowledge and pursuit of these resources, UNF students will be able to better their financial situation. 
___
For more information or news tips, or if you see an error in this story or have any compliments or concerns, contact [email protected].