This article expresses the views of its author(s), separate from those of this publication. Readers are encouraged to comment or submit a Letter to the Editor to share their opinions. To submit a Letter to the Editor, follow the instructions here.
Our campus wouldn't be UNF without nature engulfing the concrete in a serene atmosphere. The cupbearer of nature's kingdom–rain–brings both sour and sweet inevitabilities. But it's a double-edged sword. On campus, our focus on preserving the beauty of mother nature also allows for a high risk of being drenched when her cupbearer spills the glass.
UNF needs more rain coverage on campus. Currently there are far too many areas of campus absent of any overhangs. Florida's nickname may be the sunshine state but anyone who's lived in the area knows it carries some irony.
A few places come to mind when thinking of areas heavily exposed to downpours. The first is most applicable to students living on-campus. Past the Andrew A. Robinson Jr. Theater, there is nearly zero rain coverage until you reach your dorm room.
Now, I, a former resident of Crossings, have certainly had the experience of entering the atrium indistinguishable from someone who just jumped into Lake Oneida. Admittedly, some of that had to do with my inexperience on campus as a first-year. However, after living in Fountains for my sophomore year, I never ran into that issue again. Though, it can be noted that a major factor contributing to my drenched arrival was a long stretch of walkway on campus with no overhang to shield us from any inclement weather.
From Robinson to Landing, there's a lone haven from the rain: the Café. If you're unfortunate enough to be out on the boardwalk when a storm starts, I hope you have a meal plan. If not, it's going to be a cold evening waiting outside for the Florida monsoon to stop. Unless of course, you have $12 to spare. Stopping by the café is a great alternative to being stuck in the rain.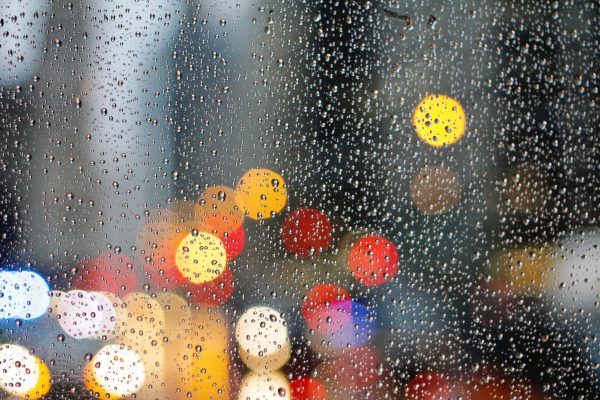 Earlier this semester, I was crossing the boardwalk in the early evening on my way back to Fountains. No thunder or lightning gave a warning, but the clouds gave way and I was able to rush inside the Osprey Café. Thankfully I hadn't spent my meal swipe for that period.
I completely understand not wanting to interrupt the natural feeling on campus, but I believe there's a way to have both. Adding gazebos alongside Candy Cane Lake could be a way to both provide rain coverage and enhance the natural aesthetic of campus. Taking a tool out of the sky bridge's shed, vines could be grown along the pillars of these gazebos, and flowers could be added to its surroundings. This way students could have a seat and potentially carry on with homework if they get caught in the rain on the way to their dorm.
On the other end of campus is Lot 18. This is the commuter's version of a walk to Fountains. There's virtually no rain coverage from the Wellness Complex all the way to the parking lot. While I don't have as much experience getting drenched there, I've heard many stories of that occurring. Here, more overhangs could also be used. In particular, an arched arbor may be of use, because of how long the stretch is without anywhere to stop along the way.
So, between gazebos and an arbor, how would this get funded? Luckily, that's what Student Government is for. As a Public Relations major, I'm not the most math-savvy person. However, I believe these additions would provide plenty of rain coverage while expanding UNF's green atmosphere and impressing campus visitors.
___
For more information or news tips, or if you see an error in this story or have any compliments or concerns, contact [email protected].