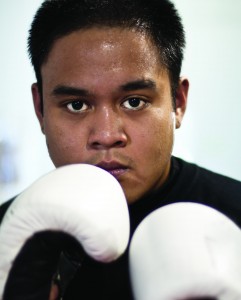 There are two roads a martial artist can take: a hard path toward discipline or an easy life of aggressive bravado.
One UNF student, Matt Archangel, chooses theformer.
"We don't train each other to beat each other up," Archangel said.
Archangel, a criminal justice junior, trains in various martial arts disciplines, such as Bruce Lee's strike-oriented Jeet Kune Do and the grappling-centric Brazilian Jiu Jitsu.
His training, a synthesis of contrasting martial arts, is commonly referred to as mixed martial arts, or MMA. The loosely-defined martial art has become a rising sport within the past 20 years.
The Ultimate Fighting Championship, formed in 1993, is the most recognized organization that pits MMA fighters against each other. The league has grown exponentially, with pay-per-view events such as the most recent event, UFC 144, reaching 375,000 buys, according to multiple MMA news websites.
Due to its relatively recent inception in the combat sports world, the UFC has had its share of critics. Sen. John McCain (R-AZ) once called the sport "human cockfighting" in 1996 because of the unprecedented moves fighters performed on one another, such as kicking and choking.
Archangel, who practices these types of moves daily, said MMA is much safer than it is perceived to be. The only injury he has sustained through training was a headache from an elbow strike to his head, which lasted afew days.
"Of course you can get knocked out or get a bloody nose," Archangel said. "But the [Unified Rules of MMA] are made for it to be as safe as it can get."
But for Archangel, his drive to learn martial arts came from the necessity to inflict harm when necessary.
"I lived in Philadelphia," Archangel said. "[My father and I] got robbed a couple of times when I was a kid. I didn't really know what to do, so I wanted to learn how to defend myself."
As a child, Archangel learned the Korean martial art Tang Soo Do. He then moved to Jeet Kune Do in his junior year of high school because his father always showed him Bruce Lee movies when he was young. Now, as a young adult who watches UFC fights, he trains in MMA at World Martial Arts.
The World Martial Arts gym, a no-frills training center located near UNF, consists of a padded floor, three heavy punching bags and a sign that reads "infinite patience leads to immediate success."
The gym is home to Archangel and his training partners, ironically named Team Archangel. The team named themselves after religious figure Michael the Archangel for his role as a "warrior," Archangel said.
"It just so happened my name is Archangel too," Archangel said. "I guess it worked out well."
His team, a group of amateur fighters, exhibit a friendly, but warrior-like, mentality when they train together. Each Brazilian Jiu Jitsu training session begins with a bow and ends with one person locked in a submission hold, such as an ankle-crushing heel hook or an unconsciousness-inducing triangle choke. Both fighters can be seen smiling at each other at times during the session, a signal that there is no intentional harm inflicted in the gym.
What sets World Martial Arts apart from other MMA gyms is its practice of the Filipino-based weapon martial art Eskrima. Traditionally, the martial art is practiced with small double edged swords, but practitioners at the gym use wooden sticks known as Kali. Archangel honors his Filipino heritage by practicing the art with other Filipino-Americans at the gym.
"I wanted to get closer to my roots," Archangel said. "If you get down to the roots of [Kali], it's a tribal art."
With a unique combination of Eskrima, Brazilian Jiu Jitsu, and Jeet Kune Do, Archangel embraces modern martial arts training in a way that puts the actual moves in the back of his mind.
"It's not just about fighting," Archangel said. "The last thing [you learn] is fighting."