Business week focuses on port expansion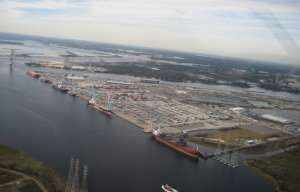 The expansion of the Jacksonville Port authority was the focus of the first International Business Week at UNF, which concluded Feb 12.
While presentation topics were selected so they would represent every discipline in business, JAXPORT was highlighted due to its impact on the greater community, said Jeff Michelman, professor of accounting at Coggin College of Business.
"If Jacksonville becomes international, it will be through the port," he said.
More than 2,000 students throughout the course of four nights attended the  week-long series of professional presentations, which were dedicated to the promotion of the International Business Program, said Anne Fuggard, director of study abroad at UNF.
Roy Schleicher, senior director of Trade Development and Global Marketing at the Jacksonville Port Authority, emphasized the impact of port expansion on the entire community.
With the arrival of Mitsui OSK and Hanjin Lines, the capacity of JAXPORT is more than 13 million tons a year, which makes Jacksonville one of the biggest ports on the East coast.
The Jacksonville port has more commodities than other ports, Schleicher said. It is one of the few ports in the U.S. that has been growing since the economy declined.
With a 12 percent increase in cargo value, Schleicher considers the economy's downfall a natural part of business, he said.
"If you look at 100 years of history, it is a little bit worse than normal," Schleicher said.
Administrators at the Coggin College of Business, which boasts one of the top-10 logistics programs in the world, chose to bring in speakers and topics that would be useful in the real world, said Dr. David Cantor, assistant professor at the department of Marketing and Logistics.
The Jacksonville region is ready to consume all graduating seniors. The market now offers numerous opportunities, including global ones, Michelman said.
The business college is planning to expand the program, while planning to completely integrate international business into other majors as it was originally designed in 1995.
This could be a vision of five to 10 years, Michelman said.
Close partnership with logistic companies, internship programs, study abroad, the ability to speak a foreign language and real world experience all contribute to UNF business students being competitive with the rest of the world, Michelman said.
"[International Business] is a fantastic major with a tremendous amount of opportunities," he said.
And one of those might be at JAXPORT itself, which anticipates to expand with more funds
available.
But environmental concerns have been standing in the way of expansion as well, though Schleicher believes that with advanced technology they are not a big deal. The biggest: the depth of canals.
The port could deepen its 42 ft. deep canal to at least 50 feet, Schleicher said.
"Our biggest ships are now barely passing through," he said.
Both Fuggard and Michelman agreed the International Business Week pleased the organizers and provided an enjoyable and fruitful source of information for both students and faculty.
E-mail Andrea Farah at [email protected]