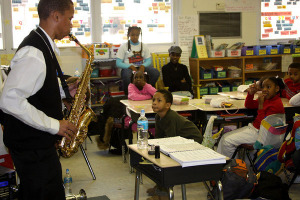 A trio of UNF jazz students recently made an impact on some inner-city children who would otherwise have no interaction with arts in their neighborhood schools.
The opportunity came after a volunteer with the Team Up program at R. L. Brown Elementary School saw a picture of a UNF musician at a public library and reached out to him on behalf of her students.
Brandi Hill, an employee at the Police Athletic League, contacted sophomore music performance major Jarell Harris, who said he was all for helping, Hill said.
Harris already had experience working with children at Mayport Middle School's jazz program and thought this would be another great chance for him to get back in the community, he said.
Harris, along with UNF sophomores Brandon Degross and Kelly Green, volunteered their time Feb. 6 by spending a day at the elementary school. They taught a lesson on jazz music and performed for the children.
The UNF students also educated the children on the different types of instruments, and they had a chance to have their picture taken holding one, which inspired them that going to college or playing music truly is possible, Hill said.
"I gained such a love for teaching music," Harris said. "I loved seeing the kids interested in the live music and asking a million questions."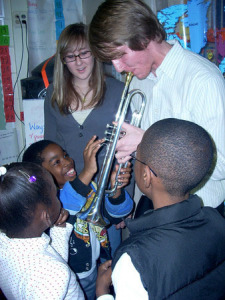 Hill, an enrichment leader for Team Up, is aiming to introduce a new theme to the students each week and bring in college students to teach and provide interaction with the themes.
"These kids get little-to-no positive hands-on learning and don't get a lot of interaction with the arts," Hill said. "They were so amazed and impressed [by the performance]."
Certified teachers at Brown run Team Up and take part in the program at the end of the school day. It is also part of PAL at Palm Avenue Exceptional Center for students with special needs.
Team Up is offered by the city at 15 schools – almost every middle school in the county, according to Jacksonville's Web site.
It is funded by the Jacksonville Journey initiative and is a segment of PAL's after-school education programs, one of five programs offered to students in Duval County to assist in test-taking and social skills.
There is a collaboration of support from the Jacksonville Sheriff's Office, which comes in to mentor and teach safety education, among other things, said Felicia Fredericks, PAL human resources officer.
"[Team Up is a place] where the neighborhood and school come together," Fredericks said. "The program is pretty structured to cover tutoring and academics, then character education."
In addition to on-site supervision, the program includes field trips and sports activities. Harris invited Hill to a music concert last week that allowed Hill to bring three students.
The event allowed a small selection of Harris' crowd at Brown to see jazz performance on a macro level.
"I had fun," 8-year-old, second grade student Anthony said. "[Harris] taught us about John Coltran and all kinds of things. We went to the concert and [Harris] even gave us an autograph."
The student's last name was not released to protect his privacy.
Harris is involved in Mu Phi Epsilon, an international music fraternity at UNF, and said he would definitely partake in Team Up again. He is currently talking to other institutions about teaching music to youth.
Members of the fraternity Omega Psi Phi at UNF are scheduled to appear at the school Feb. 25.
E-mail Sarah Gojekian at [email protected].